Release Date: 2019 
FFO: The Distillers, Motorhead
Location: Montreal, Quebec Canada 
THE REKKENING is a "FEROCIOUS" Female Fronted band. Created in 2008 Vancouver, BC. Their music is full of ATTITUDE and ABRASIVENESS with an "In-Your-Face' old school sound. THE REKKENING is definitely a think outside the box type band. Their versatility and style cannot be put into a specific genre. THE REKKENING's true staying power is in every song being different and keeping everything real and raw!!  THE REKKENING is the ultimate Party, Head Bang and Dance Band! All wrapped up into one EXPLOSIVE package!  
Trasee Lynn (lead vocals/lyrics) started THE REKKENING in 2008. Trasee brings all of her experiences to the table to breathe life into and engage the audience. Trasee's influences are Alice Cooper, Black Sabbath, Metallica. (Trasee) "My life has not been a neat little box with a bow on it, so why would my music?"  
GoReDzilla -(Bass/Producer) adds a particular EARTH POUNDING sound that is second to none. GoReDzilla has played in many different local Vancouver bands over the years and his experience with live, recording and promotion is an asset that cannot be replaced. His belief in THE REKKENING is nonparallel and it shows as he has been in the band since2008. His leadership in the band stands out in so many ways. His ability to move THE REKKENING forward is unlike any other.  GoReDzilla's influences are: Black Flag, Iron Maiden, NIN, Dillinger Escape plan. 
Travis Arnold (Lead Guitar) is an extremely talented multi-instrumentalist with a keen ear for the sonic brutality  that encompasses the sound for  THE REKKENING. Travis has a large background in Jazz, Metal, Noise and Extreme music.  His contributions over the years to the song writing and production has been incomparable since he originally joined in early 2011.  
Joseph Bourdreau (Drums) has a plethora of styles including Metal, Punk, World music and Jazz. His contributions have given the overall sound a huge push forward and has been a solid contributor since early 2018 backing up the angst ridden and aggressive sound OF THE REKKENING!
THE REKKENING released their NEW CD EP "Broken Mind" Nov/2013 Recorded @ Blue Wave Studio's with Ken Burke (Mix/master) Analog Consisting of 4 songs-Broken Mind, In the End, Cry, and their take on a Whitesnake song "Is This Love" THE REKKENING released their first official video for their song "Fuck Off" in 2015 and so far, there have been almost 7000 views!!  THE REKKENING gets continuous air play on many online and broadcast radio stations including CO-OP Radio (Vancouver), CJSF (Vancouver), Lucky 13 Radio (USA online), Sick Boys Radio (USA online), Metal Devastation Radio (USA/UK online). 
THE REKKENING has also been featured in a number of publications including Surrey Now Newspaper, Rock Thiz Magazine and Uncivil Revolt. THE REKKENING also played a number if high profile shows including  
opening for Toronto Ska / Horror Billy band The Matadors for their last leg of their cross Canada tour in Vancouver July 29 @ Funkys and July 30 in Victoria @ Logans. THE REKKENING opened for "THOR"  
THE REKKENING Relocated to Montreal and played Piranha Bar, Traxide and Paul's Record Shop. THE REKKENING also played The Rainbow in Ottawa and LOUD AS HELL Festival in Drumheller Alberta. 
Check out this video!
Check them out on Spotify and add to your playlists!
Also available on Apple!
Support them on Bandcamp!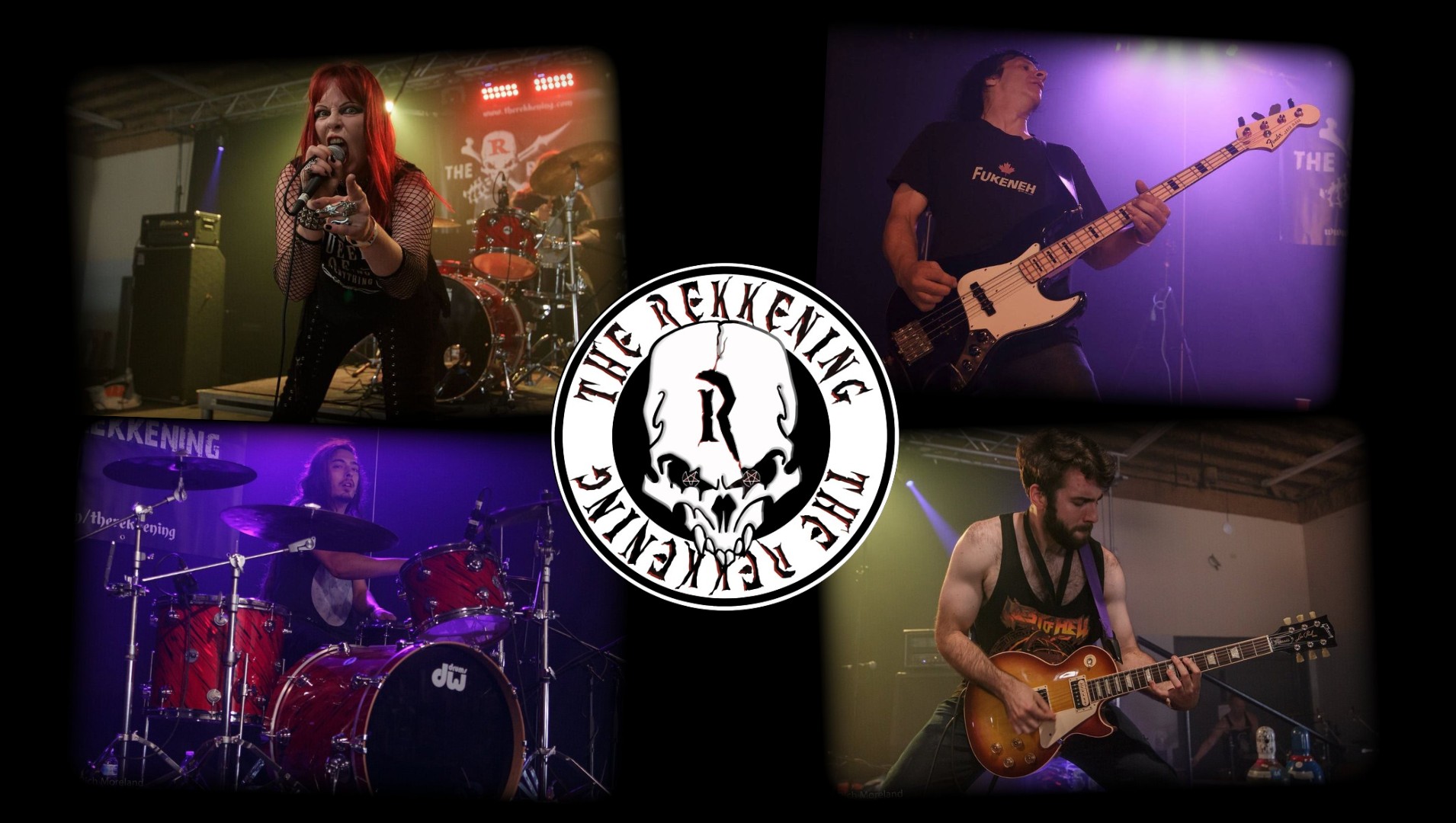 Follow the band at these links:
https://therekkeningrocks.bandcamp.com/music
https://www.reverbnation.com/therekkening
https://www.youtube.com/channel/UCtFLZy9hobTrUpHuZf9JhkA
https://www.facebook.com/therekkening/