GUTRICYDE (USA)- Self Titled - Reviewed By Metal Digest ! Check it out here at this link: https://metal-digest.com/2022/05/29/gutricyde-gutricyde-ep/
    The Lone Star state and metal have a long and illustrious career, from blues to brutal death metal and grindcore, Texas knows its stuff. One such band were Embalmed whose brutal death and grindcore tore all asunder like an F5 tornado with their one-time guitarist Bret Smith forming Gutricyde with ex-Blastwound and Gruesome Fate man Lance White and now, Gutricyde have released their eponymously titled debut EP.
                 If the listener is expecting a three or four track EP demonstrating everything that Gutricyde are capable of then they'll be shocked to see that 'Gutricyde' is just under 30 minutes long. Yes, that was written correctly. This EP is longer than Slayer's 'Reign in Blood' as Gutricyde tear through an old-school classic death metal sound delivered with a real veteran expertise as tracks such 'Texas Curb Stomp', 'Molestation of Decaying Remains' and 'Anal Pickaxe Maceration' have all the gruesome brutality of Frozen Soul and Bolt Thrower, but also Mortician and Autopsy.
Preview in new tab

There is a real enjoyability here as old-school brutal nostalgia reaches modern surgical steel; sure, this means that there is nothing here that fans of death metal will not have heard already, but when it comes to things like this, we don't want new, we want it old school, we want it brutal, and we want it so fucking raw it's still very much within its death twitches. 'Gutricyde' could and really should have been the bands debut album rather than an EP, but ultimately, it is a good way to start your career. - Metal Digest
Release Date: February 2022
FFO: Frozen Soul, Mortician, Bolt Thrower
Location: Texas, USA
Gutricyde was initially brought to life by Bret Smith, an original member of the 90's era Texas Death Metal band: Embalmed. Starting out as a one-man Death Metal Project in 2019, the project has evolved. As of 2022 with a recent lineup change, Gutricyde is currently a 4-piece group consisting of Bret Smith on guitar, vocals and programing, Lance White, formerly of Gruesome Fate and Blast Wound on guitar and vocals, Dave Tillery formerly of Embalmed, Gruesome Fate and an active front man for comorbidity, as well as stage theatrics mascot Ray "Gutty" Mora (A.K.A - The Butcher). Converting a bedroom into a small recording studio in Fate, Texas, the writing process began to flow. Once a good foundation was built along with some of the first demo tracks released in January 2021, the project gained the attention from some local promoters through social media, and they started getting offers to open some shows. Through 2021 Gutricyde has written 13 new tracks, 11 of which are featured on a full-length EP self-titled "Gutricyde", released on Corpse Gristle Records in February of 2022.
In January of 2022, GUTRICYDE had a promising lineup change, bringing in Dave Tillery of Comorbidity and Embalmed on bass and moving Lance White to guitar. This was a welcomed change and has made a tremendous improvement on the band's efficiency and quality.
Check out this video!
Support the band on Bandcamp!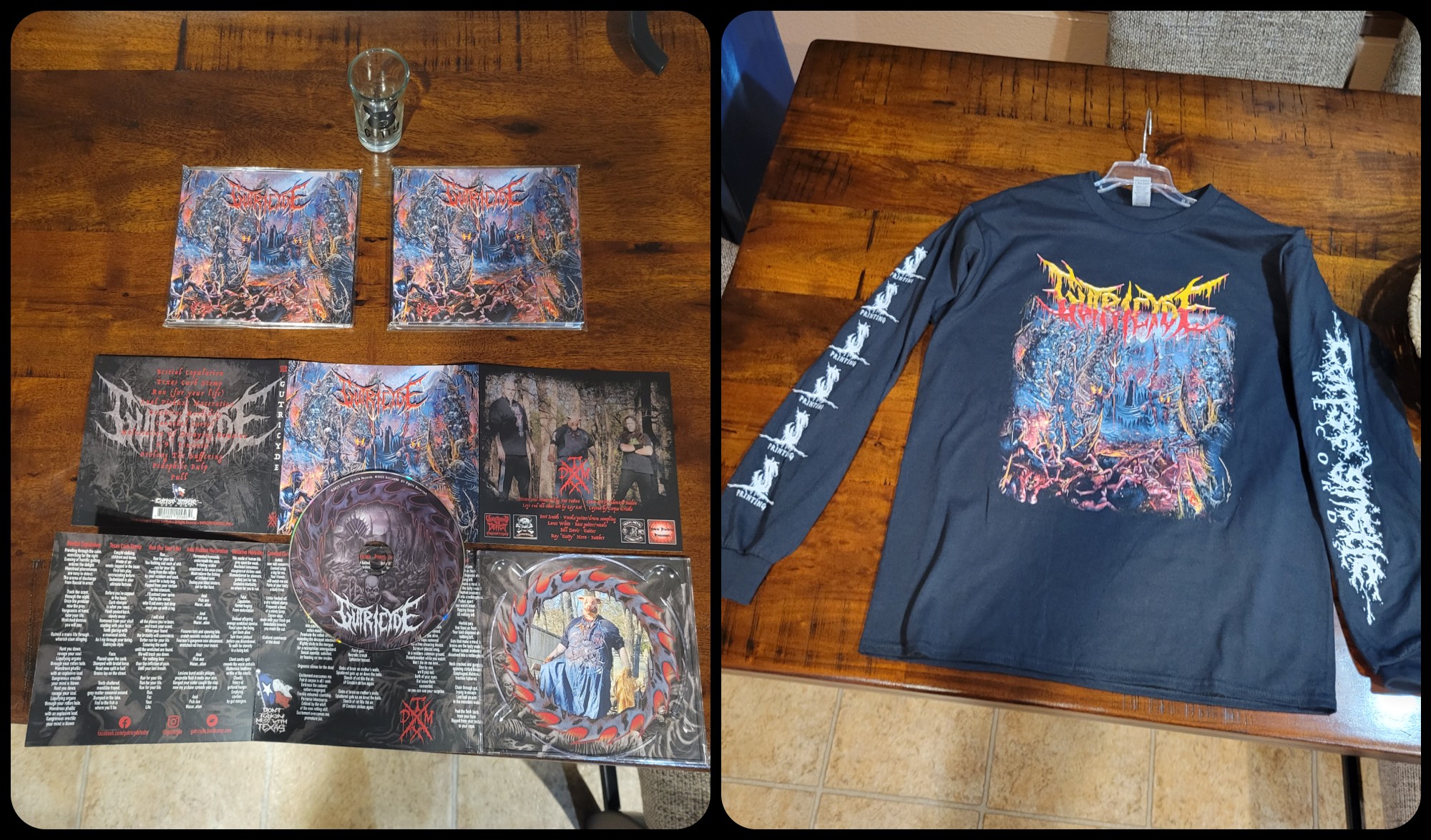 Follow the band at these links:
https://gutricyde.bandcamp.com/ 
https://www.facebook.com/gutricydetxdm 
https://www.instagram.com/gutricyde/  
https://www.instagram.com/corpse.gristle/ (Record Label)