Cultist – Manic Despair - Reviewed By Metal Temple ! Check it out here at this link: http://www.metal-temple.com/site/catalogues/entry/reviews/cd_3/c_2/cultist-manic.htm
CULTIST is a death metal band from Canada, who formed in 2015.  Over the years they have released a demo, one EP and a split with EUTHANIZED; "Manic Despair" is their first full length album. Every now and then, I come across an album that just doesn't resonate with me—and I cannot explain why,  Unfortunately, CUTLIST's "Manic Despair" is one such album.  Every thing that would make a kick ass death metal album is here:  brutal, well executed vocals, ripping bass, solid drumming and searing guitar, including a really great tone. I just find it all so boring.  And for the life of me, I can't figure out why.  I just know that when I listen to this, my mind tends to wander.  It isn't a very long record, just an average  length of 39 minutes, but it took me forever to get through this one.  Maybe because there have a been a ton of great death metal albums already released this year, this one just doesn't measure up?  I'm not going to type out all the bands that have released some memorable DM albums this year because this all obviously purely on my perspective.
But don't get me wrong—this certainly isn't a terrible album.  Just because I can't get into it doesn't mean it won't be worth the time to someone else. The album begins with the title track, which is a focused and rip roaring death metal assault.  The bass immediately pops out and wins all my focus—which might be part of the problem for me.  The bass is so well done and interesting that I really don't feel the other instruments keep up with as well.  Though the guitars and drums are obviously well played, they just don't grab and seek the same attention as the bass. With that being said, the song does have a solid, old school groove—one that doesn't let for a second.  That could be another issues I have—it doesn't let up and that is admirable considering the genre they play but it is also one note and could use some more depth. Bassist Vanessa also provides vocals—and those vocals are the next highlight beyond the bass.  She is no doubt the records MVP and I can't help but feel that she carries the band through much of the album's run time.  So when  just three songs into it, an instrumental arrives, it really kills the flow of the album thus far.  It is finely played but without her vocals, I found it hard to pay attention to it because it doesn't seem to go anywhere.
The album picks back up a couple tracks later with "Missing A Soul," which, at times, has a death/doom feel to it yet aptly applies more than enough speed to break up any monotony.  The guitar work works well on this track, especially with the slower parts because it lends the song a cold and unforgiving atmosphere that fits them well. "Vexatious Seizures Of Thought," ends the album much in the same with it began: a solid song with stunning musicianship but it doesn't really do anything for me.  I did like how it fades out into a clean piano outro—the band has potential to stretch beyond their own confines it seems. All in all, this is a solid album but only just—your mileage may very but I couldn't get very far with this. - Metal Temple
Release Date: February 5th 2022
FFO: The Chasm, early Death, Immolation
Location: Calgary, Canada
Formed in the summer of 2015, by Jim Petigo, BS, and MG. Vanessa Grossberndt joined on vocals later. We released a demo in 2016, available digitally upon request. In the winter of 2017, MG and BS left, and we went into hibernation. In the summer of 2017, Brodie Wylie joined on guitar, and we released an EP, Cosmic Tomb in 2018, a split with Euthanized, entitled A Pact From the Grave in 2019, and we kept the momentum going. At the beginning of 2020, Brodie left, but was gracious enough to record the songs he helped to write for our full length, Manic Despair. The guitar parts for the rest were written and recorded by session guitarist Depresor. In September of 2020, we found a new guitarist in Joe Pacentrilli, with whom we've been practicing and performing material from Manic Despair, and the two previous releases, as well as writing new material for our next release.
Check out their previous release now!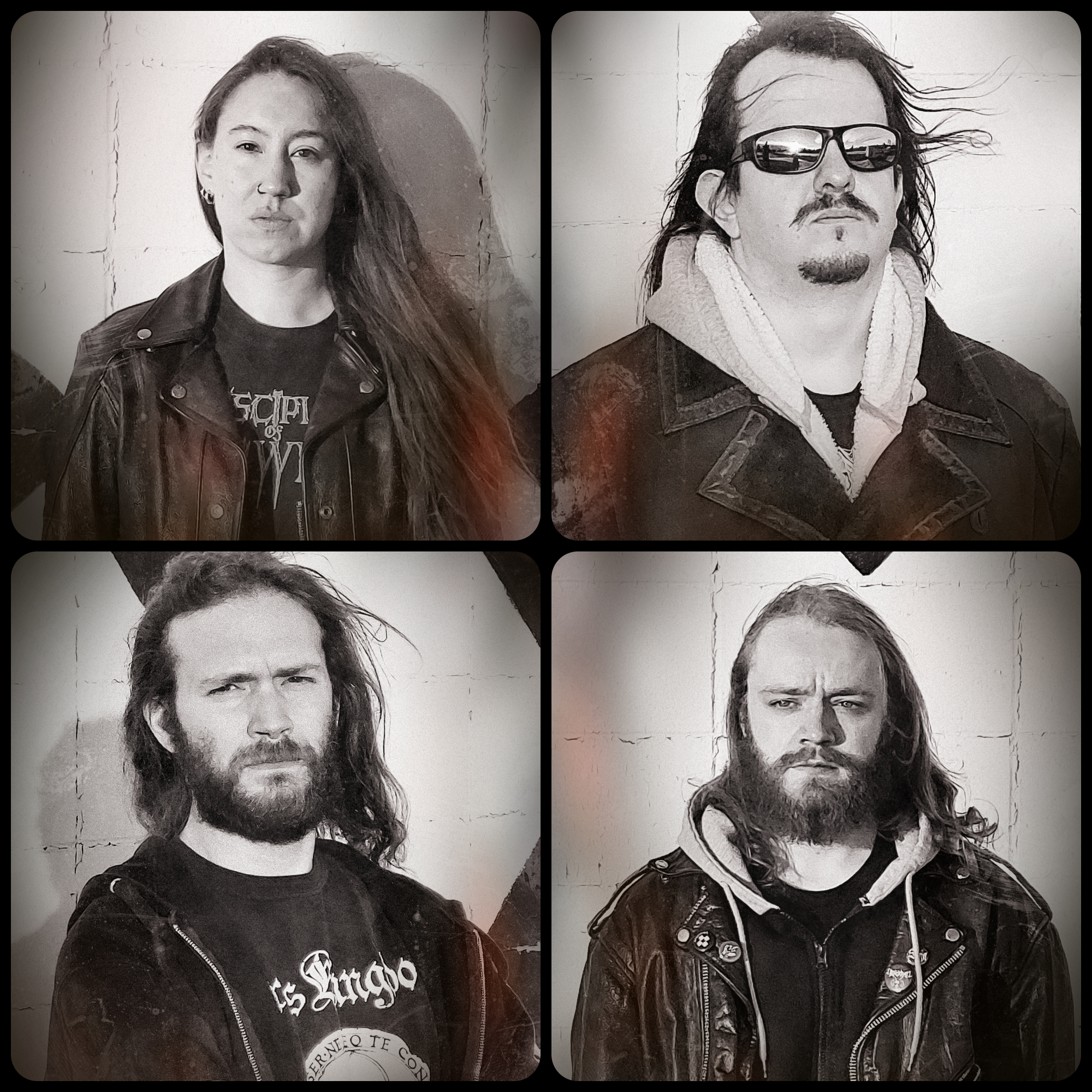 Follow the band at these links:
https://www.facebook.com/cultistcanada
https://cultistcanada.bandcamp.com/