Today, notorious Swedish black metal collective  WATAIN  is celebrating the release of their new studio album, " The Agony & Ecstasy Of Watain ," which arrives just in time to commemorate Walpurgis Night when April moves aside for the month of May and bonfires will light up the night sky.

To celebrate the release, the band also present new single ' Ecstasies In Night Infinite' .
E. Danielsson  comments:
" We have lived with this album among ourselves trembling like an infant upon the altar for a long time now, and today we shall finally set it free.
It carries within it the madness and the mystery of all our accumulated experience, both savage and sublime. Our heartfelt veneration unto all that we deem sacred and true. A humble offering to the fires of the Devilgod that ever continue to rejuvenate us, to strengthen us, and to illuminate our path ahead. To all of you who are ready to embrace it; may it take you far. "

WATAIN  have recently performed a very unique and intimate live show at the Chaudronneries de Montreuil in Paris as a warm-up for Hellfest 2022, presented and streamed by arte TV. We are excited to be able to share with you an intense live clip for the opening song of the new album, " Ecstasies In Night Infinite ," which was taken from the afore mentioned live footage. Watch the clip below:
'The Agony & Ecstasy Of Watain'
 
01.    Ecstasies in night infinite
02.    The howling
03.    Serimosa
04.    Black cunt
05.    Leper's grace
06.    Not sun nor man nor god
07.    Before the cataclysm
08.    We remain
09.    Funeral winter
10.    Septentrion

ABOUT WATAIN

Watain crawled out of Satan's cunt in 1998, and has since then ascended and grown into one of the world's most well known and notorious Black Metal bands. Their legacy is often referred to with fear, love, confusion or awe, but seldom with indifference.
 
Their infamous live shows have become a worldwide phenomenon; inimitable ceremonies of wild Black Metal fanatism where the sacred and solemn collides with raw unadulterated force. With their greatly anticipated seventh studio album, Watain continues to arouse and electrify their audience with an unmistakable, adventurous brand of Black Metal Magic, processed and distilled over the course of a 25-year long history.
 
Recorded live by long time collaborator Tore Stjerna in his infamous Necromorbus studio, now re-located to an old church on the Swedish countryside, "The Agony & Ecstasy of Watain" takes the listener one huge step closer to the innermost heart of a band that despite always being surrounded by rumors and controversy has always strived for a most sincere and genuine form of expression.
 
With 10 songs written by the founding trinity of Watain (E. Danielsson, H. Jonsson and P. Forsberg), it is also the first Watain album to be recorded live with a full line up completed by A. Lillo, H. Eriksson and E. Forcas.
 
The material is further enriched by noble contributions from  Farida Lemouchi  (ex The Devil's Blood, now in Molassess) and  Gottfrid Åhman  (ex In Solitude, now in PÅGÅ).
 
The lyrics, always a central aspect of every Watain album, range from manic proselytism to profound contemplation on the relativity between life and death, sacred and profane, holy and unholy, agony and ecstasy, eagerly excavating the winding depths of mind and spirit with a new sense of clarity and determination.
 
Characterized by a morbid sense of beauty mingled with raw primal force, Watain is the wolf that keeps hunting, fearless and free, in the dark night of man.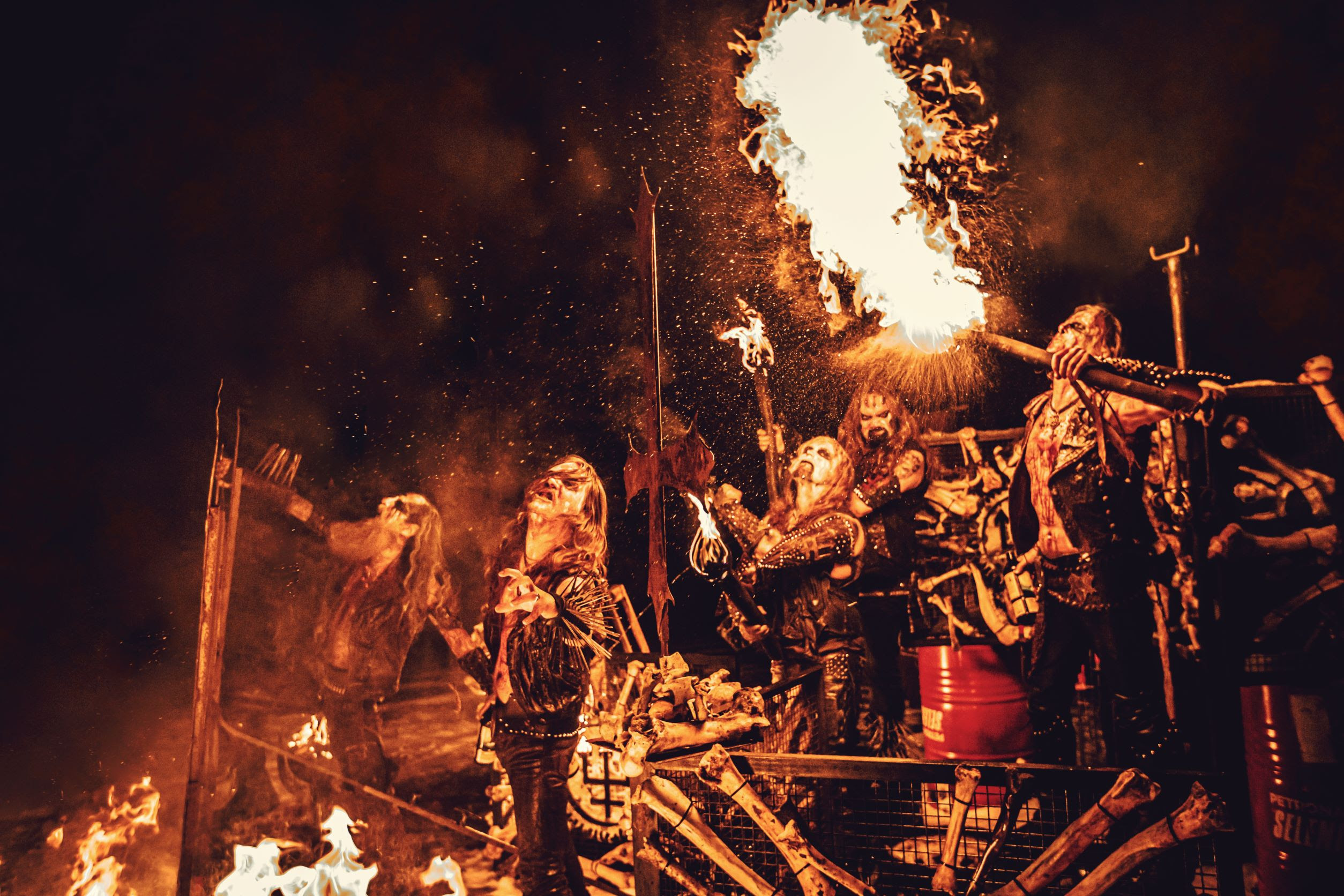 WATAIN   are:
templeofwatain.com
facebook.com/watainofficial
instagram.com/watainofficial
wolfwear.net