Wacken Metal Battle USA is proud to announce the 2018 American champion California's VOICES OF RUIN. From over 50 competing bands in this year's qualifying battles, VOICES OF RUIN along with Philadelphia's EYES OF THE LIVING and Florida's WITHERING EARTH shared the stage in the top 3 national final hosted in Los Angeles this past weekend on May 26th at The Viper Room. Judged on various criteria by metal industry representatives Marco Barbieri (M-Theory Audio), Lloyd Grant (Metallica) and Bill Metoyer (Producer - Slayer/Bitch), VOICES OF RUIN unleashed an assault worthy to be selected and to perform at Wacken Open Air. VOICES OF RUIN will now headbang on Wacken Open Air's Wet Stage for the festival's global competition of independent metal bands for a chance to be crowned the international champion along with winning multiple prizes from the organization and their partners (prizes info). Wacken Open Air, the world's largest outdoor metal festival will be taking place from August 2nd – 4th in Wacken, Germany.
Wacken Metal Battle USA organizer Jon Asher comments:
"This year's American battles witnessed Wacken Metal Battle USA's expansion to more cities, more bands and more metal! I'm always excited to see who will be the king of the ring from all the bands participating. I want to thank all the bands for entering and performing in the competition, all the judges and city promoters plus all our partners that helped spread the word and making our 2nd year an amazing event. We're looking forward to next year and sending more independent American metal to Wacken!"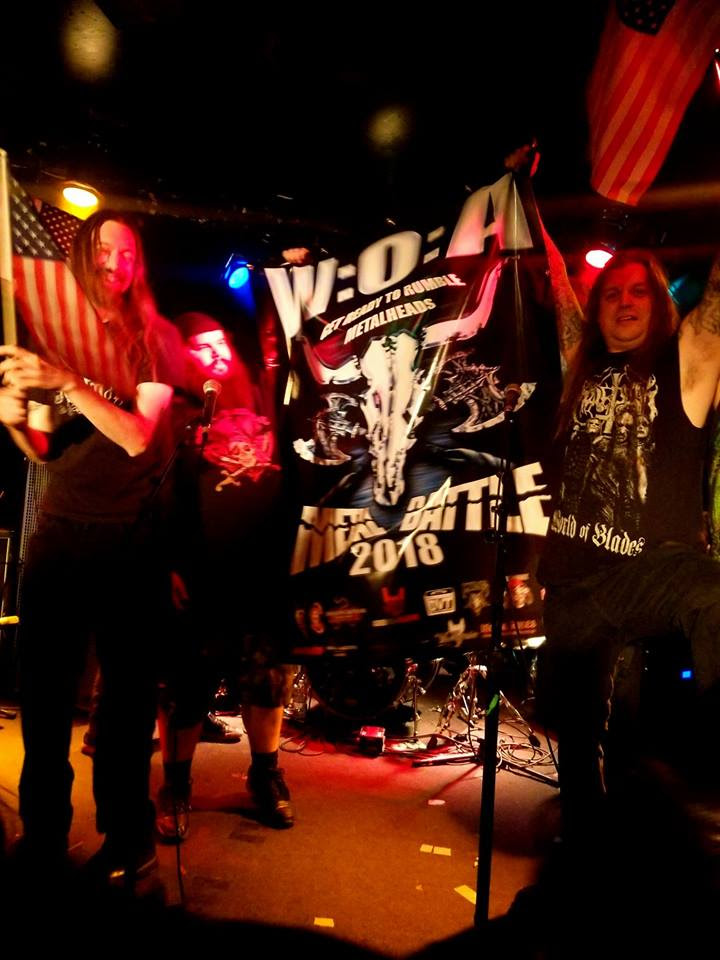 During the months of March and April over 50 bands competed in Wacken Metal Battle USA qualifying rounds hosted in Los Angeles, San Diego, Philadelphia, Orlando and Tampa Bay. Full list of participating bands can be found at www.metalbattleusa.com.
The 2017 battles saw the best from the Philadelphia and Boston areas, Corpse Hoarder, Goblet, Power Theory, and Upheaval perform in the national final. Crowned champion was Philadelphia's Corpse Hoarder whom performed a furious set at Wacken Open Air.
Watch live video of their Wacken set at the following link:
About:
Wacken Metal Battle USA is part of an international competition that sees bands from across the country battle each other for the chance of winning their spot among 29 other countries' champions, and representing the USA in an international battle of the bands at the world's largest outdoor metal festival: Wacken Open Air, which has been taking place in Wacken, Germany for the last 28 years. The winner of Wacken Metal Battle USA will perform at the 2018 festival taking place from August 2nd – 4th.
How it works:
Participating cities will host qualifying rounds plus a city final organized by a local city concert promoter where one band will move forward to the American national final in Los Angeles on May 26th, 2018. The winner of the national final will move on to perform at the 29th edition of Wacken Open Air, and compete against the winners of 29 other countries in a final global battle. All bands will be judged during battle rounds by respected local music industry representatives.
Rules:
https://metalbattleusa.com/rules/
For more info on Wacken Metal Battle USA, please visit these links:
Official Website: http://www.metalbattlusa.com
Facebook: https://www.facebook.com/metalbattleusa
Twitter: https://www.twitter.com/metalbattleusa
For more info on international battle, please visit: http://www.metal-battle.com
For more info on Wacken Open Air, please visit http://www.wacken.com
Sponsors / Media Partners:
Los Cabos Drumsticks
MetalAssault.com
MetalDevastationRadio.com
MetalMasterKingdom.com
MetalNationRadio.com
Metal-Rules.com
MetalUnderground.com
PureGrainAudio.com
PureRockRadio.net
Dungeon Works Productions
Asher Media Relations
Rind Records