I AM MORBID - Ft. David Vincent, Bill Hudson - Announce European 'Morbidfest Tour 2022' with Special Guests BELPHEGOR + HATE!
Tour organizer The Flaming Arts issued the following:
Headlined by the mighty I AM MORBID, Morbidfest Tour 2022 is dedicated to the 30-year anniversary of the release of the 'Blessed are the Sick' album. Initially announced for 2021, the Morbidfest Tour had to be postponed due to the pandemic. But, it's finally happening in 2022 with even higher anticipation! 
Formed by DAVID VINCENT, the legendary, long-time frontman (vocalist & bassist) of the genre-defining extreme metal purveyors, MORBID ANGEL, I AM MORBID performs Vincent-era classics from Morbid Angel's 'Altars of Madness', 'Blessed Are The Sick', 'Covenant' and 'Domination' albums.
Morbidfest Tour 2022 will include a touring package supported by two very special guests, Belphegor and HATE.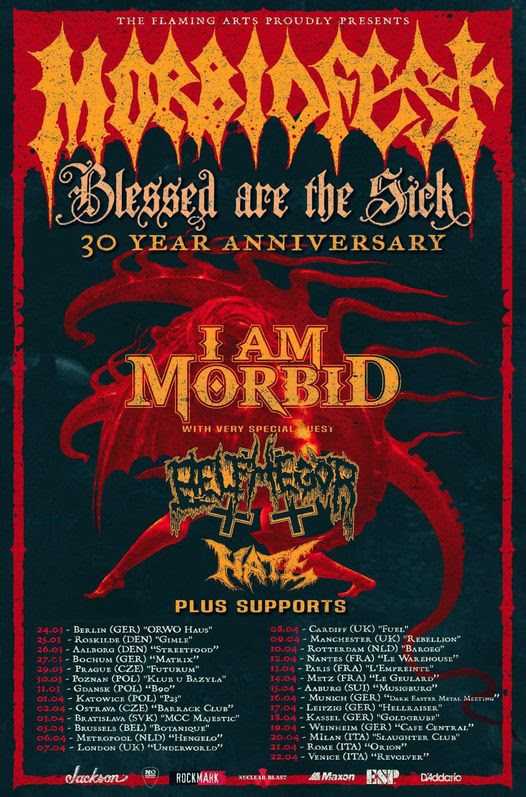 'Morbidfest Tour 2022' dates
+ support from Belphegor and HATE
March 24th: Berlin 🇩🇪 @ ORWO Haus
March 25th: Roskilde 🇩🇰 @ Gimle 
March 26th: Aalborg 🇩🇰 @ Streetfood
March 27th: Bochum 🇩🇪  @ Matrix 
March 29th: Prague 🇨🇿 @ Futurum
March 30th: Poznan 🇵🇱 @ Klub U Bazyla 
March 31st: Gdansk 🇵🇱 @ B90
April 1st: Katowice 🇵🇱 @ P23
April 2nd: Ostrava 🇨🇿 @ Barrack Club
April 3rd: Bratislava 🇸🇰 @ MCC Majestic
April 4th: Brussels 🇧🇪 @ Botanique 
April 6th: Hengelo 🇳🇱 @ Metropool
April 7th: London 🇬🇧 @ Underworld 
April 8th: Cardiff 🇬🇧 @ Fuel 
April 9th: Manchester 🇬🇧 @ Rebellion
April 10th: Rotterdam 🇳🇱 @ Baroeg
April 12th: Nantes 🇫🇷 @ Le Warehouse 
April 13th: Paris 🇫🇷 @ L'Empreinte 
April 14th: Metz 🇫🇷 @ Le Geulard
April 15th: Aaburg 🇨🇭 @ Musigburg 
April 16th: Munich 🇩🇪 @ Dark Easter Metal Meeting 
April 17: Leipzig 🇩🇪 @ Hellraiser 
April 18th: Kassel 🇩🇪 @ Goldgrube 
April 19th: Weiheim 🇩🇪 @ Cafe Central 
April 20th: Milan 🇮🇹 @ Slaughterclub 
April 21st: Rome 🇮🇹 @ Orion 
April 22nd: Venice 🇮🇹 @ Revolver
More information at https://www.facebook.com/IAMMORBIDBand
-----------------------
Please Note, BILL HUDSON is available for studio sessions and guitar clinics. For further information, please contact tarja@splitscreenproduction.com.
Guitarist/songwriter Bill Hudson (NORTHTALE, I AM MORBID, former DIRKSCHNEIDER, TRANS-SIBERIAN ORCHESTRA, Circle II Circle, Jon Oliva's Pain and more) has become a very sought after name in the hard rock world in recent years. Whether he is in Germany headlining the biggest heavy metal festival in the world or in the studio recording guitars for a video game soundtrack, there's never a dull moment in the life of the Brazilian musician. In the summer of 2015, he made history in Germany, headlining Wacken Open Air, performing in front of 80,000 fans with the TRANS-SIBERIAN ORCHESTRA. Hudson joined the TRANS-SIBERIAN ORCHESTRA also for their winter tour in 2015, performing 52 shows in 6 weeks throughout the US and Canada for an average of 15,000 fans a day. From April 2017 to April 2018 Bill Hudson made part of the DIRKSCHNEIDER line-up, touring widely both America and Europe. In February 2018 Bill launched his new power metal band, NORTHTALE, releasing the debut album "Welcome To Paradise" on August 2nd 2019, via Nuclear Blast. NORTHTALE's new album "Eternal Flame" will come out on November 12th 2021 via Nuclear Blast Records. 
Watch Bill Hudson – E.G.O:
More information at:
BILL HUDSON: http://billhudsonofficial.com
NORTHTALE: https://www.facebook.com/NorthtaleOfficial
MANAGEMENT: https://www.facebook.com/SplitScreenManagement | http://www.splitscreenproduction.com