Beyond Shadows "Tears Of Rain (Single 2022)" "Wolf's Blood (ep 2020)" - Reviewed By Night Hunter!
Beyond Shadows "Tears Of Rain (Single 2022)" "Wolf's Blood (ep 2020)" - Reviewed By Night Hunter ! Check it out here at this link: https://novedadesmetal.wordpress.com/2022/01/10/beyond-shadows-tears-of-rain-single-2022-wolfs-blood-ep-2020-mdr-2022/
A band from the United States that gives us their Melodic Death Metal of a very good compositional level, this time we have the new single and a previous ep, genius of these musicians: Daniel Shepherd (Vocals, Guitar and Bass) and Chris Hawkins (Drums).
"Tears Of Rain (Single 2022)" with acoustic guitars in its beginning, so that in a fraction of seconds all the madness takes over the song, with fast bases and full of fury where the melodies are appreciated in the background. There are quiet moments where the guitar is the protagonist, with a very melodic solo and great feeling, the voice beyond being guttural is understood perfectly, the drums go to a thousand at all times, even in the quietest parts and there are several arrangements to very interesting twin violas.
Now we focus on the ep of the year 2020 of four compositions, and the title in charge of opening this ep is "Never An Answer" aggressive and violent with several changes of rhythm, but normally the speed predominates, and despite all the violence that dominates, the melody always finds a place to stand out. The guitar bases are brutal, but in the chorus we find a respite with that catchy atmosphere. A majestic guitar solo and many arrangements of all the instruments and the obviously guttural voice. "Wolf's Blood" already at the beginning with heavy guitars and full of melodies with arrangements for two voices, a heavy half-gear that in seconds shoots at pure speed with viola bases that melt your head with each note, the chorus is calmer, but with a passion that does not take away power from the composition. The guitar solo is full of feelings and has arrangements to two very interesting violas. The stanzas are deadly, with the battery that deploys in its double bass drum a hyper speed. Another guitar solo with good taste and melodies to two violas, an amazing song, for the end a great acoustic guitar. "Regret is my Name" with a piano in its beginning delighting us with beautiful arpeggios and out of nowhere everything goes to hell, but in the best way, with bases of guitars to two voices that force you yes or yes to move your body in a perfect symbiosis with music, a lot of melody, changes of rhythm, a personality in the unique voice and the viola arrangements in the melodies added to the solo of this instrument give a great plus to the composition. "Screaming Eyes (Go Unheard)" pleasant arpeggios, with nice arrangements, and the galley, a tremendous base, where there is no place to distract yourself even once, the changes of rhythm are bestial, as are the arrangements. The work on the guitar bases is exquisite, the chorus very pleasant and the viola crushes in the rhythm changes are powerful. The guitar solo has speed and moments of great feeling and I do not want to forget the choirs with clean voices that look great.
What a pleasure to start the year listening to a band of these characteristics, do not miss it, impressive. - Night Hunter
Release Date: January 3rd, 2022
FFO: Carcass, At the Gates, Black Dahlia Murder
Location: USA
US Melodic Death Metal band, BEYOND SHADOWS, have announced the release of their new digital single 'Tears Of Rain' on January 3rd, 2022.
Former MIDIAN Drummer Chris Hawkins & Guitarist Daniel Shepherd's self-produced single was once again recorded at Hellhound Studios in Rahway, NJ by Jerry Ramos who recorded their first EP "Wolf's Blood" in 2020. This single will be on their next EP release "Tears Of Rain" coming out sometime in fall 2022.
"Recording this new song has been a difficult task" says drummer Chris Hawkins. "With the Covid-19 pandemic and busy work schedules, its been rough getting together to work on new music." But that all changed for the band in February 2021 when the stars and schedules aligned, and Daniel and Chris entered Hellhound Studios to record the track "Tears Of Rain". It was perfect timing, Daniel Shepherd says: "On this new song, we wanted to deliver a sound that combined a contemporary death metal style, punctuated with melody and harmony, a beautiful intro, and include influences of old school metal. I think we achieved that as we
bring listeners along our storied journey."
In 2008, Shepherd spent time with top metal producer Fredrik Nordstrom at Studio Fredman in Gothenburg, Sweden, where he honed his skills, enabling the band to self-produce "Tears Of Rain".
The band's influences include Iron Maiden, Judas Priest, Slayer, Megadeth, Metallica, Death and Carcass. Next, Beyond Shadows will finish recording their new EP "Tears Of Rain" in the coming months.
Check out the video!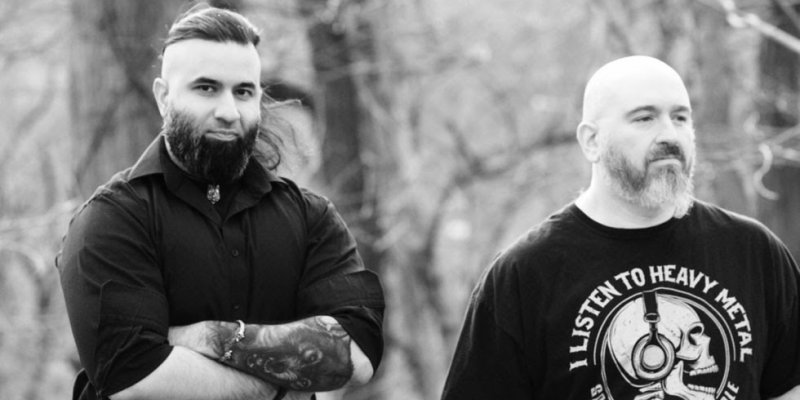 BEYOND SHADOWS is:
Daniel Shepherd – vocals, guitars, bass
Chris Hawkins – drums
"Tears Of Rain" Credits: Recorded by Jerry Ramos @ Hellhound Studios, Rahway, NJ February 2021. Produced, Mixed by Daniel Shepherd.
Follow the band at these links:
https://open.spotify.com/artist/6sEH3AIPXVaL85faqF8dKp
https://music.apple.com/us/artist/beyond-shadows/1462695422
https://www.instagram.com/beyondshadowsofficial/