Heathensun – Flip Side - Reviewed By zwaremetalen.com ! Check it out here at this link: https://zwaremetalen.com/albumrecensies/heathensun-flip-side
In twenty years' time I have become a bit thicker, grayer and especially now-metallozer. Where I used to not let Korn's performance pass me by, I recently caught myself putting on an old KornT-shirt to help paint someone's living room. I didn't care about some paint stains on it. Yet nu-metal is not dead. What's more, the genre seems to be undergoing a significant revival. Bands like Tallah, Ocean Grove and especially Tetrarch are still partying like it's 1999. For example, we now received Heathensun's debut album at the editors. This trio from Wilmington, North Carolina is on an impressive rise and now seems ready to introduce themselves to our low countries.

What is special is that this band only saw the light of day this spring – in the midst of the corona crisis. In their own words, the band members managed to "work together remotely". I now imagine a starting band jamming together via zoom. Well, let's just take this official explanation for truth.
At least as special is the fact that Heathensun has built up a nice fan base in this short time. Single Beach is doing very well in the American metal Top 100 with a seventh place and the band also seems to be gaining a foothold in Germany. The nu-metal band dreams of becoming one of the most phenomenal bands of its generation. Dreaming is allowed of course. We wholeheartedly grant it to the boys. Curious as I am, I decided to listen to debut album Flip Side.
I immediately notice a lot of things. Singer Johnny Anthrax – unfortunately not his real name – sounds and jumps around like Kid Rock, dresses like Jonathan Davis and raps like one of the Beastie Boys. In the video clips he shows himself to be too cool for this planet. Ah, how I missed these kinds of bands. It all feels very nostalgic to me.

However, the music itself rarely changes tone or speed. The focus often seems to be on the rap rhymes and beats and less on the guitar or even turntable. The latter is often central to nu-metal bands such as Limp Bizkit or (hed)PE. The drum and bass guitar also seem to be turned on earlier to create a nice background noise. When the record is almost over, however, I come to the conclusion that no song will really stick. Jealousy is still a fun rap metal song and certain songs might have made serious chunks twenty years ago, but all in all, this is not an album that will stay with me. Or at least not for the reasons the band would like to be remembered for.
Well, this Heathensun actually delivers what it promises though. Rap metal with an attitude, put together with the few resources that the band has available. You can't help but respect that. The band members really believe in their music, make little or no concessions and above all radiate a certain authenticity, even though it is all tough patser behavior in the video clips. Belongs to the genre surely? This kind of music actually sleeps with both hip hop and metal. It makes it fall a bit between the two genres. Many hip hoppers will find this metal and for a not so small group of metalheads Heathensun might smell a little too much like hip hop. "just don't give a f***" shouts Johnny Anthrax and his band rolls through the metal charts in his home country VSA. - zwaremetalen.com
Release Date: November 11, 2021
FFO: Limp Bizkit, Beastie Boys, Machine Gun Kelly, Rage Against The Machine
A collective of punk, metal, and hip hop, Heathensun brings all three of these genres cohesively. The three members of this band are from Wilmington and Concorn, NC, and Myrtle Beach, SC. It's a great pleasure to introduce each member of the Numetal Band are DrunknDonuts, Johnny Anthrax, and Heathen. Heathensun has a massive collection of talent and creates a sound that highlights the groups by which they are inspired. Jammed packed with unpredictable sound, Heathensun shows that they are fit to hold a seat next to the great's that inspired them such as Cypress Hill, Deftones, Korn, System of a Down, and Hed P.E. 
"Beach" opens with strong sounds that instantly cause you to nod your head at a rapid speed. We can all strongly agree with the burst of power displayed in the lyrics. From the very first word to the last instrument in the beat, this song holds an undeniable place in music history. This song is golden and holds a special place in the hearts of nu-metal music lovers worldwide. A true masterpiece blended with multiple talents and sound production has helped this song climb the Itunes charts to hold the Number 7th Top 100 USA spot.  - Carolina Bangerz
Check out this video!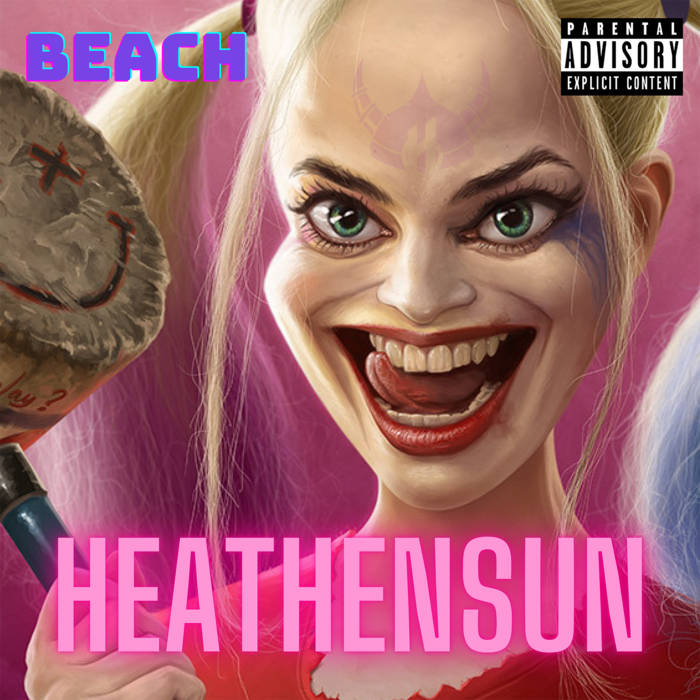 Follow the band at these links:
https://www.youtube.com/c/heathensun
https://www.instagram.com/heathensun
https://www.facebook.com/heathensun
https://www.tiktok.com/@heathensun
https://www.twitter.com/heathensunmusic
https://heathensun.bandcamp.com/
https://www.heathensun.com
https://linktr.ee/heathensun