VULNIFICUS - INNOMINATION - Reviewed By The Headbanging Moose ! Check it out here at this link: https://theheadbangingmoose.com/2021/11/29/album-review-vulnificus-innomination-ep-2021/
Formed in the fall of 2021 in the United States by vocalist Eston Browne (Abolishing the Ignominious) and multi-instrumentalist Wilson Sherels (Urotherapy, Epidermolysis), the dynamic Brutal Death Metal duo known as Vulnificus is attempting to push Death Metal back to its extreme limits with their debut demo/EP, entitled Innomination, highly recommended for fans of bands the likes of Cenotaph, Defeated Sanity, Brodequin and Orchidectomy. Recorded, mixed and mastered at Demolition Studios by Wilson with additional recording and mixing of vocals by Eston at BWNTWN STN, and displaying a sick cover art by Pileworm Guttural Art and logo by Force Fed Graphics, Innomination will smash us like an insect with its 12 minutes of sheer brutality, leaving us all absolutely disoriented and eager for their first full-length opus in the near future.
Wilson begins his demented sonic attack in Scraped and Scattered, providing Eston with all he needs to torment our souls with his gruesome vociferations. In other words, it's the epitome of underground brutality, and I'm sure Wilson's blast beats will inspire you to slam into the pit like a maniac in the name of Death Metal. The duo shows no mercy for our necks in Induced Rampage, as Wilson continues to hammer his guitar, bass and drums nonstop while Eston roars and growls like a creature from the abyss, resulting in an insane Death Metal extravaganza spiced up by the song's closing eerie noises crafted by Eston. And their last Deathslam feast comes in the form of the title-track Innomination, another bestial creation by those infernal metallers showcasing their trademark growls and demolishing beats, not to mention how caustic the riffs by Wilson feel, ending the band's welcome card on a high and putrid note.
After the 12 minutes of savagery blasted by Vulnificus are over, you'll certainly go back to the start and listen to their undisputed Brutal Death Metal again and again, proving how sick, vile and honest their music is. Hence, let's show our support to this up-and-coming American bludgeoning duo by following them on Facebook and on Instagram for all things Vulnificus, and by grabbing a copy of their demo from their own BandCamp page or by streaming it as many times as you want on Spotify. As already mentioned, Eston and Wilson are already working on their debut full-length album for sometime in 2022, and until then we can keep practicing our slamming skills to the sound of Innomination because when their full-bodied beast comes to life, it will be hell on earth in the name of Brutal Death Metal. - The Headbanging Moose
Release Date: November 26, 2021
FFO: Cenotaph, Defeated Sanity, Disgorge (US), Orchidectomy
Location: USA
VULNIFICUS is a dynamic duo surfacing the roots of brutal death metal from the US. Formed in the fall of 2021 by W. Sherels - All Instruments (Urotherapy, Epidermolysis) and E.Browne - Vocals (Abolishing the Ignominious), VULNIFICUS attempts to push death metal back to its extreme limits with their debut, "INNOMINATION", releasing November 26 2021. INNOMINATION was recorded, mixed and mastered at Demolition Studios by W. Sherels with additional recording/mixing of vocals by E. Browne at BWNTWN STN.  VULNIFICUS has just signed a deal to New Standard Elite, with a debut full length in the works for 2022. 
Check out the video!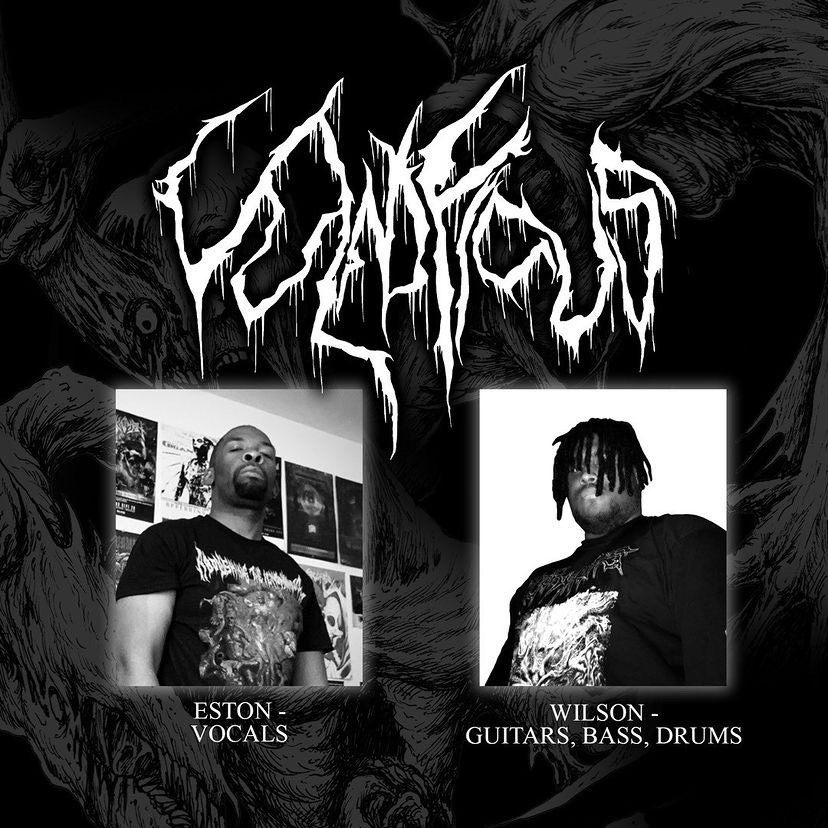 Band Lineup:
E.Browne - Vocals (Abolishing the Ignominious)
W. Sherels - All Instruments (Urotherapy, Epidermolysis 
Follow the band at these links:
http://www.Facebook.com/vulnificusbdm
http://www.Instagram.com/vulnificusbdm
http://vulnificusbdm.bandcamp.com