' Hell Machine ' joins us on the show to talk about the new record ' Relentless Aggression '! We play new tracks from the record as well as many other new releases from OTARGOS, Death Angel, Archspire, Triggering Trauma, Hath, Solanum (CAN), Sarah Halter, WOLFTOOTH, CROM, 3 Days Under , and Unzane ! We also played some classics by request from Belphegor, Six Feet Under, Darkthrone, Brutal Death Fuck, Gravehuffer, Slayer, Iron Butterfly, The Doors, Frank Zappa, Led Zeppelin , and Black Sabbath !
Track List:
1 - Incursion of Chaos/Xenos/Blessed By Pestillence - OTARGOS
2 - The Zach Moonshine Intro
3 - Swinefever - Regent of Pigs - Belphegor
4 - Sick and Twisted - Six Feet Under
5 - The Church Of Real Metal - Darkthrone
6 - Lord Of Hate - Death Angel
7 - Alcohol - Brutal Death Fuck
8 - Golden Mouth of Ruin - Archspire
9 - Destroyer Of Worlds - Gravehuffer
10 - Hell Machine - Interview Featuring DEVIL SPAWN/SHE-DEMON/BURN IN HELL
11 - KYLP - Triggering Trauma
12 - Kenosis - Hath
13 - In-A-Gadda-Da-Vida (Iron Butterfly Cover) - Slayer
14 - in a gadda da vida - Iron Butterfly
15 - The End/Roadhouse Blues/When The Music's Over - The Doors
16 - Muffin Man - Frank Zappa
17 - Whole Lotta Love/Dazed And Confused/Misty Mountain Hop - Led Zeppelin
18 - Megalomania - Black Sabbath
19 - High Class - Solanum (CAN)
20 - A Clockwork Destiny - Sarah Halter
21 - Ahab - WOLFTOOTH
22 - Into The Glory Land - CROM
23 - Shadows - 3 Days Under
24 - Emotional Coaster - Unzane
Listen to the full show on Mixcloud!
Check out the interview segment on Spotify!
Check out the interview segment on iTunes!
Check out the interview segment on YouTube!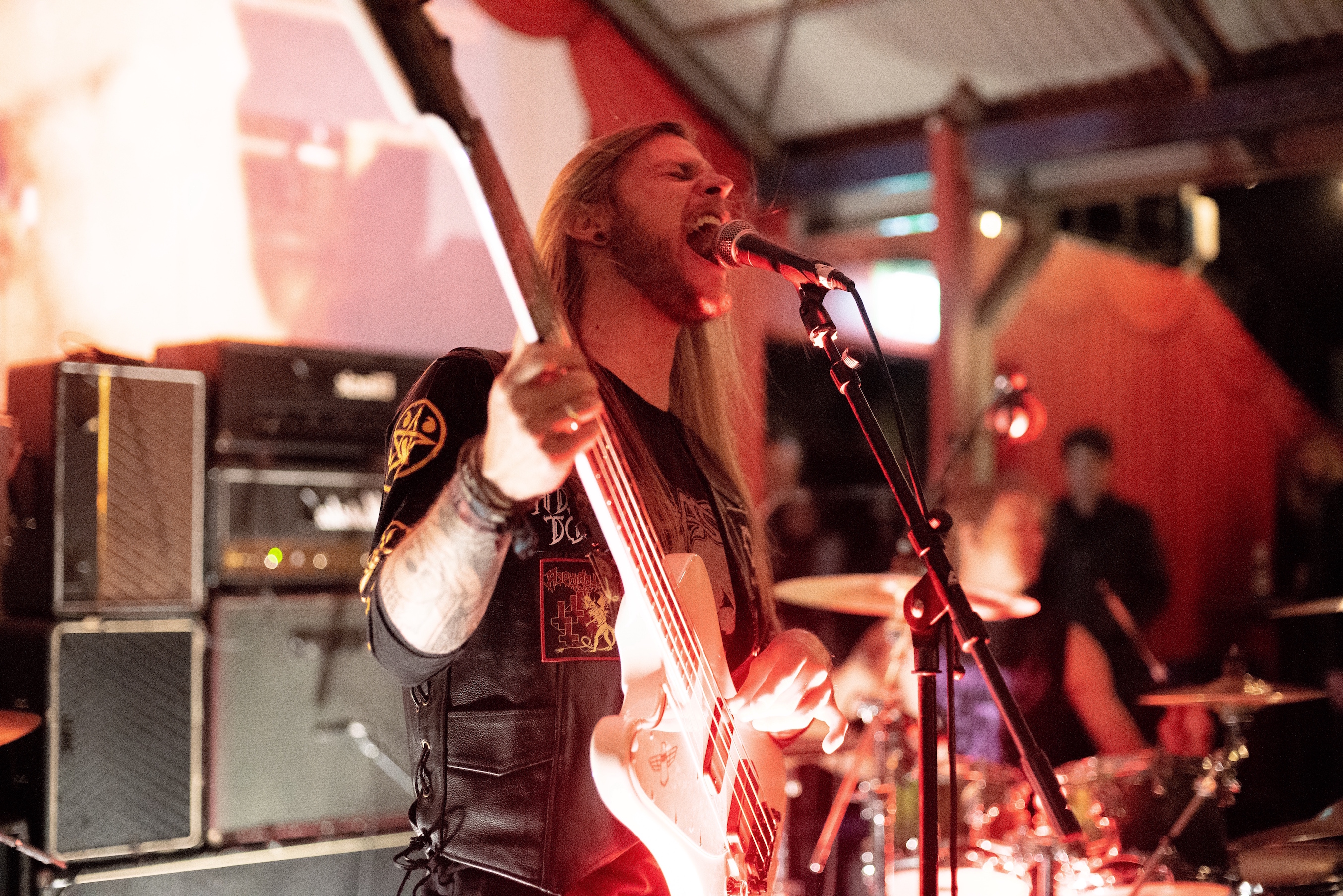 Australian Blackened Thrash Metal Duo HELL MACHINE released sophomore album Relentless Aggression on November 27.
Purchase/Stream:
https://hellmachine.bandcamp.com/album/relentless-aggression 
Arising from the red metal sands of Central Australia is HELL MACHINE. Equal parts Thrash and Black Metal, the deuce of Dave Hellrazor (Bass/Vocals) and Mal Machine (Drums) are a finely tuned weapon borne of searing desert heat and old-school heavy metal influence.
2018 saw the release of their first division of liturgies - Merciless Hate - before HELL MACHINE exploded onto stages, including cult underground festivals Blacken Open Air and Hell On The Bay. Congregations of crazed fans have been left wanting more ever since.
Now as 2021 closes, HELL MACHINE come armed again with another sonic rampage in Relentless Aggression. Eight tracks expertly crafted and recorded at Pony Music in Melbourne. The new disc lays siege to the temples of hypocrisy, and gives night terrors to feeble happy clapping stooges. Upon closing, nothing is left but particles of the faithful.
2022 will see HELL MACHINE deploy their large-calibre assault at Steel Assassins 10 (Sydney) and Churches of Steel Festival (Adelaide). Forewarned is forearmed. Get ready to ride into the dust on power strokes of razor sharp riffs, relentless drumming and the sledgehammer attack of
the one and only HELL MACHINE! This is the adrenaline charge that fans of blackened thrash need.
"To talk about them as being a two piece, as if that's their 'gimmick' or 'schtick' really undersells them, because they're just fucking amazing. Proper, straightforward, thrash metal, played in a no-bullshit format."
 - Riley Strong - (Vocals/Guitars - Desecrator)
"Hell Machine, the two piece onslaught of blast beats and Satan Australia needs."
- Jackson 'Jacko' Smith (Vocals - Miazma /Bassist - Writhing)
Track Listing:
1. Devil Spawn
2. She-Demon
3. Burn In Hell
4. God Is Nowhere
5. Gates of Hell
6. Lowlife
7. Possession
8. Hammer of Hate
Line-up:
Bass/Vocals: Dave Hellrazor
Drums/Vocals: Mal Machine
https://hellmachine.bandcamp.com/ 
https://www.facebook.com/HellMachineAus