Eddie from Hellpie joins us on the show to talk about the new record 'Long Gone Into Oblivion' and the state of the band. We play new music from the record as well as new release from Vincent Crowley, Cradle of Filth, UNLEASHED, DECEASED, Snipers Of Babel, Sorcerer, Royal Hunt, Summoner's Circle, Vedic, Telma, PIROSAINT, UBRUXUM, The End of Melancholy, and Exodus! Plus we played some classics by request from Pantera, Slayer, and Marilyn Manson!
Track List:
1 - Beyond Acheron (Intro)/Where No Light Shines/My Eternal Vow - Vincent Crowley
2 - The Zach Moonshine Intro
3 - Crawling King Chaos - Cradle of Filth
4 - The King Lost His Crown/Where Can You Flee? - UNLEASHED
5 - Spit On Your Grave [Whiplash]/Pray For Death [Blessed Death]/Sacrifice [Sacrifice] - DECEASED
6 - Digital Death/Francotirador/Your Gods War - Snipers Of Babel
7 - Hellpie - Interview featuring Rubber Bullets/Burned Alive/Long Gone
8 - Crusader/When Death Calls/Gates of Babylon - Sorcerer
9 - The Art Of Dying - Royal Hunt
10 - Of Black Horizons - Summoner's Circle
11 - Breaking Point - Vedic
12 - Perfect Storm - Telma
13 - Bleed - PIROSAINT
14 - Bashed to Ashes Crushed to Dust - UBRUXUM
15 - Antichrist Superstar - Marilyn Manson
16 - Disciple - Slayer
17 - Nature Unleashed - The End of Melancholy
18 - Planet Caravan (Black Sabbath cover)/Slaughtered - Pantera
19 - The Years Of Death And Dying - Exodus
Listen to the full show on Mixcloud:
https://www.mixcloud.com/thezachmoonshineshow/hellpie-featured-interview-ii-the-zach-moonshine-show/
Listen to the interview segment on Spotify:
Listen to the interview segment on iTunes:
Listen to the interview on YouTube:
Release date: October 29, 2021
FFO: Megadeth, Powertrip, Corrosion of Conformity
BIO:
Hellpie makes heavy music for people that eat pie. Specifically evil pies. Not like apple pie, but really tormented, sadistic pies. This groove metal concoction is infused with Edward Simpson on vocals and guitars, Bryon Ciotti on bass, and Steve 'bones' McKay on drums.
Their fourth album "Long Gone Into Oblivion", with six tracks and a subtle nod to Mike Bossier at Oblivion studios, has some heavy riffs, some thick grooves and some deeps thoughts. It's starts you off on your journey with current events like our struggles with social justice and civil rights and the stigma to choose a side in the track "Rubber Bullets", a tune with an urgent flow and an air raid breakdown. Then they touch on the subject of climate change and how the temperature is rising in "Burned Alive", and how our earth is fighting back against the human virus. As we are taking more than we need and we ask are we in fact "Long Gone "(with guest vocals by Jeremy Dyer) too far down the road to our own destruction to turn back. Which leads us to our current challenge to remain strong and fight on in this "World of Pain" with a driving main riff that changes to a swaying break that rocks back and forth like choppy waves at sea. Through it all we must in fact become as one to create a rebirth and a "New Reality". We must plant a new seed and grow a new future. In this song there is calm, there is turbulence and then there is unity. In the end of this journey, we find that although we start at the bottom and we walk a tight rope through life we will fight on and together we will "Rise". Enjoy the ride!
Stream ' Rubber Bullets' now on bandcamp!
Check out the video!
SINGLE: "LONG GONE" Asks are we too far 'Long Gone' down the road to our own destruction to turn back? Includes guest vocals by Jeremy Dyer (Snipers of Babel, Gaffled, The Great Ame-xican Standoff).
Check them out on Spotify and add them to your playlists!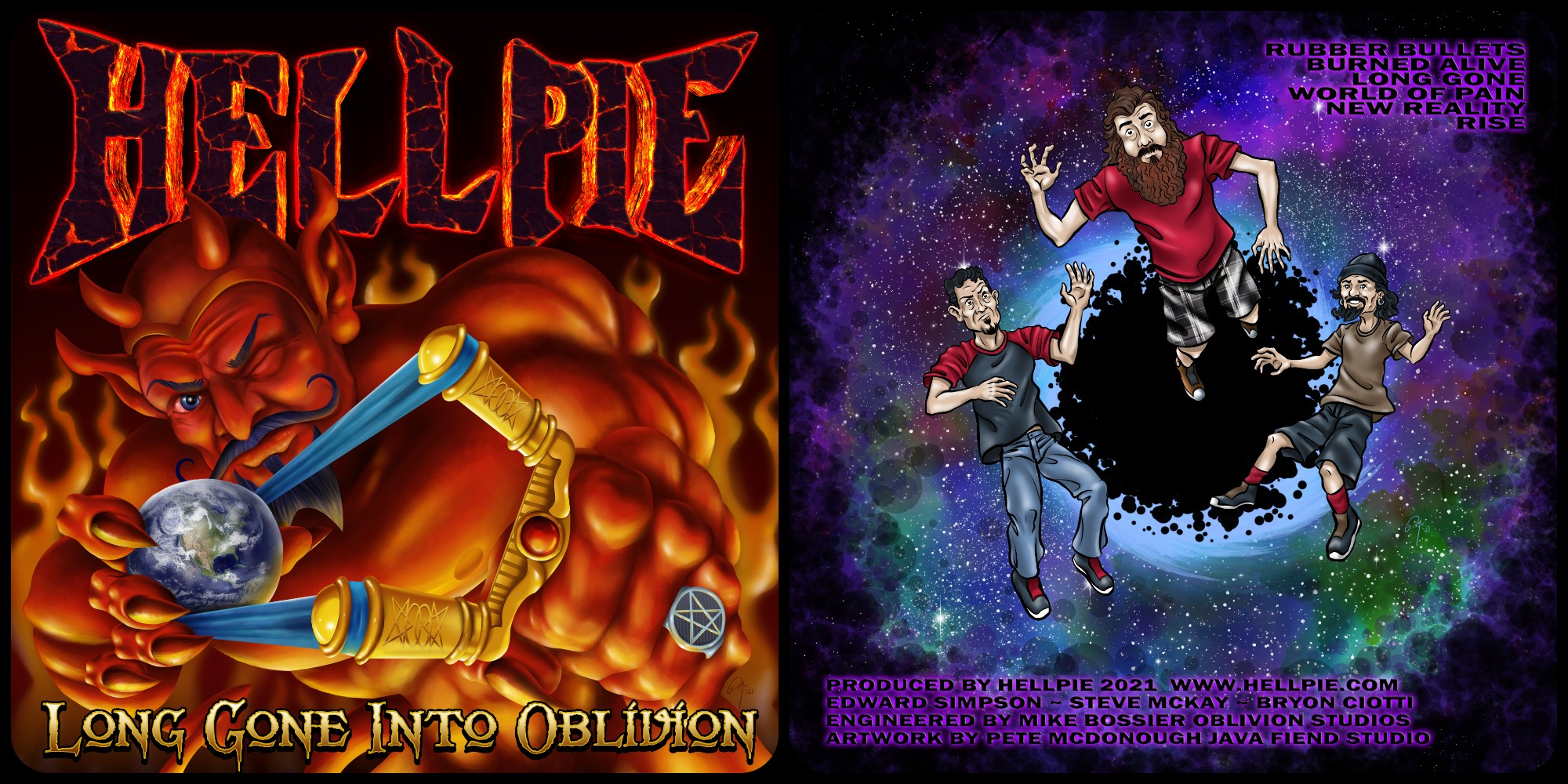 Follow the band at these links:
https://bones5150.wixsite.com/hellpie-pro
https://hellpie.bandcamp.com/
https://hellpie.bandcamp.com/merch/
https://www.facebook.com/HELLPIEband
https://www.instagram.com/hellpie
https://music.apple.com/us/artist/hellpie/468898030
https://www.youtube.com/channel/UCrhmShb5Vftoee7wxoCfXYA
For booking email: HELLPIE@verizon.net
https://open.spotify.com/artist/1HWwGfd0o1ZhMP3bRH4KxF