Incognito Theory - Self Titled - Reviewed By Jenny Tate ! Check it out here at this link: https://jennytate.wordpress.com/2021/09/13/incognito-theory-self-titled/
Brainchild of founder, vocalist and lyricist Dave Incognito, Incognito Theory was formed in 2009. They sport a sound combining hard rock and southern groove metal.
Produced by Danzig bassist and Samhain drummer, Steve Zing. Featuring contributions from friend Mike Lepond, on bass and backing vocals (Symphony X, Ross The Boss, Silent Assassin), Sixty Miles Down founder and singer John Mosco, on drums and bass, Dave Crum (Sixty Miles Down), as session musician and Steve Bloodgood, on guitar, completing the line-up.
Metalled up and ready to rock hard, IT give you their new, self titled, 5 track EP.
A taste of their sound can be sampled, via the YouTube video, 'Set It Off'.
Set It Off – Heavy blast of drums intro's, followed by gritty southern groove rock drawls and a strong, solid melody. Bluesy, rocky and rhythmic, this sound goes down well. Sporting that chunky sense of a freight train, rumbling into the distance. Shorter than expected, but all the things you'd anticipate, from this genre of rock.
Fired Up – Lively spoken intro, then straight into a bass heavy melody, with a lot of wah. Instantly rhythmic, with a strong accompaniment behind it. A bigger cymbal presence here. One evident issue is the audio's a bit heavy on the reverb effects, becoming particularly noticeable in the cymbal sections, but it's still a great melody, with powerful percussion. Again, slightly brief, but it makes good use of the high-end riffage and the atmosphere's evocative, throughout.
Smoking Gun – Solid intro, boasting a memorable riff tone. Plenty of grit in those vocals, working in unison with the rhythm section. More fun screaming riffage and a whole lot of groove. Great melody. Quite Crash Test Dummies-esque vocals. Another short one, but the atmosphere's certainly palpable.
The Rebel Soul Lives On – Very smooth riff intro. Moving down, into a bleaker, but very real and profound lyrical sentiment. Again, what really stands out about this is the palpable sincerity of the lyrics, fitting the sound, like a glove. So much groove to this track and the most beautiful chorus. Ending definitively, leaving a lingering aftertaste, the emotion's it's star USP.
Hell Bent – Vibrant, upbeat riff intro. Getting right into the groove. Deliciously sensual. Very catchy lyrics. These guys have got the feel of southern groove rock down well. Such a sexily macho feel to the vocals, you couldn't fail to be entranced. The chorus just gets you and reels you in. Always supported by that strong back beat and gorgeously melodic riff sound. Closing on a perfect, folding drum roll).
Overall – Incognito Theory certainly nail this genre down to the ground. 'IT' is a seductively groove heavy rocker of an EP and it'll reel you in and keep you dangling, from the start. It's only very slight weakness is the overdone reverb, in places, but even that's short lived and well compensated by the strength of that sexy, gravel-voiced melody and groove. All in all, it rocks hard).
9/10 ********* - Jenny Tate
Release Date: June 25, 2021
FFO: Hellyeah, Texas Hippie Coalition, Down
Incognito Theory was formed in 2009 by lead singer lyricist and founder Dave Incognito. Incognito Theory have set the bar high to bring their unique blend of crossover hard rock southern groove metal.
Fast-forwarding and moving forward, with the help of producer, Steve Zing bassist of Danzig, drummer of Samhain has produced the new album.
In addition, Symphony X bassist, Ross the Boss, Silent Assassins, and good friend Mike LePond has appeared on the album.
Drummer and backing vocalist John Mosco appear on the album who is also lead vocalist and founder of Sixty miles Down.
Dave Crum lead guitarist of Sixty Miles Down lending his session services. The new permanent guitarist is Steve Bloodgood who is now playing guitar for the band.
The Band of Brothers Incognito Theory
Dare to be different. To bring you up to date with their newest and darkest release.
Self-titled "Incognito Theory "
Check out this video!
Live Band:
Dave Incognito - Vocals
Steve Bloodgood - Lead guitarist/Backing vocalist
Mike LePond - Bassist/Backing vocalist
John Mosco - Drummer/Backing vocalist
Incognito Theory is always Fired Up!!!
They are prepared to take on anything that stands in their way embrace this monster y'all help created!! They bring you the sounds of perseverance and diligence.
Jersey's own. Incognito Theory!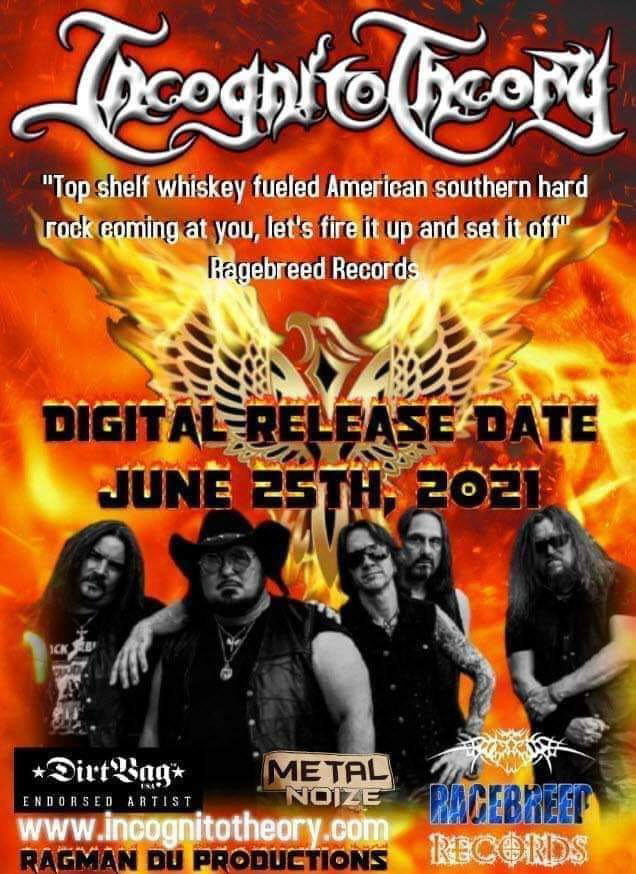 Follow the band at these links:
http://www.incognitotheory.com/
https://www.facebook.com/incognitotheory
https://www.instagram.com/incognitotheory/
https://www.youtube.com/user/incognitotheory
https://twitter.com/incognitotheory
https://www.reverbnation.com/incognitotheory
https://incognitotheory.bandcamp.com/
https://music.apple.com/us/artist/incognito-theory/336353660
https://open.spotify.com/artist/2BXmH330TL4ArAtvN99TYV?si=2heIE0ERRWK3M0V_fSotSg&dl_branch=1
Check them out on Spotify and add them to your playlists: