Dark, forward thinking music with an attitude in one of the world's most fascinating cultural locations, the legendary, natural Cave of Balve ("Balver Höhle") in the heart of Germany. Prophecy Fest in the label's 25th anniversary year is proudly announcing the final acts completing the billing of the festival's three days and nights from Thursday, September 9 to Saturday, September 11.
In addition to the newly announced band, the first details of the pandemic requirements for visitors have been provided  by the local authorities and can be found below (Pandemic FAQ). We are glad to be able to reveal now that camping will likely be available for which the conditions are also listed below (Location & Travel). 
Legendary British rocker ARTHUR BROWN will bring his flamboyant performance to Prophecy Fest. The mystical maverick has been quoted by vocalists from ALICE COOPER to IRON MAIDEN's Bruce Dickinson as a most important influence and his work is embraced by artists from ELTON JOHN to Pete Townshend (THE WHO). At the 2019 Prog Awards ARTHUR BROWN received the "Visionary Artist Award". Next to this giant of rock, more exquisite acts have been added to the final billing: Freshly signed doom duo FVNERALS have happily agreed to come to Balve and present their dark and heavy sound  live to the expert audience at the label's own festival. Italian "Suicide Pop" classic SPIRITUAL FRONT are eager to being their charmingly sardonic smiles and unique musical mix of neofolk, new wave, and whatever they deem fit for purpose to the cave. Neofolk connoisseurs will also be stoked to find the name HEKATE now printed onto the festival flyer too. Despite the fact that the Germans have musically expanded their stylistic range far beyond this genre, they remain true to their roots. VRÎMUOT complete the good news for all friends of neofolk. Mastermind and multi-instrumentalist T.S. will attend with the stated mission to breathe new life into this often self-referencing scene. On further billing news, DORNENREICH have announced that they will be performing a special acoustic show in Balve in the meantime, while SECRETS FOF THE MOON and VÖLUR sadly had to withdraw from the festival due to work-related personal reasons.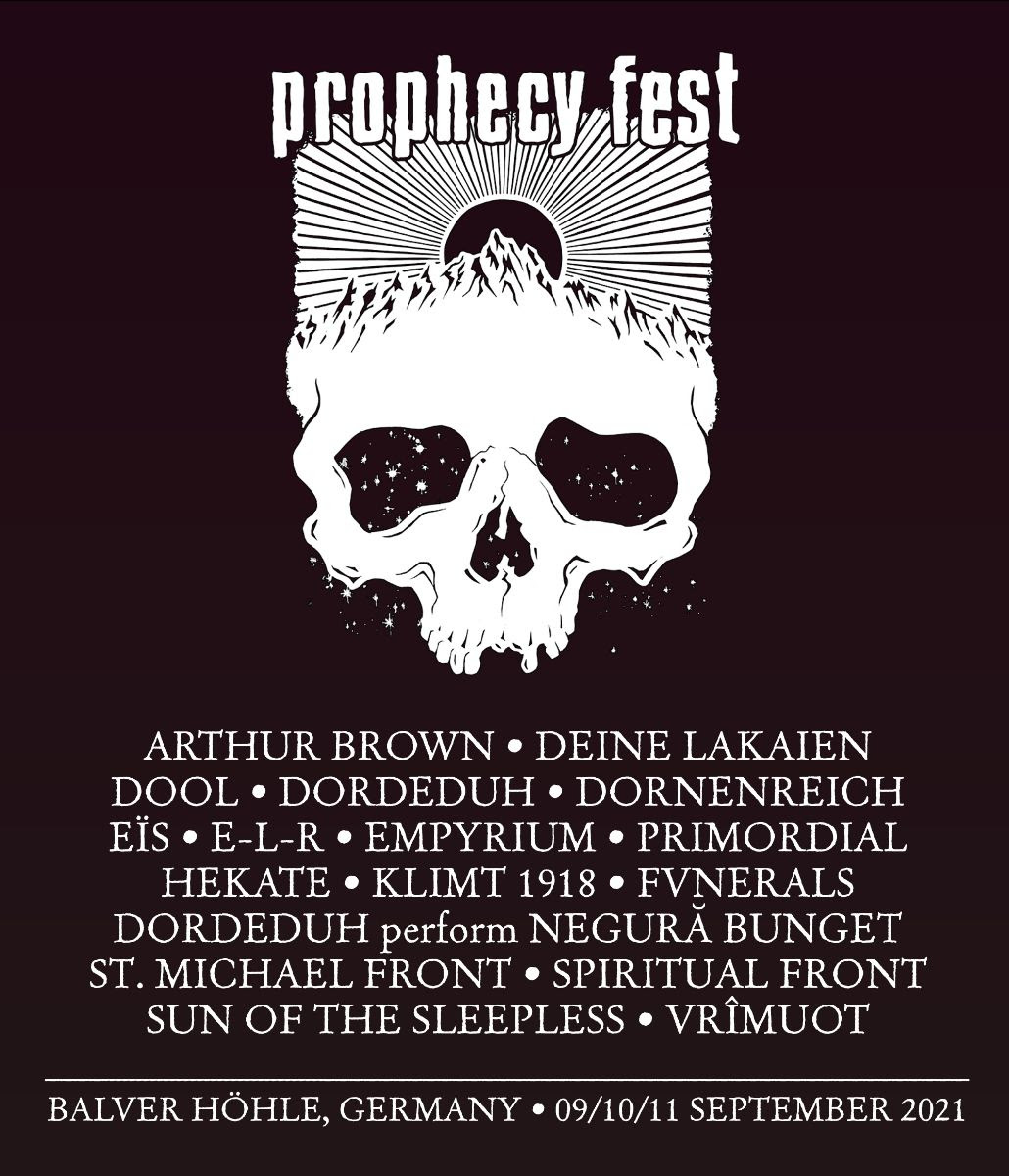 The final billing has now been confirmed (in alphabetical order):
ARTHUR BROWN, DEINE LAKAIEN, DOOL, DORDEDUH, DORNENREICH, EÏS,
E-L-R, EMPYRIUM, FVNERALS, HEKATE, KLIMT 1918, NEGURĂ BUNGET, 
PRIMORDIAL, ST. MICHAEL FRONT, SPIRITUAL FRONT, SUN OF THE SLEEPLESS, and VRÎMUOT.  
 
Martin Koller comments: "We are proud to present the complete billing for Prophecy Fest in the year of our 25th label anniversary", states the label founder. "With outstanding artists such as iconic rocker Arthur Brown joining us in Balve, we believe to have a well balanced festival that should provide music from the full bandwidth of our stylistic range. Hopefully, you agree with us and look forward to the return of outstanding music Balve as much as we do."
Please read the "Prophecy Pandemic FAQ" below to ensure the health and safety of visitors, bands, and crew. 
Please find further details about location, travel, and ticket options below.
TICKET OPTIONS
3-day-pass incl. "Prophecy Productions 25" programme book - 99 Euro 
A digital pass for a streaming version of the festival will also be made available in due time for those who prefer to stay at home or who have no other choice. We are still working on technical details.
3-day-passes can be booked via the link below:
http://tickets.prophecy.de/en/titel/prophecy-fest-09-09-11-09-2021-balve-de
Members of the Grand Supporter tiers of the currently re-launched PROPHECY CLUB will be able to attend the festival in all versions free of admission charge. Please check here for availability and conditions: https://en.prophecy.de/prophecy-club-membership/prophecy-club-2021-membership.html
Please note that Prophecy Fest 2021 is planning with visitor numbers as currently projected to be approved by local and federal authorities. At this time, a number of 999 passes has been allowed of which about 75% are already sold.
If the attendance becomes restricted further due to official regulations at a later point in time, tickets will remain valid on the basis of first come, first served. Invalidated tickets will be reimbursed and other options including changing to a digital pass will also be made available.
Prophecy Fest "Balver Höhle" by Afra Gethöffer-Grütz
PANDEMIC FAQ
What are the mandatory requirements for all visitors?
Please note that due to any changes in the course of the ongoing pandemic, the federal German government, the state of North Rhine-Westfalia, and the local authorities of the Märkische Kreis may at any time add new requirements or change already exiting rules.
 
The following mandatory rules will very likely apply in any given circumstance to entering the festival area and to the camping ground as well:
1. All visitors are required to either provide legal documentation of being fully vaccinated or valid documentation of having recovered from an infection with Covid-19 or attestation of a  legally valid negative Covid-19 test not older than 48 hours prior to entering the festival.
2. All visitors are required to register their personal data and the mandatory documentation. A registration link will be send to all ticket-holders. All personal data will be protected by and subject to the European General Data Protection Regulation. Valid personal identification (passport, personal ID card) has therefore to be provided before entering the festival.
3. The wearing of medical face masks will likely be required in some parts of the festival area. We recommend to bring sufficient numbers to the festival.
Please note that the measures described above are mandated by the German authorities and the festival promoters are legally required to enforce them. 
I forgot my documentation, can I get tested locally?
Yes. You will find local test centres a the link below:
www.maerkischer-kreis.de/corona/schnelltests/info_buerger/index.php
Is Prophecy Fest safe?
The primary concern of Prophecy Fest is always to provide maximum safety and security to all visitors, artists, and crew alike. This is routinely ensured by coordinated measures in consultation with the responsible authorities both on a local and state level. In addition to regular safety plans regarding emergency services, fire brigades and evacuation plans, the added challenge of the global pandemic is demanding additional hygiene and health concepts. Visitors will be informed of all mandatory rules of conduct in regular updates in advance of the event. 
What happens, if Prophecy Fest gets cancelled by the authorities?
In the event of a worst case scenario of a complete cancellation of Prophecy Fest by local or federal authorities, ticket holder will be offered a variety of options. Tickets can either be refunded or switched to an online pass with the price difference reimbursed. Alternatively tickets can also be transferred to the next edition. If emergency measures prevent an online version as well, digital tickets will also be refunded.  
What can I do?
There is no guarantee of a completely risk free environment during a pandemic. We therefore like to ask all participants to follow hygiene and safety instructions to the letter and stay alert. Your safest option is to be fully vaccinated. Please make sure to stay healthy by checking the relevant regulations in advance and to act accordingly at the festival. Do not attend, if you notice symptoms related to the pandemic. Look out for yourselves as well as others. Be considerate and show respect to your fellow attendees, artists, crew, and official authorities. Please do not hesitate to consult with the local emergency services or inform security, if you notice health issues or other problems.  
This FAQ will be regularly updated.
Balver Höhle historic postcard 1899
LOCATION & TRAVEL
Prophecy Fest was founded in 2015 and already already sold out at the first edition. This singular event for dark and innovative music takes place in the Balver Kulturhöhle ("Balve culture cave") in the Hönnetal ("Valley of Hönne") near the town of Balve in the Sauerland region of the German state of North Rhine-Westphalia.
The naturally formed karst cave has been used by humans already during the palaeolithic age. Is is an important archaeological site that yielded remains from many periods up and until medieval times. According to legend and the old Icelandic Thidreksaga, the mythical blacksmith Wayland learned his magical trade from dwarven masters ins this cave.
The gravity of its history and the special acoustics of the Balver Cave provide a unique atmosphere that fits perfectly with the musical programme of the Prophecy Fest.
For detailed information on accommodation, travel, and parking please consult the Prophecy Festival page: https://fest.prophecy.de
At the moment, camping is allowed by the local authorities. Please note that entry to the camping ground will be restricted to visitors of the festival with valid tickets and Covid-19 documentation as described in the Pandemic FAQ only. Guest will not be allowed and refused entry by the security at the entrance.
The page will be updated regularly towards the festival. 
New confirmed bands:
ARTHUR BROWN has not just delivered a world famous mega-hit with 'Fire', but the flamboyant British vocalist also worked with such giants as THE WHO on the movie "Tommy" and ALAN PARSONS PROJECT among many others. Pioneering shock rock, prog, and metal, this beloved rocker has become an icon in his life-time. As Elton John said about Arthur: "Now there's a man who was ahead of his time." The singer currently prepares a new album.
The ink is not yet dry under the contract that FVNERALS have signed with Prophecy and the doom duo founded in Brighton, UK in 2013 already lands a show on the label's festival billing. Their highly individualistic approach to dark doom also draws in elements from ambient, drone, and post-rock to complement a rather sinister and heavy sound. Having been held back by the pandemic, the duo can hardly wait to hit the stage again. Don't miss it.
When SPIRITUAL FRONT released their latest and sixth album "Amour Braque", the Italian "suicide pop" act had long established itself as a statement of extraordinaire musical taste. Originally founded by frontman Simone H. Salvatori as a solo-project the band's fascinating evolution had led them from Morricone-inspired neofolk to a musical entity easily channeling art rock, tango, new wave, country, and other eclectic influences. 
Starting out under the neofolk tag, HEKATE have progressed far beyond easy stylistic categorisation by artistically incorporating influences from classical, traditional, and medieval music as well as singer-songwriter and even electronic elements, while honing their easily distinguishable sound to perfection.  With a remarkable lyrical intelligence that among German also uses for example French or Yiddish, this act also rules on every stage.
VRÎMUOT derive their name from the Middle High German word for "candour". The project was founded by composer, multi-instrumentalist and singer T.S., who while staying true to the neofolk genre's core aesthetics and style, rather takes his sound to be a reinforcement and update of traditional neofolk values. His music is created in DIY-way without digital tools and unfolding in unusually long, intense narratives of crafty complexity.