Rabeen Mohammed - Ereshkigal - Reviewed By Metal Temple ! Check it out here at this link: http://www.metal-temple.com/site/catalogues/entry/reviews/cd_3/r_2/rabeen-mohammed.htm
Metal maniacs, rejoice! I am proud to present to you: RABEEN MOHAMMED; independently unsigned, hailing from Iraq/Syria/Lebanon/Egyptian grounds - on the debut album entitled "Ereshkigal" (released April 2021).
The duo in question have only this debut album in their discography so far entitled: "Ereshkigal"; 7 tracks ranging at around 33:77… RABEEN MOHAMMED arranges an intricately designed formula on some heavy-hitting Oriental Death Metal developments. Featuring a bunch of talented musicians from the sandy landscapes of the middle-eastern hemisphere; a unique super-group composed of multiple bands from that part of the world, we are offered a hefty dose of some vastly meaty prerequisite of monstrous and face-melting metal.
Opening up with this rampantly rompy maelstrom; this otherworldly synthetic on spellbinding majesty revolves with majestic weight within the introductory but cryptic beginnings of: "Ganzir" where Rach April Bassili showcases her harmonic pipes of mesmerizing melody. Until this thunderous barrage frenzy in blistering chugs engage a fierce element in hybrid experimentation and boisterously bouncy carnage, within the potently vibrant synergies on wildly rushing symphonies within the trailblazing yet operatic landscapes of the titular track. Sami noorallah surges with savage yells while this unique vehemence on versatile utilization piledrives with riveting yet primitive rhythms that revel with these sonically seamless patterns on meticulous deadliness – fabricating an immersively intense foundation on killer laceration & progressively technical reverberation from audible bassist Yazan Ju.
Outrè panache organically provides sophisticated substance, where rambunctiously thumpy tonalities & striking persistence clobbers eardrums with steamrolling perseverance while the momentous ramifications distil a dexterously dynamic virtuosity on quintessential pandemonium. Where the sulfurous remedies from eloquent keyboardist Omar Salem who unearths some sublime aesthetic in lofty hypnotism and Egyptian-like contrast, while track 3's "Geshtinanna" shows off more of his enriching prowess which merges this mystical milestone on some jumpy punchiness, towering stability & strong significance where this Djent sensation overarches with monolithic tempos while bluesy grooves intervene for good measure.
"Executioner Dreams" rifts with sturdy thuds and grinding slays that tremble with snappy yet strident zeal and distorted extremity while Helios Atum on vocals grovels diligently with scouring snares & raspy throatiness on deep, guttural finesse balanced amongst a concretely gritty bombardment in catchy instrumental chaos as god-like divinity reigns down into you with galloping chops, chunky veracity unto this viciously symbiotic resonance on mystical prescense while still maintaining that rollicking grandeur for good sport. While the next belting bruiser: "Saraten II" oscillates with swerving guitar frets as dense thumpiness that manifests with volatile stompiness, steely precision & chizelling hymns excel at a bulldozing strife on prodigiously prestigious fundamentals in flexible craftsmanship creativity as diverse adrenaline attributes at euphonic but mellifluous overarches on keyboard synthetics that articulate at a vigorous transparency on radically wicked songwriting musicianship from Omar who impactfully distributes a mesmerizing systematic on salubrious synth work that marvels with epic cohesion.
The penultimate track: "Lamashtu" offers this tribal beat from hammering drummer Jamal Almohrez who smacks the set with rambunctiously gnarly hooks and relentless rumbles as kicking drives hastefully slam with this methodical like demo sounds that outbursts with this massive crescendo interspersed with these ripping shreds from Jake Shuker and distinctively distinguished bomber Sarmad Jalalon on the audible bass as all perform with splendid pursuits especially in the overall concluding instrumental behemoth titled: "Pazuzu".
Bottom line; I am compelled to say that RABEEN MOHAMMED most surely delivered a meticulous slab on some solid musical varieties which deserves spinning & replaying a good handful of times, an enjoyably entertaining discovery and a banger of an experience full of rigorous potential while resulting with talented brilliance in which will rattle skulls proactively with no doubt in my mind. Give "Ereshkigal" a go if you fancy something resoundingly thrilling, while deadly and refreshing at the same time. Definitely check it out. - Metal Temple
Released April 2021 
FFO: Megadeth, Kreator, Testament 
Ereshkigal is the a Oriental Death Metal album Composed by Rabeen Mohammed Guitarist of Thrash/Death metal band Dark Phantom. 
The album generally subjects are about Mesopotamian Mythology where Ereshkigal (The Queen of The Dead) is the ruler of the underworld. 
Ereshkigal was the goddess of Kur, the land of the dead or underworld in Sumerian mythology. She was said to ruled Irkalla, which sometimes it's her given name. 
Check out this video!
The album features many artists from Iraq, Syria, Lebanon and Egypt. 
Tracks by Track Guidelines: 
1.Ganzir.
Ganzir is the palace where Ereshkigal ruled over the dead souls, located at the entrance to the underworld, and guarded by seven gates which were kept by her faithful servant Neti.
Featured Artists: 
Vocals: Rach April Bassili (Heritage, Vibes) 
Bass: Yazan Ju (Anklet)
2.Ereshkigal 
The track talks about a man who has lost his will to live and became very frustrated and depressed by mankind's insignificant and vile actions. 
Therefore, he decides to evoke Ereshkigal, the great queen of the dead in order to take revenge on this rotten world in which we live in by selling his soul to the the underworld. 
Featured Artists:
Vocals: Sami noorallah (Torture Hymns)
Bass: Yazan Ju (Anklet)
Keyboards: Omar Salem (Riverwood, The Art of Chaos)
3.Saratn II
Dedicated Track to Rabeen's father who died by Cancer years ago.
Featured Artists:
Keyboards: Omar Salem (Riverwood, The Art of Chaos)
4.Executioner Dreams
Personal Struggles track about how to achieve your objectives against the current circumstances that make you living in darkness and nightmares.
Featured Artists:
Vocals: Helios Atum (The Art of Chaos)
5.Geshitinamna
Geshtinanna is the Sumerian goddess of agriculture, fertility, and dream interpretation, the so-called "heavenly grape-vine". She is the sister of Dumuzid, who she shelters when he was pursued by galla demons and mourns his death after the demons drag him to Kur. She then agreed to take his place in Kur to record the name of deceased. 
Featured Artists:
Bass: Yazan Ju (Anklet)
6.Lamashtu
Lamashtu was a female demon, monster, malevolent goddess who menaced women during childbirth and kidnapped their children while they were breastfeeding. She would gnaw on their bones and suck their blood, as well as being charged with a number of other evil deeds.
Featured Artists:
Guitar: Jake Shuker (Maysaloon)
Bass: Sarmad Jalal (Ex- Dark Phantom)
Drums: Jamal Almohrez (Maysaloon, Agenor)
7.Pazuzu
Pazuzu is the demon of the southwest wind known for bringing famine during dry seasons, and locusts during rainy seasons. Pazuzu was invoked in apotropaic amulets, Although Pazuzu is, himself, considered to be an evil spirit, he drives and frightens away other evil spirits, therefore protecting humans against plagues and misfortunes.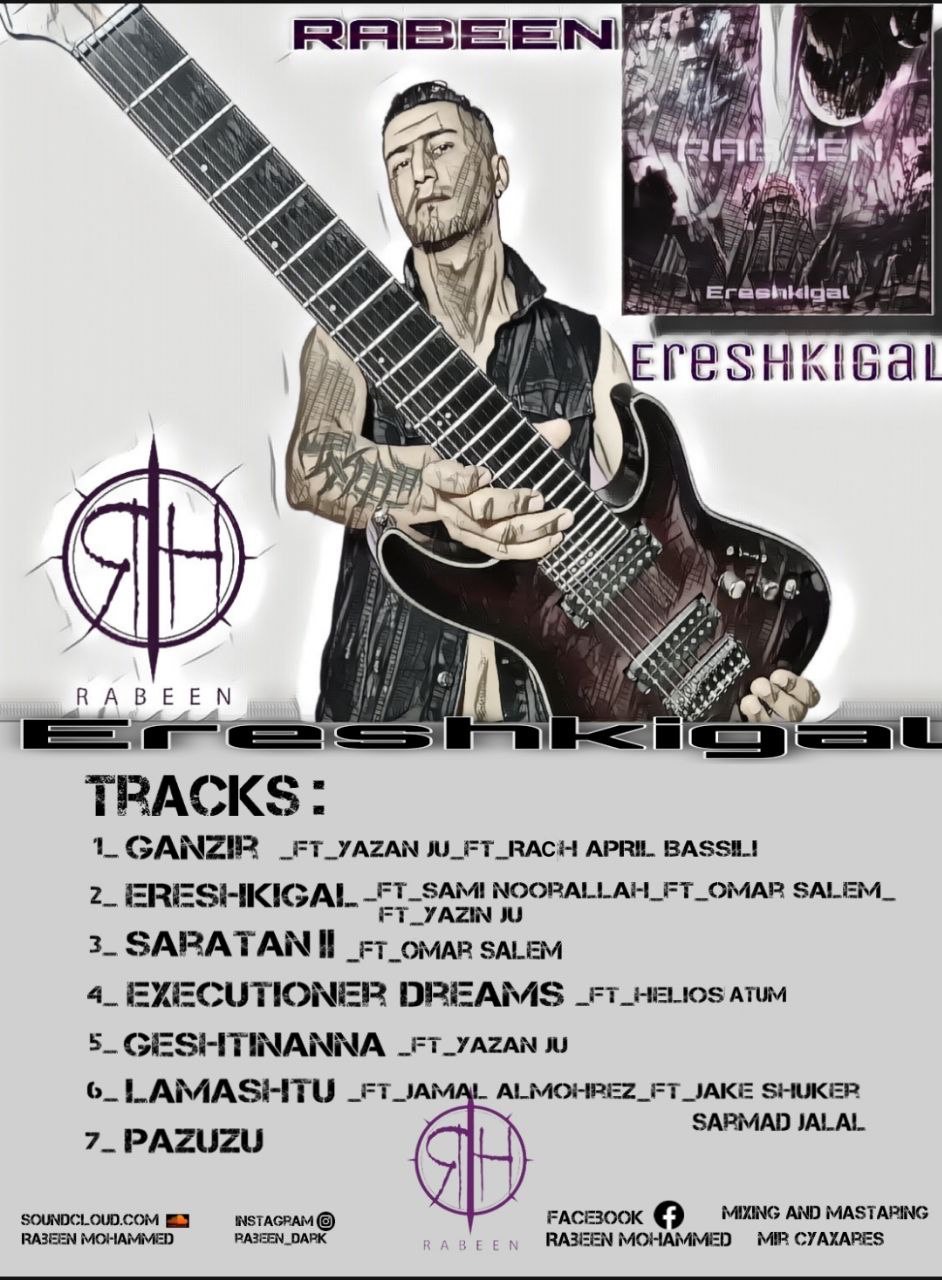 Follow the band at these links:
Facebook 
https://www.facebook.com/rebeen.dark
https://www.instagram.com/rabeen_dark/
YouTube 
https://youtube.com/channel/UCYsG0eGmC0nrZID9EwM6lUA
Soundcloud
Check out Rabeen Mohammed on SoundCloud