Gypsy Railhead - The Watchers - Reviewed By Jenny Tate ! Check it out here at this link: https://jennytate.wordpress.com/2021/05/31/gypsy-railhead-the-watchers/
'The Watchers' is the debut 6 track EP from Gypsy Railhead, a trio of traditional circus rock-based artists, utilising physical performance skills, in combination with straight out heavy metal. The EP's available now, in CD and digital format.
Born out of a yearning to add a modern take on classic rock to the scene, GR were founded in 2018, by vocalist/guitarist and former drummer, Duke Harkrider. His signature sound is energetic time changes, with which he's always experimenting.
In common with Duke's transition, from drums, to guitar and vocals, bassist Justin Morrow moved from guitar to bass and has become renowned for the power and sustain of his performance.
Drummer Mason Warren joined the line-up, 6 months down the line and has proved himself a one-man force of nature, with his drum patterns, ever since.
All 3 band members have been playing since early childhood and hail from various areas of America. Their chosen stage garb of facemasks symbolises mystery and anonymity, adding another dimension to the music.
The Watchers – Powerful drum hits and energised riffs intro. An unusual, but intriguing melody. As claimed, it's exciting, with a thrillingly fresh sound. A lot of mystery packed into that sound and it's impressively cohesive. Just before the mid-section, those time changes are showcased, with a stop-start section thrown in, afterwards. Very solid audio values, adding to the overall positive effect. That performance art aspect's vocally audible and there's something very mysterious and engaging about it.
Burn 'Em Alive – Strong cymbal hits open, onto a steady, but hard-hitting drum roll, followed by blazing riffs. Confident vocals, bringing more mystique. It's a very quirky sound, altogether, well suited to the unusual structure. Very decent bit of wah, well utilised, at the mid-section. Consistently powerful sound values. Gathering closing drum and riff crescendo. Impressive stuff.
The Reaper – Heavy, doom emphasis to this intro. Very hard-hitting stuff. Effectively sinister lyrics and melodies, with the bass very aptly prominent. As enthralling as it is ominous. Good paradiddles, at the mid-section and the drums retain their heaviness. Picking up the pace, with the bass rumbling underneath. Growing in intensity, great vocal sustain. Ending dramatically and handling the rhythmic alternations deftly.
Screenface – Deep, dense intro, featuring a beautifully placed steel string guitar. Very visually evocative of jungle backdrops and acute isolation. Steadily rhythmic. Hypnotically haunting melodies suddenly move into fast, driving beats, with forceful, pounding drums. Just a really heavy sound, entering your consciousness, so powerfully. Alternating the pace, constantly, moving in different directions, almost simultaneously, till the end.
The Unknown – Quick drum rolls intro. Moving straight into a heavy groove. Punctuating the atmosphere, with differing light percussion, alongside the heavier accompaniments. It's quite a bluesy, funky sound, filled with intrigue. Anthemic warrior chants break it up, without removing anything from the song's power. Ending on a final tribal shout and drum hit.
Baptised Injustice – Opening with strange voice distortion, then straight into a fast rhythm, encased in darkness. A gothic edge reveals itself, amidst the melodic groove. Picking up the pace, some more, vocalising growing darkness and lyrical omen. Moving into a lighter melody, with a lot of groove, at the mid-point and improvising the brief free-form riffage, before seamlessly returning to the sinister sounds and increasing lyrical ominousness. Ending on a majorly creepy, yet simultaneously, hilariously evil laugh.
Overall – 'The Watchers' is one enthralling, mysterious thrill ride, from start to end. Living up to its self-proclaimed excitement and then some, it's impressively versatile, eccentric and quirky, handling every time change, with deft, seamless, professionalism. Adding a new and vibrant dimension to the scene, 'TW' showcases brilliantly, what can be done, with a little individuality. Great to hear something so refreshing and diverse, once in a while.
10/10 ********** - Jenny Tate
Band/Artist: Gypsy Railhead
Album Title: The Watchers
Label: Misanthropik Records
Release Date: February 1, 2020
Genre: Hard Rock/Metal
Description:
Currently signed to Misanthropik Records and on all your favorite streaming services and on physical CD, Gypsy Railhead's first EP "The Watchers" begins their quest to create the new generation of classic hard rock with theatrical undertones and a touch of masquerade. Join Gypsy Railhead, 3 unique masked musicians who move in triangular formations with mind blowing time changes, explosive bass lines and soaring melodies. It's the solid rock and roll album that you will want to sink your teeth into.
FFO: AC/DC, Rainbow, Black Sabbath, Ronnie James Dio
Check them out on Spotify and add them to your playlists!
BIO:
Formed in 2018, Gypsy Railhead, the power trio, rose out of the need to create stripped down, in your face rock and roll – something that is lacking in today's music industry. Hard rock radio is stuck in a mud pit of Nu-Metal hits, never searching for what will be the 'new' classic sound. Being a blend of old school hard rock, "The Watchers" are taking notes of your movement and scrutinizing your stance in the universe. Many of the greats are on their final goodbye tours, so it's time for Gypsy Railhead to give rock music lovers the new music they have been missing.
Duke Harkrider, who has passionately played drums for over 30 years in the Florida music scene began playing the drums at age 5. He needed a new challenge and decided to reinvent himself as a guitar slaying front man and vocalist. His goal was to build a new wall of sound and increase the excitement of the music via time changes. This led Patrick to reach out to some fellow musicians within the local scene who had expressed some interest to shake things up a little.
Enter Justin Morrow (bass), an amazing musician and artist with 9 professional playing years under his belt. He started out playing guitar but took a step over to 4 strings and never looked back. He can hold the bottom end like nobody's business as his blazing bass lines keep the crowd grooving.
Finally, Mason Warren (drums), began playing the drums at age five is a hard-hitting one-man machine. He started playing professionally at age 14 in the Dallas Texas "Deep Ellum" entertainment district.  Mason was not the original drummer but joined the band 6 months into the project.  Mason's energetic drum beats maintain the rhythm and keep the fans screaming for more. The mask represents anonymity for the trio, allowing the music to be delivered in mysterious ways.
Check out the new video!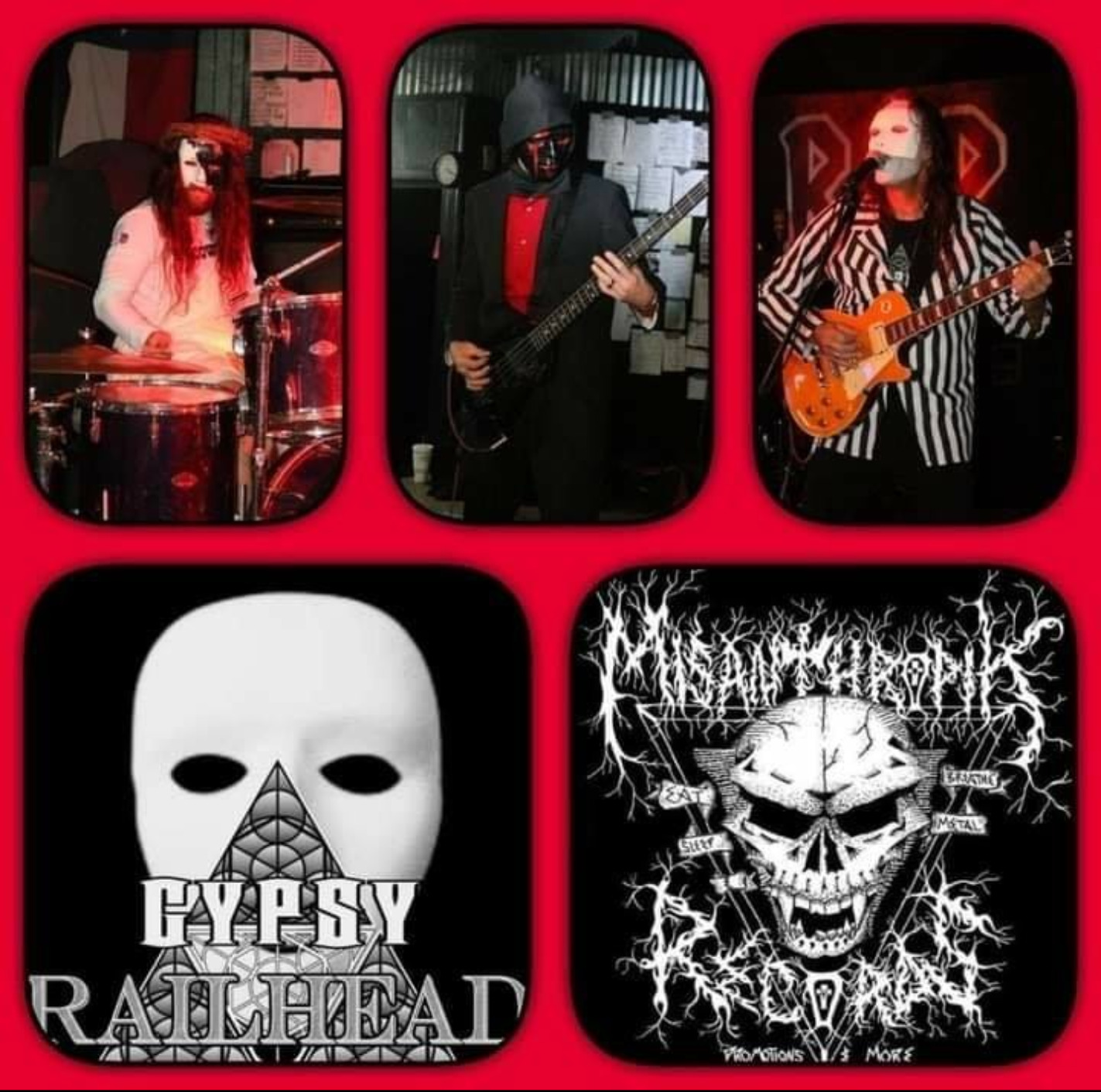 Line-up:
Duke Harkrider – Vocal, guitar
Justin Morrow – Bass
Mason Warren – Drums
Track Listing:
1.The Watchers
2.Burn'em Alive
3.The Reaper
4.Screenface
5.The Unknown
6.Baptized Injustice
Follow the band at these links:
https://open.spotify.com/album/0Av46QBl3VqsuLVyfVotfh
https://www.youtube.com/channel/UCw7K8H8XPrWac-Z7lIlUQYQ
https://www.facebook.com/Gypsy_Railhead-163186284508459/
https://distrokid.com/hyperfollow/gypsyrailhead/the-watchers  
https://www.sonicbids.com/band/gypsy-railhead/