Pressure - 'What You See' - Reviewed At MetalReviews.com ! Check it out here at this link: https://www.metalreviews.com/reviews/album/10616
It took me a while to dig up research on Swedish Pressure. The power trio, vocalist Olof Jonsson and twin guitarists Simon "Siirpo" Forcell and Emil Salling (who is on bass guitar and drums I am not really sure), plays the combination of melodic rock/traditional metal, but would like to be known as "story metal" since their debut Path of a Shadow is basically an intricate concept album with twists and turns. Every song is a story within the story, the whole narrative delivered from the viewpoint of your shadow constantly present and following you around, telling stories about how you deal with life's pressures. Interesting and ambitious concept.
The first "song" though, the title track, is a hardly a song. What you get is 11+ minutes mixture of Rhapsody scope & ambition (without orchestration), Brocas Helm riff (a single one playing throughout), Manowar disposition (because the band tries to project strength) and Jaldaboah pompousness (because the whole thing sounds frankly a little ridiculous). Overlayed on top of this is a spoken vocals narration throughout, which is a shame, given Olof Jonsson vocal ability demonstrated later on. If this is what's called "story metal", I am not a fan. I would rather read a fantasy book, hell, even flip through a Conan comics, but Path of a Shadow the song is an opportunity wasted.
Fortunately, Pressure doesn't continue in this vein, and the rest of the album is full of short catchy rocking tunes. Interestingly enough that many songs here are present with both English and Swedish lyrics, the rest of the song, musical arrangements and all being totally indistinguishable. Not sure of the thought process here, maybe to tell the story in two languages? Why some songs are present in Swedish only is then uncertain. The band just ran out of studio time or English translation ability?
Enough about the album structure, however. Vad Du Ser (Ar Vad Du Far)/What You See (Is What You Get) is solid gruff epic metal, with simple chording riffs and hooky chorus, where Olof Jonsson shows for the first time he can both sing and do evil speak. Ingen Som Hor Dig/No One Can Hear You is also simple serviceable metal/rock, whereas Osarbar/Untouchable hits the territory somewhere between ZZ Top and stoner rock, the tune having a smiley buoyant sunny outlook. Nere Men Inte Dod/Beaten but Not Dead is a total central hit on the album, the chorus has such a sticky penetrating hook you will be singing it for a while. Bass lines drifting on their own, melodic lead, the band was right to turn Beaten but Not Dead into a video clip. Annu Mer is a happy stomping rocker with a drinking folky riff, and Komm Her also could come out from a slightly drunken troupe, given its gang vocals delivery. A rock album is incomplete without a ballad, so Var Ar Du Nu/Where Are You Now serves as one, where Olof Johnsson turns to a velvety scratchy delivery, and the song can be even measure a girl seducer or locking up shoulder to shoulder at a soccer match swaying with other fans trying to support your favorite team. Guitar hero lead is very appropriate here, so the album ends well with Where Are You Now.
Not sure if Pressure is after more of their "story metal" image, but they would have been better served to keep things simple and just play melodic rocking metal, the style for which they obviously have talent. - 75/100 MetalReviews.com
 "Pressure wants you to use their music as tools to handle your life and to be proud of whoever you are! The music brings you closer to your own soul"
"PRESS RELEASE"
Band: Pressure
Track: 'What  You See' - ISRC – QZFYX2147196
YouTube (live February19th): -
English Version
(live February19th)
Release Date: 19thh February 2021
Written and composed by Simon Forsell, Olof Jönsson, Emil Salling 
'What You See'
Stockholm Sweden's 'Story Metal' trio PRESSURE have delivered yet again with another riveting and mesmerizing track from their up-and-coming album. Right from the opening laughter and guitar riffs from the heavy guitars, the song just keeps your ears at attention and wanting more. Olof's growling but clear tone just grabs and brings you inside the track.  This single release  is from the trio's up and coming album which will be self released sometime late April, early  May. 
Date and title TBA.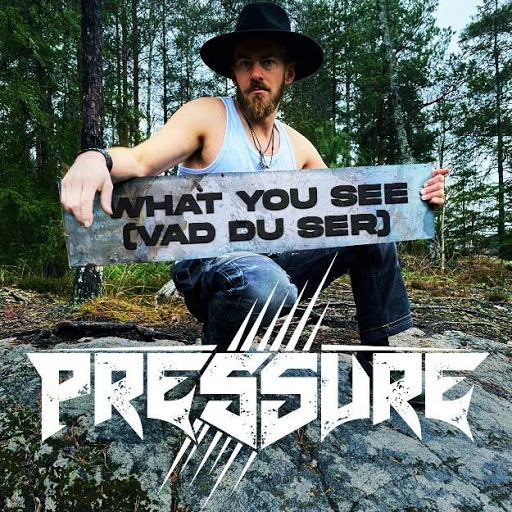 WHAT YOU SEE (is what you get) the latest single from Pressure continues to express the ins-and-outs of life's pressures. This particular track relays the message of how society perceives people. The man centered in the song is strong within himself.  The track pushes the genre of music Pressure intends it to, which they are calling "STORY METAL". 
 "Story metal combines characteristics of traditional heavy metal with elements of melodic rock, with a lot of focus on the vocals! The beat varies as the mood of the song is written to reflect a true experience, challenge, emotion or occasion. "- Simon Forsell.
The term Story metal was first used in 2020 by the Swedish story metal band Pressure who plays story metal with three guitars and recorded drums and bass!
Story Metal definitely describes the concept of their songs and for the up-and-coming album.
A quote from Simon Forsell sums it up...
"Everyone has dreams – dare to live them. Everyone has inner strengths – do not let anyone tell you otherwise. Be yourself, show us what and who you are. Stand up, stand tall. What You See Is What You Get!"
The Band
Who are Pressure I hear you ask? Well if you had to tag them with a genre the one that fits best is a 'melodic rock' but they're so much more than that. Hailing from Stockholm, Sweden and with vocalist Olof Jönsson you can always guarantee soaring, athletic and committed vocals.  Together with a twin guitar sound coming from songwriter and lead guitarist Simon "Siirpo" Forsell and Emil Salling. Their work often focuses and embraces the pressures felt from everyday existence. Their lyrics ably demonstrating that there are two sides to every story - the good and the bad. Every song has a double meaning and they truly see music as a tool to handle the different pressures thrown at us from the modern world. 
The band began their journey together in 2018, and since then they've worked tirelessly developing their sound and live performance, their aim? To make memories with their fans and to an epic musical soundtrack and develop the Story Metal genre.
A quote that can summarize their lyrics is: "How can you tell a story about life if you haven't dared to live life to its fullest! 
Pressure is all about every story, every moment, every Pressure!
What You See – Lyrics
Here is the lyrics to What you see
What You See
VERSE 1
Whenever a storm is rising
I have no fear, I stand my ground
I'm not a fake or a deceiver
I won't pretend to be anything else
When I tell you, what I want
That's what I want and nothing more
When I'm crying,  I'm sad for real
There's no hidden agenda, from me
CHR
What you see, is what you get
Full of flaws, but unique
Yeah, what you see is what you get
Every single day, I am myself
VERSE 2
Some people say what I should think and like
Their words means nothing to me
Other determines laws and rules
And what's considered right or wrong
Don't want to listen but I have to
Want to be allowed to be myself
Every day I keep on fighting
For a chance, to be myself
CHR
BRIDGE (SPOKEN)
Don't tell me who I am
Don't tell me who you are
Don't tell me how you think everything works
I know who I am.
But do you? No you don't
CHR x 2
Listen to the band at these links:
                         Spotify: https://open.spotify.com/artist/7a9rKp03MYJv4leDN7Mm8k  
YouTube: https://www.youtube.com/c/Pressuresweden
Click above to access the band EPK
Website 
Socials
Facebook: https://www.facebook.com/pressuresweden/
Instagram: https://www.instagram.com/pressuresweden
Twitter: https://twitter.com/pressuresweden
More info
Samantha Dodson at SambonePromos