Ren Marabou - 'Valhalla Waits' - Reviewed By Jenny Tate ! Check it out here at this link: https://jennytate.wordpress.com/2021/05/16/ren-marabou-valhalla-awaits/
Ren Marabou, from Ireland, is a solo, multi-instrumentalist rock/metal artist, whose 5th album, 'Valhalla Awaits' is out now. 'VW' is a Viking metal album, following on from his last release, 'Way Finder'. Performing throughout the British Isles, Ireland and Europe, the live shows are played with a full band and are known for their energised delivery.
Endorsed by Cassidy Guitars, Skull Strings and Dirtbag USA, RM has also created many videos and behind-the-scenes studio videos; the most recent of which, entitled 'Welcome To The Jungle' is available on YouTube.
Launched on May 1st 2021, 'VW' encapsulates themes of Norse mythology and pagan folklore, within its heavy Viking metal sounds, including ancient warrior chants.
The Wanderer (Odin) – Beautifully mediaeval, Baroque style lute intro, with background sound effects and mysterious vocals, growing gradually louder, here and there. It's slightly proggy, in places, with plenty of melodic, virtuoso riffage. Quite a light tone to the track, considering its Viking derivation, but still well executed.
Guide Me To Asgard – Creeping intro, combining speed metal, raw aggression, symphonic touches and deathy shouts. Generally, a much gentler sound than expected, but an interesting interpretation. It's slightly action movie soundtrack-esque, but with Viking lyrics. Less impact than anticipated, but a good, clear production, with a cleanly delivered ending.
Axe In The Back – Straight into speed territory. Again, it's a lighter sound than you might expect, but it does have vocal peaks. Quickly paced number, with fitting lyrics, even if it's a tad experimental for a Viking metal track. Nonetheless, the Viking chants are audible, though arguably weaker than generally found in this genre. A very proficient technical delivery, if a little too repetitive, with an overreliance on the chorus.
Prophecy Of The Seer (Freya) – Strong intro, with prominent drumming. Once again, it's a little laid-back and weaker, vocally, than is the norm, within Viking metal. Still, it's consistent, in its notational precision. Some intriguingly funky riffage there, but as with the rest, whilst it does hit on the mysterious enigma front, it needs to come forward and up the volume. Barrelling to a precise end, it's an easy listen, if actually a bit too much of an easy listen.
Put To The Sword – Slightly more deathy intro, with some mild alternative inflections. Once again, that street action sound shows itself. It's very lyrically congruent, though. Yet the general audio impact and loose rhythms clash with the Viking theme, indicating action movie territory, rather than Viking warrior evocations.
Bitter Heart – Slower start, returning to that riff virtuoso suggestion. Strong Satriani and Vai-esque hints. In themselves, a good thing, but here, it's just incongruent with the intended sound and style. Then, there are alt/death vocals, but in all honesty, they're just too generic, to fit this atmospheric theme. Again, clean cut, capable close, but no suggestion of Viking warriors in here.
The Fallen Of Ragnarok – Introing on a chorus of voices, onto another loose rhythm and though there are hints of Vikings in these riffs, it's just too resonant of more mainstream metal. In all fairness, the riffage is powerful, at points and there's no issue at all with the melodic precision, or the musical craftsmanship, both of which are sound. It just doesn't fit with its advertised genre. (Even if the closing riffs do echo KLOGR's 'Keystone' album, which, in any other scenario, would be a good thing).
Yggdrasil – Very beautiful acoustic and Baroque tones open. Equally soft and gentle vocals, more apt for that track title. This remains light, working much better, in the context of this title, even when its sound grows, into a Celtic sounding melody, in fitting with the atmosphere. Notably evocative, ending on shimmering ripples of sound.
Storm The Beaches – A heavier riff intro's, onto a stronger audioscape, yet still, it doesn't hit the peak of Viking-esque aggression, but it's still a good effort. Very neatly styled riffage, worthy of recognition and perfectly proficient. The shouts do add something to the emphasis, though it could do with losing those sci-fi effect tones, just past the mid-point. On the whole, though, it makes a valiant effort of greater strength and the riffs are fun and enjoyable.
Champion Of Midgard (Thor) – Sirens intro, on a violin section, with folky leanings. It's definitely more steered towards that era. Good, clear segue, into fittingly heavier warrior chants. A lot of bounce within it, alternating with those fantasy-esque choruses and genteel violins. That contrast of sound does emphasise the heavier sections more clearly. Slightly bluesy, towards the end, boasting a very agreeable melody, just before the sudden end.
Overall – In itself, 'Valhalla Awaits' is a well delivered, consistent album, featuring a lot of melody and technically impressive sounds. However, as a Viking metal offering, it falls a long way short of the mark. Sporting an essentially, much more gentle experimental strand, with alternative/melo-death sections scattered throughout, it just doesn't do as advertised, creating an ill fitting, mismatched sound, for its themes and consequently, conveys a weak portrayal of Viking metal.
8/10 ******** - Jenny Tate
Ren Marabou is a multi-instrumentalists rock/metal solo artist who hails  from the Emerald Isle of Ireland. he has released 4 albums to date.  Most recent album ' Way Finder ' was released on the 1st of March and is available on all major platforms. He has gigged extensively around Ireland, UK and Europe. When playing live, he has a four piece band of seasoned musicians behind him with whom he performs a high energy, intense live show. Riffs, melodies and grooves. Currently he is endorsed by Cassidy Guitars, Skull Strings, and Dirtbag USA. Album number 5 is in the works and there are loads of music videos and behind the scenes studio videos on the way.
FFO: Amon Amarth, Tyr, Wintersun
Check out this video!
Ren Marabou is Currently in the studio working on the new album Valhalla waits. Valhalla waits is an album that encompasses Norse mythology and Norse pagan folk lore, the album takes you into the time of Vikings with its heavy riffs and intense melodies and the chants of the ancient warriors. This album is due for release on May 1st 2021.
Check him out on Spotify and add him to your playlists!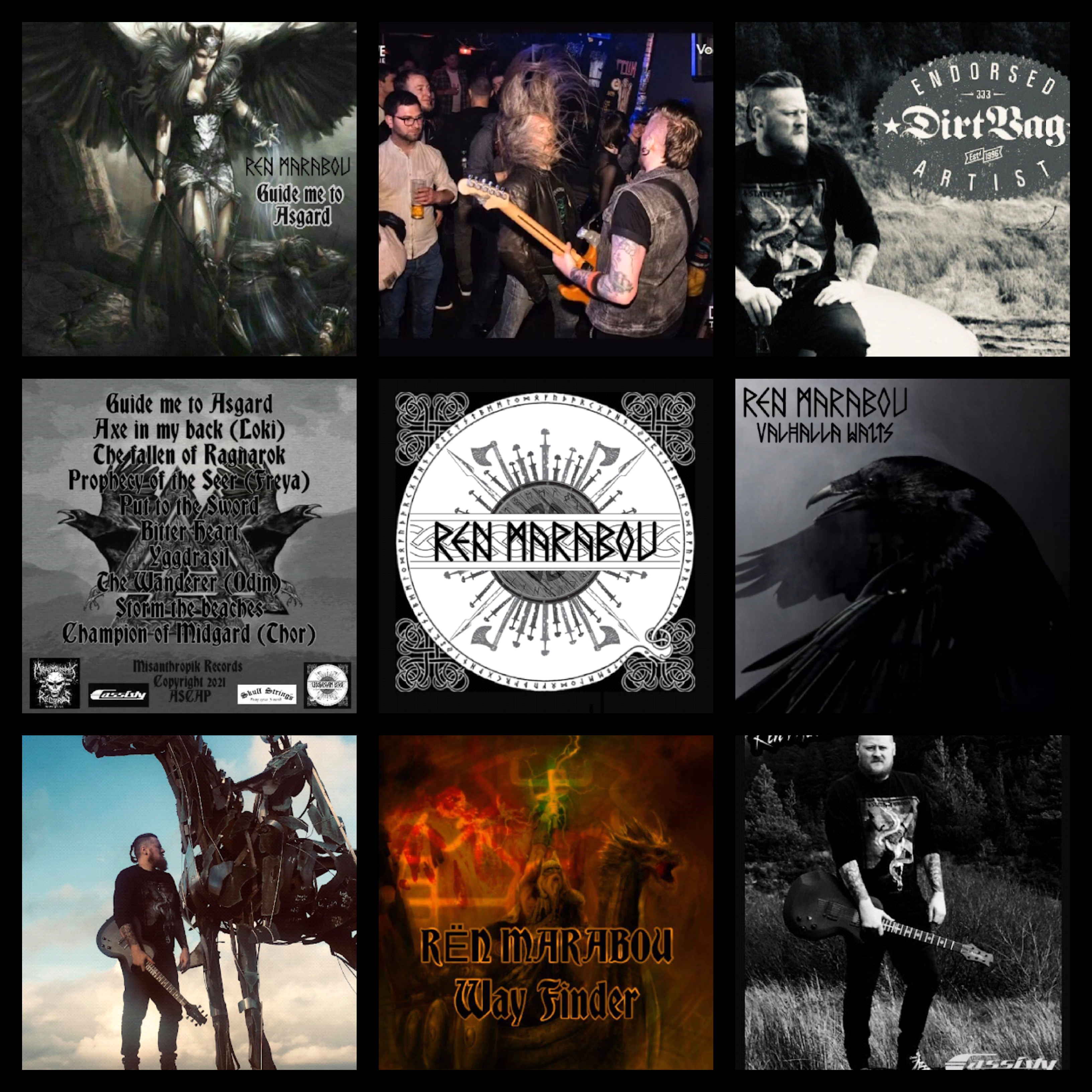 Follow the band at these links:
https://www.instagram.com/renmarabou/
https://misanthropikrecords.com/ren-marabou
https://www.facebook.com/renmarabou/
https://open.spotify.com/track/1ZYj9c6JlTKoBLOwIbJx0E?si=TrCRP-ViRyqIDOe6UBsj0A
https://open.spotify.com/artist/4SO7ijOmWLl1eIOXgGMOGB?si=LCLsE7AXS86xlNcyExK-jg
https://www.youtube.com/channel/UC0RzRnLskzx0barj6BsL87w