MARISKALROCK.COM  / LA HEAVY MAGAZINE
The leading platform for Rock & Metal masses in Spain and Latam.
La Heavy is one of the longest-standing rock & metal magazines in the world.   Hitting newstands of Spain, Chile, Argentina and Mexico since 1982.

5 reasons to advertise with La Heavy/MariskalRock:
- Unlock the potential of Spanish-speaking audiences; a growing and exciting market.
- Engage with a large loyal fan-base of subscribers.   
- Drive traffic to your channels with our diverse audience online.
- Support independent music journalism that is open-minded, comprehensive and passionate.
- Let's face it: Our rates are very affordable and you will probably not pay VAT! Every penny helps!
In this month's issue: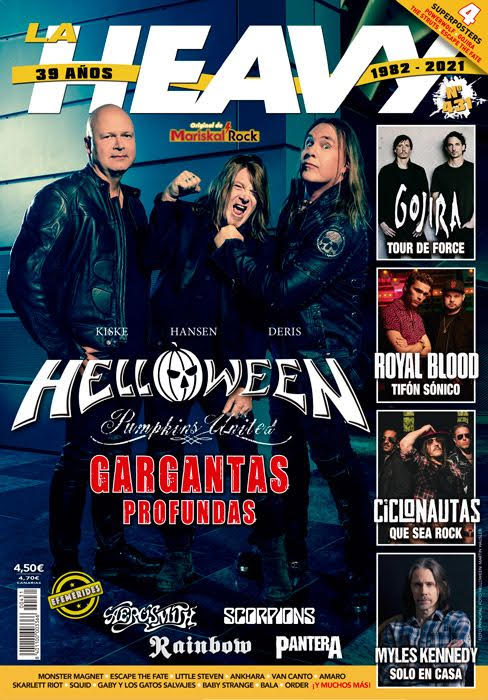 On this month's cover we bring together Andi Deris, Michael Kiske and Kai Hansen with an exclusive interview celebrating Helloween's new album.
Also featured Gojira, Royal Blood, Myles Kennedy, Monster Magnet, Little Steven, Van Canto, Escape The Fate and many more.
Special in-depth features with Aerosmith, Scorpions, Rainbow, Pantera, with exclusive stories behind some of their most iconic albums.
4 super posters: Powerwolf, Gojira, The Struts And Escape The Fate.
Dozens of albums reviewed by our specialist team and interviews with the hottest indie bands to become superstars.
All of it and much more on the biggest rock and metal magazine in spain and latam.
Contact:
juandestroyer@mariskalrock.com
Apartado postal 2597.28080 Madrid, España

We offer advertising plans for both small and big-sized.