Misanthropik Torment - Murder Is My Remedy - Reviewed By Metal Crypt ! Check it out here at this link: https://www.metalcrypt.com/pages/review.php?revid=12792
"The sole purpose of Misanthropik Torment is to stand against tyranny and advocate for the execution of all domestic terrorists alongside of pedophiles, rapists and those who would prey upon the weak. We must kill them!" How's that for an introduction to the band Misanthropik Torment? This was part of a message I found from the band attached to one of the 2020 releases called Rebell Against the Establishment Power Belongs to the People. However, that is not the album being reviewed here, as this is 2021's Murder is my Remedy, the 8th full-length album released from the band. That this is the 8th full-length album might not sound all that unusual if we didn't consider the age of the band, but the band formed in 2017 and the first full-length was released in 2019.
This music was put together by two individuals, the most notable being the leader and vocalist Erick "Leviathan." He has enlisted one Josh Freeman to handle all instrumental work on the album. So, what does this sound like? The first thing I noticed when listening to this album is that production values are a very mixed bag of results. The first track, "Purge," seems to suffer the greatest from varied production values that lead to oddly distorted results in some of the instrumental work and vocals. Not only that, but there is a sensation that near the chorus the volume switches without reason to a higher level. While I didn't notice this particular quality on other tracks, the other tracks on the album also suffer from moments of unclarity, especially when it comes to the cymbals of the drums. With regards to the production, it just feels like this one left the oven a bit too soon.
The guitars are played competently, but none of these riffs stand out much. I do feel that the final track, "The Victim Has Died," has the best riffs and harmonic content. There are also a few somewhat interesting harmonies in "King of Fools" and "Zero Fucks." The title track does also contain a few slightly fun riffs, but the production and everything just does not allow it to feel as fun as it could have been. The drumming is mostly fine except for the shoddy production and the awkward-sounding cymbal work. Instrumentally, the album just does not have anything that pops or stands out.
Let's talk about these lyrics. "Misanthropik Mind" in some way feels lyrically like the summary of what this band is all about. Erick indicates himself as misanthropic, and the lyrics to this song provide plenty of context to the lyrical focus of the band and the album. The song even begins with some trivia, in which I learned how many rapes, murders, and other crimes happen each day before the song really begins. The disgust with people who take advantage of the weak is the lyrical focus of the band, as shown also in the opening quote of this review from the band. This unifying lyrical focus really is the main element of the band that will likely unify fans of this band. However, I cannot help but feel the overwhelmingly cringey sensation when I examine some of these lyrics, especially the lyrics to "Purge" and to a greater extent, "Zero Fucks," which feels like an immature, 13-year-old attitude of anger set to music. It just comes off as immature and kind of lame. Check out these nuggets from that song: "You little bitch, stop talking shit if you want to live!" "Now don't get it twisted when I say bitches. I don't mean that beautiful, fine thing. When I say bitches, what I'm referring to is all these punk-ass men in this fucked up scene who just want to let their clitoris swing!" Yeah...this went south fast for me. Enjoy those lines. Speaking of the lyrical lines, they often do not suit the musical rhythm well, so the vocal delivery is quite often very unmusical in that the rhythms are all over the place.
In summary, I think that there is certainly a direction this band has set as their goal, and that's the beautiful thing about Metal. There is really a direction in Metal for everyone. People who share the misanthropic sentiments of this band will likely follow the band for the messages behind the music. For those who just want to hear some quality Metal, this really isn't it. However, I see potential areas for the band to improve to make a lasting impression on Metal fans who just want quality tunes. For example, there was not a single guitar solo on this album. I personally think that would have helped a few of these songs stand out much better. Secondly, the production is just not quite finished. I do believe better production would have helped a lot of these songs make a stronger impression. The vocal lines are not very rhythmical in many areas, most likely due to the lyrics trying to convey messages over music that doesn't suit the length of the lyrical lines. Perhaps the lyrics can be made after the music and cut down to fit the length of phrases rather than what it sounds like, which may have been that the lyrics and music were not really made for each other. One last thought about this one from me is that quantity seems like it may have been the goal for this band with so many releases. It may be really worth it to slow down the rush to release material and just let things simmer more. - Metal Crypt
Lexington, Kentucky's ' Misanthropik Torment' is somewhat of a one man operation.  Formed in February 2017. Leviathan is the vocalist, lyricist and founder of ' Misanthropik Torment' . Leviathan writes everything! Mixes & masters and publishes everything himself. He  sometimes works with other solo artists or instrumentalists from all over the globe to create his therapeutic madness.
Recently Josh Freeman from the band ' There's only one Elvis ' joined ' Misanthropik Torment' on a journey into the mind of the deranged.
The new album ' Murder Is My Remedy ', features Josh Freeman from the band ' There's only one Elvis '. Josh Freeman composed all the instrumentals for this album and features as a guest vocalist.
' Murder Is My Remedy' can only be described as brutality at its most insane! Touching on topics about the sickness of humanity, and what drives a person to have a misanthropik mind. The record will be released April 1st, 2021 and it will be available on all streaming platforms!
Misanthropik Torment's musical influences range from many different genres of metal and rock such as, Deicide , Morbid Angel , Cannibal Corpse , Death , Possessed , Ozzy Osbourne , Marilyn Manson , Korn , Iron Maiden , Megadeth , Queensryche , Twisted Sister , Skid Row , Obituary , Death Angel , Mayhem , Dark Throne, etc.
 A lot of people ask what is the meaning behind ' Misanthropik Torment '?  " Misanthropy is an extreme hatred for humanity, in which I do have, however by my nature I am not a hateful person, it is the sickness of humanity that has driven me to be Misanthropik . Because by my nature I am not a hateful person, I am tormented by my own hatred, thus Misanthropik Torment was created. I am the product of what the world has created me to be, this monster that they hate is the reflection of themselves. " - Leviathan
Misanthropik Torment is also currently working on a book titled ' The Evolution Of My Psychosis ' due to be released by January 1st of 2022 along with 2 new albums!
For fans of Six Feet Under, Morbid Angel, Dying Fetus
Check out the new lyric video for 'Zero Fucks'!
Check out these singles from the album!
Check the band out on Spotify and add them to your playlists!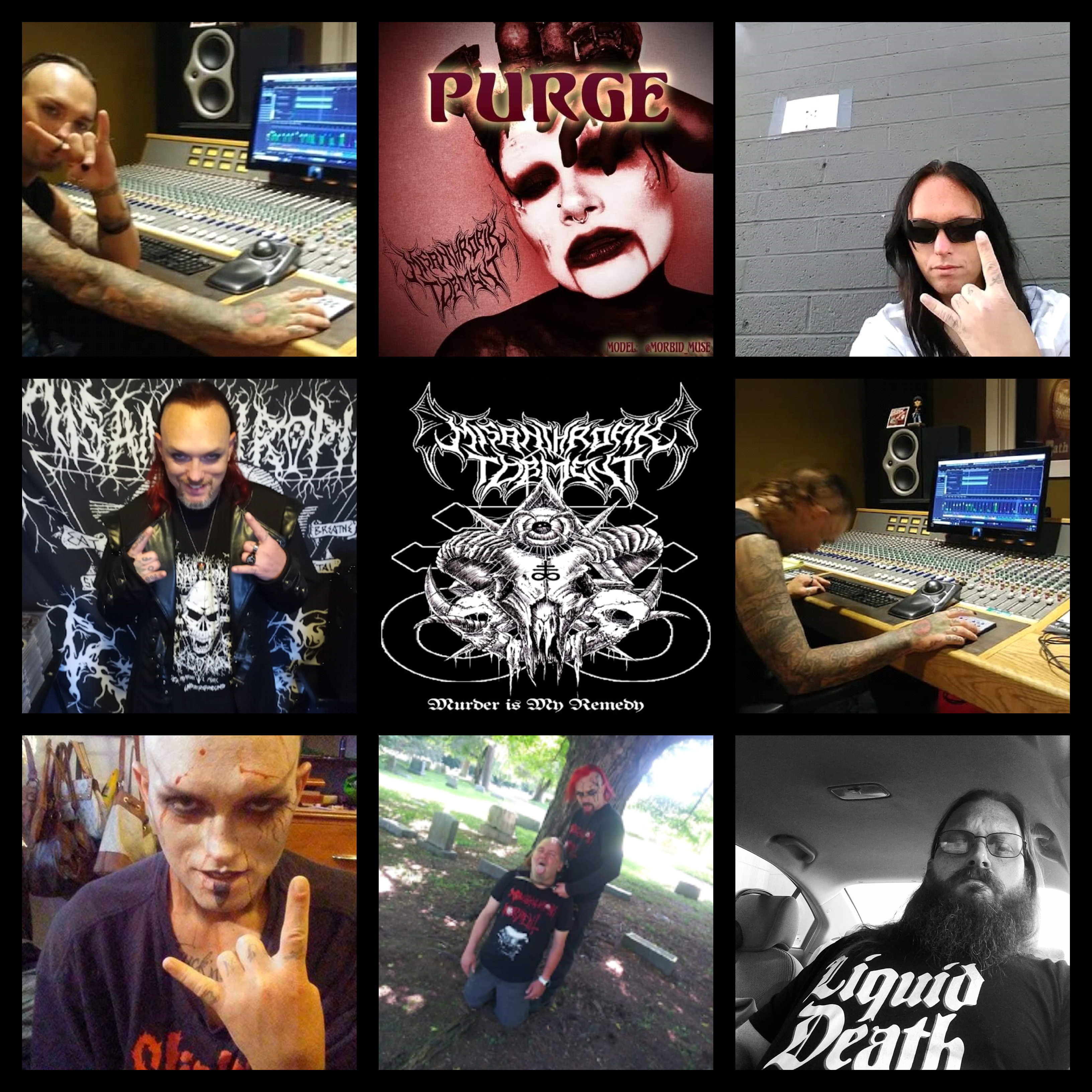 Follow the band at these links:
Facebook: https://www.facebook.com/ErickLeviathanScarlet/
Twitter: https://twitter.com/MetalconectionX
Instagram: https://www.instagram.com/metalconectionnewsmx/
Music Links:
Youtube: https://www.youtube.com/channel/UCQlEcnB2aQG3t_gU4UrrQIQ
Spotify: https://open.spotify.com/artist/3TEDJTdOP5GPBfsLOYVLwI
Bandcamp: https://misanthropiktorment.bandcamp.com/
Reverbnation: https://www.reverbnation.com/misanthropiktorment
Deezer: https://www.deezer.com/us/artist/61133342/radio ...
Apple Music: https://music.apple.com/us/artist/misanthropik-torment/1448445594
Ever Metal: https://ever-metal.com/tag/misanthropik-torment/