Severed Resistence - Wishing Well E.P. - Reviewed By Necromance Magazine!
Severed Resistence - Wishing Well E.P. - Reviewed By Necromance Magazine ! Check it out here at this link: http://necromance.eu/severed-resistence-usa-wishing-well/
From Florida (USA), SEVERED RESISTENCE brings us a four-song EP entitled "Wishing Well" loaded with rudeness and anchored in Old School Speed ​​/ Thrash Metal.
But let's do the introductions first: Dave Davis on vocals, Josh Greenwood on lead guitar, Nic Delano on drums and Casey Sicher-Ford on rhythm guitar.
The American band has a powerful load of influences such as DEATH (especially on vocals) or IRON MAIDEN. It expresses itself perfectly in its vocal and melodic lines but being tinged, in turn, by the dirt and darkness typical of Metal from the eighties / nineties.
As I was saying, the EP is built from four songs, "Justify" being the first one. What perhaps stands out the most (and not only on this track but on the entire album) is the electrifying sound and magnetic flavor that the guitars leave behind and that so well masks the theme of the song: the pain in oneself.
The next one is titled "Wishing Well" and begins through an atmosphere that takes us into a different world. It is immediately linked (and in a perhaps somewhat abrupt way that seems cut and paste) with the rhythmic beats and the dirty and muddy riffts that anchor so well in the old school and that promote the pessimism of society and the world, ( "... and all is lost")
In third place we find "End of life", a song played stab by stab to show the tints of pain and weaving a brutal trapping web. But it is really in "Struggling through deception" where we see the full potential of SEVERED RESISTENCE: corrosion, roughness and constant changes of rhythm.
This EP is a good bet from the band; four songs worked and well united, with powerful charge and magnetic force. Feel free to listen to SEVERED RESISTENCE if you haven't already. - 6.5/10 - Necromance Magazine
Severed Resistence is a Thrash Metal band from Daytona Beach, FL , who recently came out with a brand new studio EP: Wishing Well . The songs explore a wide range of influences, ranging from old-school thrash to melodic death metal and other styles.
Brutal...Extreme...Thundering...Heavy...Call Severed Resistence 's brand of Thrash whatever you want...but what it is...is pure unadulterated "in your face" Metal . Like a sledge hammer to your cranium, Severed Resistence pounds into your head with infectious riffs and thunderous drumming, creating a sonic synergy that I'll spread through your consciousness like a fatal disease. This disease has been spreading through the Southeast is ready to become a national epidemic.
Vocalist Dave Davis , guitarist Josh Greenwood , Drummer Nic Delano and bassist Casey Sicher-Ford are in your face with their own unique brand of metal part Pantera , part Testament , part Death , part anything kick-ass, with a best-selling local debut CD under their belts, Severed Resistence is ready to unleash hell on their follow-up when they head back in the studio this winter. Severed Resistence is coming for you... all of you and there is nowhere to hide.
We are working on a Ton of original new songs that we are going to release and we want people to hear them! We don't expect to make money, We don't expect to climb to the top of charts. We don't care about any of that… It's not really about that. It's just about getting off on it and getting fired up and creating something that's exciting for us and hopefully translates to be exciting for you!
-Severed Resistence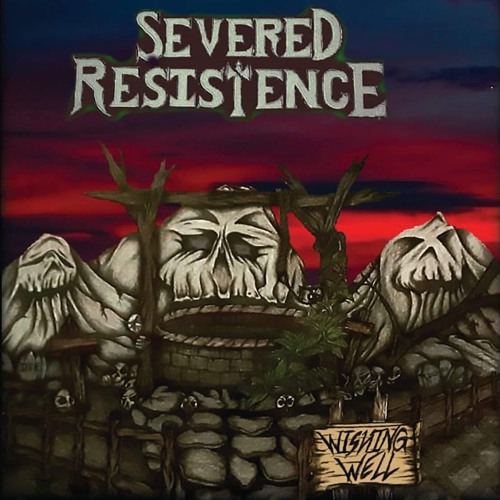 Severed Resistence is a Thrash Metal band with a unique sound and creative approach. Their music tips the hat off to the best old-school metal, featuring influences as diverse as 80s thrash , British heavy metal , and more. Their recently released an EP titled " Wishing Well ," which features a gritty, raw and unapologetic sound. The guitar tones are grinding and sharp, going for an aggressive, searing tones. The vocals match the intensity of the guitar, almost reminiscent of bands such as Death and Iron Maiden , but with a more in-your-face attitude. The rhythm section (bass and drums) keeps up with everything else and it does more than just keeping up! In fact, it serves as a solid backbone for the songs, propelling the band's performance and going for a more hard-hitting feel. I love the style of this production when it comes to recording aesthetics, specifically because it sounds like a record from the golden age. Although the tracks that are featured on this EP have somewhat of an old-school vibe, this is definitely not an indication that this band is a nostalgia act. On the contrary, they are here to keep this style of music alive and well, and carry the torch for a new generation of listeners looking to dive deeper into heavier sounds.
Find out more about Severed Resistence , and do not miss out on " Wishing Well ," which is currently available world-wide. At the end of the day, what really seals the deal is the band's attitude. In their own words: "We don't expect to make money, We don't expect to climb to the top of charts. We don't care about any of that." - All the band really cares about is to keep making music they love, and share it with their audience.
Follow the band at these links: