Ambassadors Of The Sun - "Orbiting A Dead Star" - Reviewed By Necromance ! Check it out here at this link: http://necromance.eu/ambassadors-of-the-sun-swe-orbiting-a-dead-star/
From Sweden, AMBASSADORS OF THE SUN brings us one of the most complex and best-designed albums of 2020: "Orbiting a Dead Star". It is not easy to describe its sound because it mixes different elements: on the one hand heavy, progressive and doom metal, psychedelia from the 60s and some other grunge touch and on the other an endless number of melodic additions and experimentation. The technicality and composition are very good and without a doubt they have known how to present the work.
"Discipline" lasts almost nine minutes, two of which begin as an atmospheric march with medieval and warlike overtones. The heavy metal base immediately lands and does so through insatiable drums and riffts loaded with despair. It is the first song and AMBASSADORS OF THE SUN already leaves us with a very high bar.
At this point we could ask ourselves, should they have saved this track for last?
The answer is no. Although it seems incredible, the surprise comes topic by topic and seems to come to us with incredible ease.
On the next song, "Snail", one of my favorites on the whole album even though it's hard for me to decide, the riffs are a real blast. They weave a strong, catchy line that screws into the brain and then… Wow, doesn't that voice remind you of Layne Staley? There is the grunge influence that we mentioned. If we cut that beginning and listened to it blindly, it would sound like the chorus of "Love, Hate, Love" by ALICE IN CHAINS.
The subject continues to grow but from time to time it has ups and downs, which contributes positively in my opinion.
The third song is "From The Shadows" and here the heaviest and most extreme vein of the band fires. The gutturals decapitate everything in their path and under them the riffs carry the melody. We also find those ups and downs so 90s that is what perhaps differentiates or position the gender of the group. But hey, as I said at the beginning, the truth is that it is a very eclectic group musically speaking.
"Cinnabon" has a much more acoustic and softer beginning reminding us of PINK FLOYD guitar lines. I really like the simultaneous beats of drums and guitar that precede the voice, it gives a strange and catchy touch that later serves to bring the song to the chorus without it being pastelous or boring.
Quite the contrary, this album is anything but boring or repetitive.
We continue with "So Long". We listen to some bells and some cars to enter an urban history and there the guitars begin to sound and some vocal howls. This time, the grunge vein (personally it reminds me of TEMPLE OF THE DOG or MOTHER LOVE BONE, although perhaps it is very far-fetched) is carried by the instrumental part but with a great contribution from the voice. The chorus is long and ethereal, something you didn't expect.
"Aches and Pains" has some riffs that I love: dark, melodic, nostalgic, catchy,… The lyrics are injected either following that melody or making a harmonic echo that electrifies the melody even more.
Then "1-9" appears, very much in the position of "From the shadows" because it takes advantage of the extreme as well as the one that continues, "Baretta", the latter even more doom and raw without any doubt.
The album ends with "The Masochist": Talking in silver, another great song. From start to finish this album is intertwined by the confluence of styles and sounds, creating to my liking one of the best works of last year.
Those of you who have already heard it will know what I mean but those of you who have not yet had the opportunity to sit down with this "Orbiting a Dead Star", don't wait any longer. As I said, it is a very varied album with good technique and composition that willingly impacts different musical tastes. Give it a spin. 9.5/10 - Necromance
KATATONIA, DOZER and CHAINWRECK members team up in new band AMBASSADORS OF THE SUN
Ambassadors of the Sun was formed in 2017 by members Fredrik Nordin (vocals, guitar), Mathias Henrysson (guitar), Björn Tauman (bass), Daniel Liljekvist (drums). The members' past credentials and other contemporary commitments include Katatonia, Dozer, Chainwreck, Freaks and Clowns, Disrupted and many more.
Ambassadors of the Sun has been bubbling under the surface in the scenes that line the Dalecarlian music scene in Sweden. Musically, it is from the 60s to the present in one big sweep. The album generously gives you a mix of melodic and sometimes complex and heavy riffs of rock, metal, progressive tones and a distinct melodic sense that puts hooks in the memory bank with a constantly curious look at what awaits behind the next closed door.
On June 8, 2020, the single "From the Shadows" was released, and on July 10, 2020, the debut album "Orbiting a Dead Star" containing nine songs was released.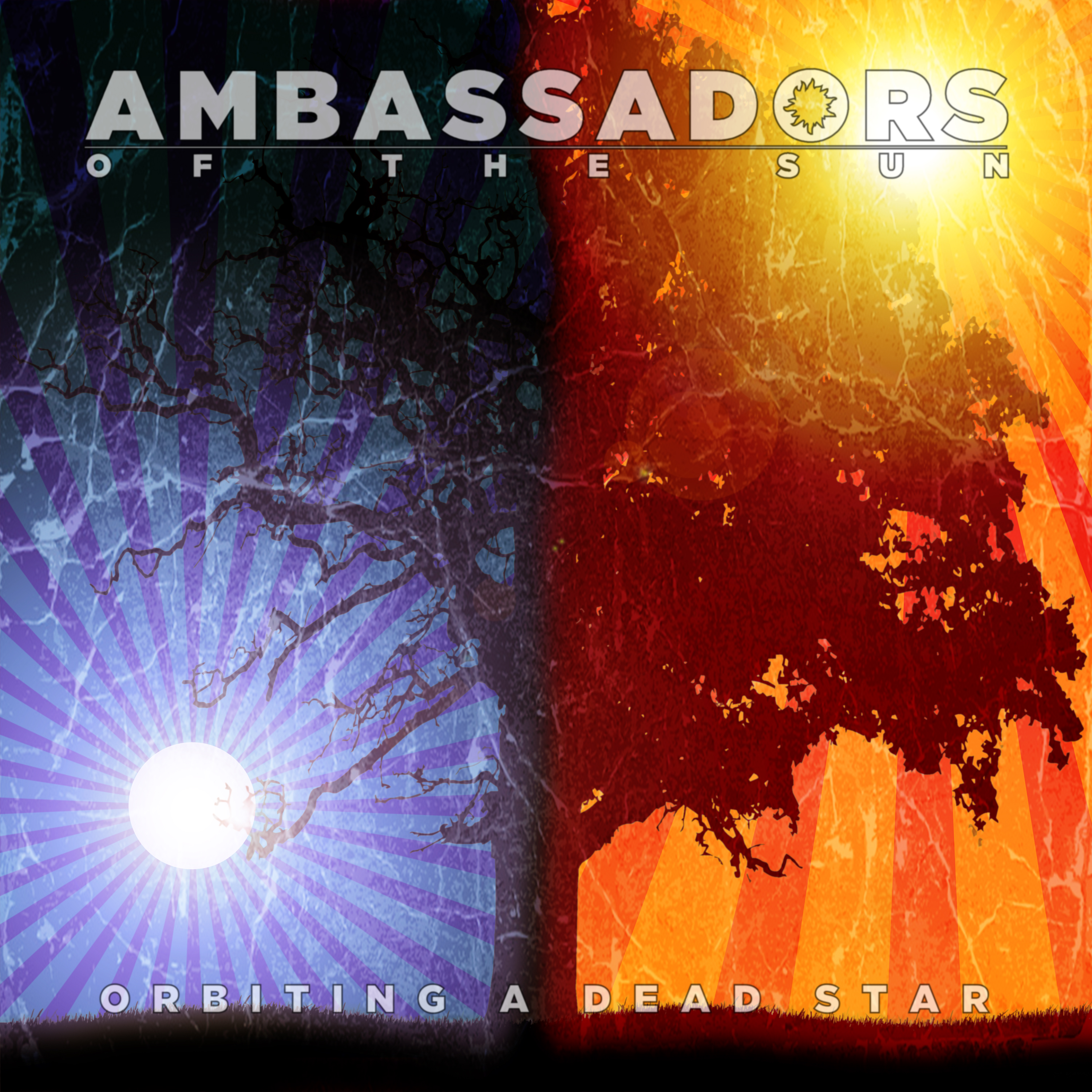 Track listing:



Disciple

Snail

From the Shadows

Cinnabon

So Long

Aches and Pains

1-9

Baretta

The Masochist
Lineup:
Fredrik Nordin (vocals, guitar)
Mathias Henrysson (guitar)
Björn Tauman (bass)
Daniel Liljekvist (drums)
Reviews of "Orbiting a Dead Star"
8/10
Ambassadors of the Sun from Falun are experienced musicians with a background in bands such as Katatonia and Dozer. The experience is heard from the first note. The album begins stately with beautiful polyphonic singing, which promises a lot - and the promise is kept. The first song turns into heavy dark metal that seems to be characterized by anxiety and hopelessness. The world situation gives no reason for positive horizons. But as solar ambassadors, they may not have completely lost hope, as the willful end of "Snail" points out. After all, they seem to want to take on our dying earth star. Grunge is published as a genre that connects the members. Mainly on a melodic level, this reaches the ear, but this is not a retro album. The music is rather forward-looking and experimental, but also humble. This debut album contains an admirable mix of raw weight and well-constructed melodic parts. Often these dimensions flow together in an elegant way. "Cinnabon" is perhaps the best example, well played!
Anders Bartonek / Sweden Rock Magazine
9/10
Damn what an album! A release in this year's top tier. With heavy yet dynamic compositions, Ambassadors of the Sun gives us something out of the ordinary. Everything on the album is there because it is simply needed. Only killers - no fillers! Sweden's new big metal band!
Tony Asplund / Rockbladet.se
9/10
The debut album is a potpourri of impressions. Mix Ghost, In Flames and Opeth, garnish with Kadavar for this year's most important work. Heavy, intelligent and swinging riffs meet the right melodies. The epic Disciple overturns any kiosk. Then add Cinnabon and 1-9 and the next music export becomes a fact.
Fredrik Brolin / Rockbladet.se
8/10
Progressive tones that took their time to be created where the quartet managed to produce their own sound. The 9-minute opener Disciple is particularly phenomenal on a straight through well-composed record where Dozers Fredrik Nordin shows width in his vocal range. I sincerely hope that this does not stop at a side project.
Fredrik Blid / Rockbladet.se
9/10
A band from Dalecarlia in Sweden that did everything right. This is how you break through! Psychedelic rock, stoner and death-metal mix well with a precision-rich musicality and as a listener you just want more and more. A better debut than this must be impossible to achieve. Impressive!
André Millom / Rockbladet.se
9/10
Ambassadors of the Sun is a new supergroup from central Dalecarlia in Sweden. The debut album is a technically melodic creation that is both heavy and beautiful. Heavy riffs are mixed with complex drums, calm parts and full on metal. The verbal is alternately a lullaby or an alarm clock.
Mattias Hedeby / Rockbladet.se
8/10
Dark, mysterious, heavy and well-sounding, is my concise summary. The riff and the melodies are spot on in the powerful soundscape. The band is new, but the quartet really knows their stuff and has long experience in this metal genre. The Masochist and So Long will be added to my playlist. Magically!
Jonas Lööw / Rockbladet.se
Video
Lyric video for the song "From the Shadows"
Links
Website: https://www.ambassadorsofthesun.se/
Youtube: https://www.youtube.com/channel/UCSqzZJsKP3DXpGRmbeLhtkw
Facebook: https://www.facebook.com/ambassadorsofthesun/
Instagram: https://www.instagram.com/ambassadorsofthesun/
Spotify: https://open.spotify.com/album/2kYMHjemdw1UHpJpQkqQJb?si=LcD28nYGS02pcx7yiTSL-A
Soundcloud: https://soundcloud.com/user-141339706
Pre-order Vinyl
https://www.ambassadorsofthesun.se/produkt/orbiting-a-dead-star-vinyl-lp-gatefold/?lang=en