DORMANTH "Beyond The Gates" - Reviewed By All Around Metal ! Check it out here at this link: http://www.allaroundmetal.com/component/content/article/26-releases/8074-un-po-troppo-ispirato-agli-insomnium-il-quarto-album-dei-dormanth
Between inspiration and mere emulation there is a very fine, sometimes imperceptible line. We often find ourselves in front of bands that are qualitatively and technically valid but which, alas, make you exclaim "but I've heard that already!". And this, of course, brings with it the unwelcome effect of relegating the group in question among the tide of many other realities present that are attested to political sufficiency and nothing more.
Here, this, unfortunately, is the feeling I had when listening to "Complete Downfall", the fourth album by the Spanish Dormanth, who reach their twenty-seventh year of life - with a break from 1995 to 2016 - promoting what, on balance , turns out to be an excellent melodic death played to profession but which, as I said above, too similar to the sound of the much more important and famous Insomnium.
Beyond what is the technical and qualitative apparatus, in my opinion perfect, the real sore point of this record is the all too explicit reference to the aforementioned Finns. The rest comes by itself, unfortunately. Therefore, if on the one hand the Spanish quartet is in great shape thanks to a well-crafted, enjoyable, pressing and not at all boring album, on the other hand I have to admit that all this is the result of a idea that certainly does not depend on them, or at least very little. I must surely recognize the splendid melodies and rhythms that create that death / doom atmosphere at Paradise Lost: these have literally bewitched me and I could not help but listen to some very expressive passages over and over again.
However, this turned out to be a flash in the pan, because the excessive reference to the sounds of Insomnium is always around the corner and does not allow me to judge ours for what they are. But so be it; I cannot fail to point out this all too strong reference which, as I said at the beginning, has crossed the line between inspiration and emulation. Unfortunately the needle of the balance hangs more on the latter. If I were to judge Dormanth's fourth album from a technical point of view I would bow. But I would have a lot to say on the originality side, the real sore point - even the voice closely resembles that of Niilo Sevänen-. My advice is to look for a more personal way, listening again and trying to understand where to put a stop and where, on the contrary, to push. Good luck. - All Around Metal
The legendary Spanish melodic Death Metal band DORMANTH, presents "Beyond The Gates" as third and last advance single from their 4th album to be entitled "Complete Downfall", which will be released in December 15th, 2020 through Xtreem Music on CD format.
 
You can watch the video here:
"Complete Downfall" contains 11 songs where the double bass drums, melodies and catchy choruses prevail in many of the songs along with other mid tempo tunes, continuing with their traditional style of melodic Death Metal influenced by bands like PARADISE LOST, AMORPHIS, AMON AMARTH, IN FLAMES, INSOMNIUM...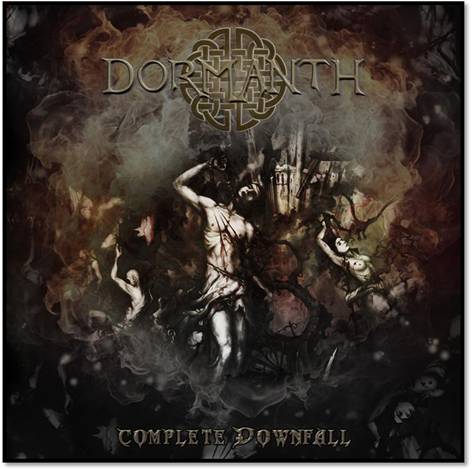 Tracklist for "Complete Downfall" is as follows:
01. Dreamcatcher
02. Fire
03. Tragicomic Day
04. Beyond the Gates
05. Odyssey in Time
06. The Origin
07. Dark Times For the God's Creation
08. -273º K
09. Brainstorm
10. Crystal Bone
11. Bloody Scars
 
Release date for "Complete Downfall" will be December 15th, 2020 through Xtreem Music on CD format. You can visit DORMANTH's official site here: http://www.facebook.com/dormanthoficial
and listen to the 1st advance single on the following link:
"Fire" 1st single:
"Tragicomic Day" video clip:
Follow them on Social Media!
https://www.facebook.com/dormanthoficial
https://www.instagram.com/dormanth/
https://twitter.com/dormanthband
https://dormanth.bandcamp.com/
https://www.izkar.net/
https://www.facebook.com/izkarproducciones/