Blessed By Perversion - Remnants Of Existence - Reviewed By Noizy ! check it out here at this link: https://www.noizy.gr/music/artists-albums/B/1259-blessed-by-perversion/1528-remnants-of-existence
The Greek band returns after an EP and a full length and this work begins with a very lyrical (as well as completely sick) instrumental, which, through clean guitars and gas with effect, foreshadows the sequel. "Descending To The Catacombs" is the way to travel and visit the catacombs of children's musical proposals. And after about seventy-five seconds… "Gallery Of Bones", with a leading rhythm of 12/8 and an epic stride. The voice is more Death than the boatman in Acheron and the band shows that it has a weakness in Greek melodies and that it has no issue with the blast points and in fact in nine years. When it gasped it was really deafening and deadly (we will probably use Death-o-derivatives several times today). In fact, when that bridge was launched ίζω I think that the friends of extreme sound should definitely check them out. They are so epic… but so epic…  
   Continue with "Atonement Refused", with the swords exploding, in a similar rhythmic pattern and the blastbeats creating panic situations. The hue from the threefolds of Hades remains faithful to its arachnid work and the piece runs, holds the gems a little louder, leaves and gathers, gives tutti and tortures the double petals in the best way. Lots of running, a lot of strength and Prog points that excite. Executive ability is a given. "Among The Tombs Of Absent Gods" starts intensely rhythmically and then blasts at will. Pauses and a clever game with one more value in the riff that is coming. Really intelligent! And that bass that's buzzing with με what is that now? Nine years and awesome accents με I'm really impressed.
   "Caverns Of Torture" and the run has no end, always on an epic background and a galloping path. The approach is completely professional and the production is consistent in making it all sound huge and scary. And that spot with the cracks… Magnificent and virtuoso, as it should be. Epilogue with "Within Monumental Chaos", with acoustic introduction, with direct electric bass and the identity of the band in its entirety. The keys are circling, the other instruments are attacking mercilessly. In that case, it is a pity I am against the label. I would love to describe this band as an epic Death, but on the other hand, the kids play so much more. I wish the album a good trip and soon they will be able to cause chaos and chaos in the scenes that will be hosted. At least their performance is excellent and I look forward to LiVE time. Well done, gentlemen!
Costas Koulis
Band Name: Blessed By Perversion
CD title: Remnants Of Existence
Format: Digipack
Band Members: 
Manolis Kouelo - Guitars (rhythm)
Kostas Foutris - Guitars (lead)
Andreas Moschopoulos - Vocals
Vaggelis Nanos - Bass
Vasilis Nanos - Drums
Release Date: December 25 2020
Limitation: 500 Copies digipack CD
Sellings Points: Second Release old school death metal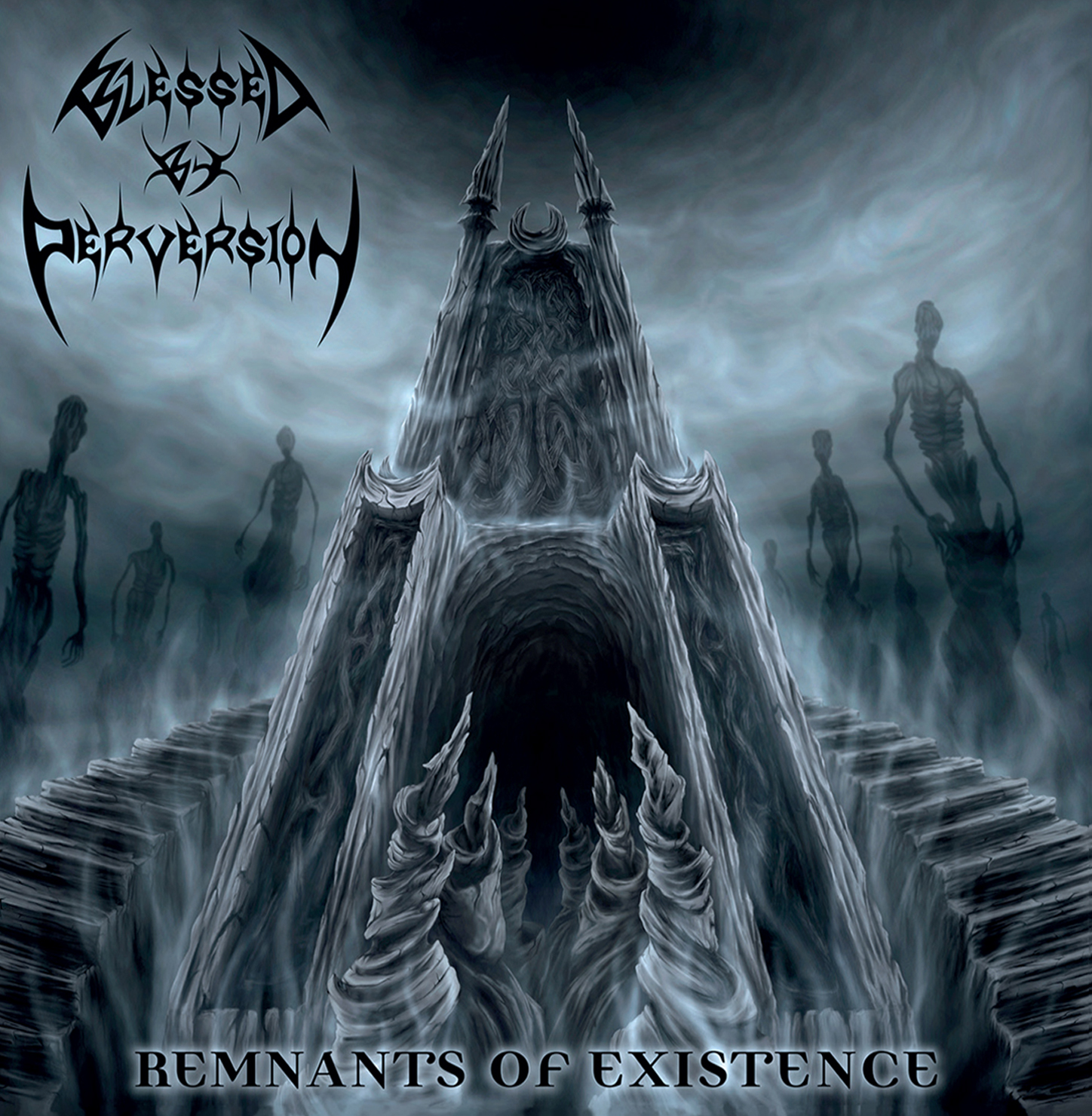 Track list:
1. Descending To The Catacombs
2. Gallery Of Bones 04:18
3. Atonement Refused 04:27
4. Among The Tombs Absent Gods 03:23
5. Caverns Of Torture 05:12
6. Whithin Monumental Chaos 05:56
Blessed By Perversion was created in mid 2010 inspired by death metal and extreme music.
The band released their first EP called ' Destroy the Image of God' in 2012. After many gigs and the addition of a new member, Blessed By Perversion was ready to record their first full length album ' Between Roots And Darkness' . This is an old school feeling death metal album with a lot of melodic parts. The album was released in 2016 via Razed Soul Productions and received great reviews from metal sites and magazines from around the world.
Now with a new drummer and with more consistency than ever, Blessed By Perversion is releasing a new masterpiece of pure death metal with old influences of American ( Deicide, Morbid Angel, Monstrosity ) and European ( Sinister, Obsecration or Soulskinner ) death metal creates " Remnant Of Existence " 6 songs of pure metal of death

Label contact:
https://ironbloodanddeath.bandcamp.com/
https://www.facebook.com/ibdc666
Band contact:
https://blessedbyperversion.bandcamp.com/
https://www.facebook.com/blessedbyperversion/
https://soundcloud.com/blessedbyperversion
https://www.youtube.com/user/BlessedByPerversion