After months of work and preparation, the legendary German thrashers, Destruction, will "Live Stream Attack" this Friday, January 1st. This will be a never before seen live show, in which the ensemble led by Schmier will perform a two-hour set, bringing to life the most extensive repertoire of their career. The best of 38 years of experience!
This is the last week to purchase tickets for the event. They can be adquired by clicking  here .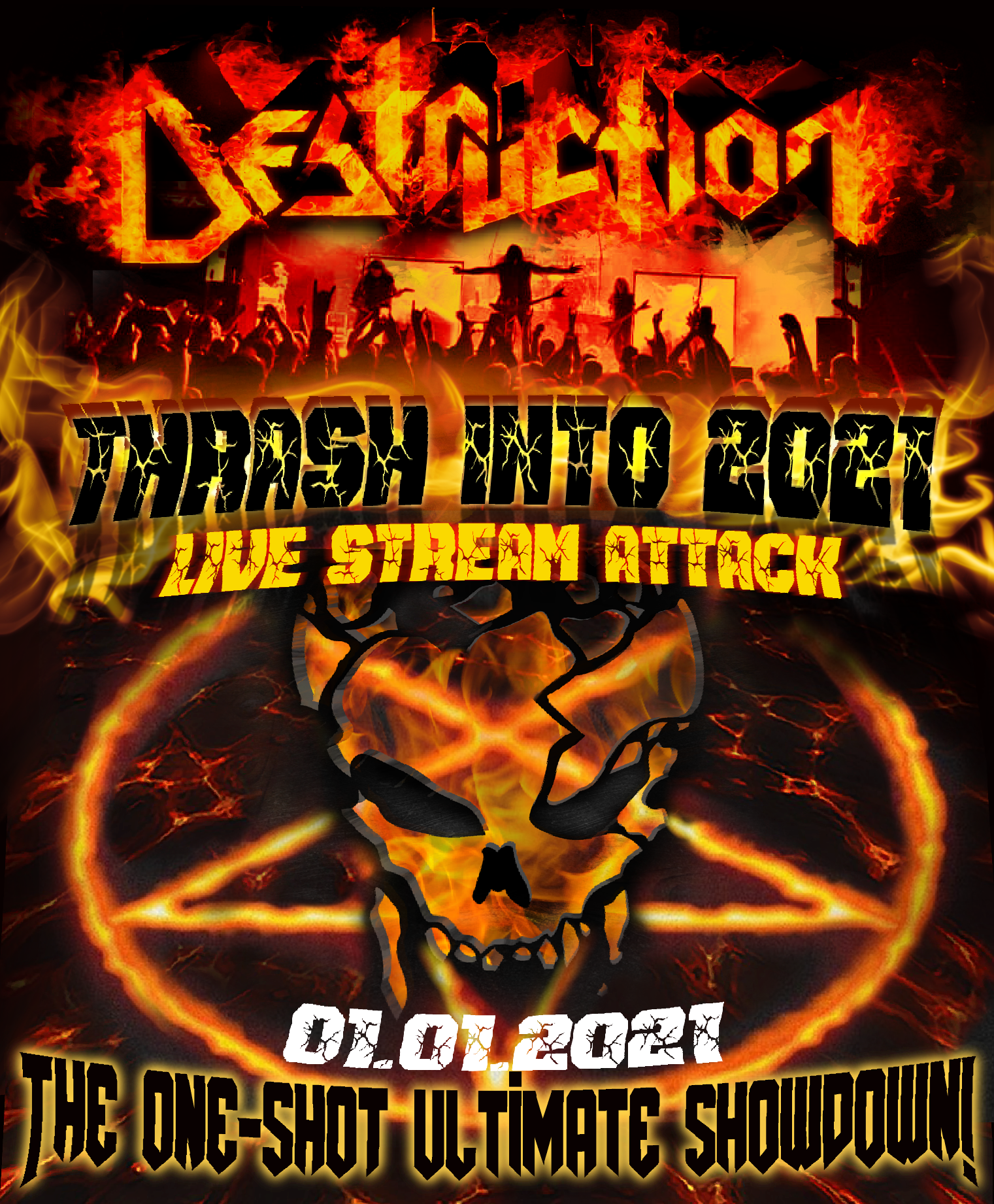 Streaming times:
Friday, January 1, 2021 8:00 PM CET
Los Angeles 11 AM - Dallas 1PM - NYC 2PM  - London 7PM  - Frankfurt 8PM - Moscow 10 PM -  Bangkok  2AM  (+1) - Tokyo 4AM   (+1) - Sydney 6 AM  (+1) 
In addition, the show will be available 48 hours on demand once the ticket has been purchased. As if this were not enough, fans will be able to get official merchandising of the event, exclusive content and much more.

If you are a Thrash Metal maniac, this is something you cannot miss. Destruction invites you to enjoy this special concert, as a sign of hope, solidarity and a great start in 2021!

About the "Live Stream Attack"

The show will be filmed at the Z7, Switzerland's leading concert hall, in Pratteln. Destruction will offer an out of this world show, a once in a lifetime event. It will have a longer duration than usual, a special setlist, a few surprises, and the main production complete with top-notch picture and sound quality.

In relation to this unique and special event, the band commented:

"We are all new to this. Right now, an event like this is the only thing that can keep the flame burning, gives us hope, keeps us busy and entertained, and can hopefully help us survive this crisis that paralyzed our lives. industry and profession ".

"THANK YOU for being a part of this. Your support is the key to any of our future projects, we really appreciate having such loyal fans all over the world! We look forward to seeing you all in the near future in person, at a real live concert. Again, because we all know that nothing can beat the tension, energy, power and experience of a live concert! WE STAY UNITED !!!"
DESTRUCTION IS:
Schmier - Bass and Vocals
Mike Sifringer - Guitar
Damir Eskic - Guitar
Randy Black - Drums