MDPR Clients: Hellz - Waiting On The Other Side - Featured At Hard Music Base! Check it out here at this link: https://hardmusicbase.cz/index.php?stranka=aktuality&id=16872
Hellz releases new single celebrating the launch of her label Revenge of Eve Records.
2020 has been a great year for artist Lisa Perry from Hellz. The Australian Rock Queen has been blessed to work with amazing musicians including Gorka Alegre, Tolo grimalt, Mark McLeod, and former members of Megadeth . Lisa has released many new singles in 2020 and taken out the Number 1 position on the South African ITunes Rock Charts. Lisa's hard work has gained her endorsements through world renowned companies including RØDE MICROPHONES and Olympus Custom Guitars. Also, Lisa has been nominated for an international songwriters award for her collaborations with Gorka Alegre. But it doesn't stop there! Lisa is set to release her newest haunting single entitled Waiting on the other side on September 5th 2020. The single launch also celebrates the first music release under Revenge of Eve Records, Lisa's very own record label.
Waiting on the other side is the work of Lisa Perry alone. The singer songwriter states, "This year has been challenging and I decided to give myself the challenge of creating a music release from top to bottom alone." "Everything you see in the video and hear in the music is made by me". "I think this year is all about looking in new directions and trying new things". "I'm very proud if what I have achieved".
Waiting on the other side is a heartfelt softer style of rock that we haven't heard from Lisa Perry. Although it is still full of the great energy Lisa is known for. The song has a good commercial sound and should be well accepted by a large variety of listeners. When asking what the song is about the singer-songwriter replied, "The song offers a reminder in the lyrics that we all have someone waiting for us on the other side and that one day we will be together again. "During a year of so much loss in the world we are mourning for our loved ones and friends."
Waiting on the other side marks the official first release from Hellz under Revenge of Eve Records. Lisa Perry the label CEO has built ROE as there is a need for a label that understands what an artist needs. "I am so passionate about writing, releasing, and teaching others the music industry knowledge that i have gained over the 30 years i have been involved." "I realised that I was capable of doing all the things a label does alone." "Being with a label in the past made me realise that it was my hard work that I was doing alone to promote myself that was making the most difference." "We live in a very different music world to what we have known in the past." Learning to promote and manage yourself is very beneficial to your survival as an artist."
Waiting on the other side will be released on September the 5th worldwide on most music platforms. For more information please drop by the Hellz website at www.houseofhellz.com or follow Hellz online on Facebook at www.facebook.com/hellzlive/
Find Revenge of Eve Records at
www.facebook.com/revengeofeve/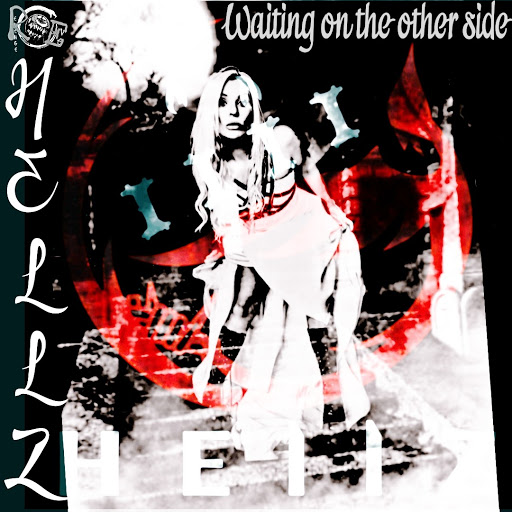 Download and stream the single here https://ditto.fm/waiting-on-the-other-side