Wrecking Ball Metal Fest is Dropping the Ball Online December 12 th

With no reprieve on the immediate horizon in sight to have restrictions lifted for live shows, artists, bands, fans and the music industry as a whole are left to quiet nights in front of a computer screen scouring the interwebs for online streaming events.
Since March, a number of events have been taking place worldwide, providing audiences with a chance to experience music performances via the Internet.
The Philadelphia-based event Wrecking Ball Metal Fest has thrown their head banging hardhat into the ring to bring its annual Fall gathering to the streaming arena.  The WB 2020 Fest is being organized and presented by long time PA-based promoter Billy Loney of Keep it Metal Promotions .
" This year has been a real challenge for everyone, especially the music industry ," says Loney . " Fans and artists have been disconnected by no fault of their own…this is just a way to bridge that gap ."

Wrecking Ball will take place on Saturday, December 12th and will begin streaming at 1pmET exclusively on Rock Addict Radio's official website, www.rockaddictradio.com .  
" Wrecking Ball Metal Fest, is part of the movement to bring live music back to the fans in some capacity ," says Spencer Streeter , Rock Addict Radio Station Manager and Program Director . " It's a new and unique way for music to be experienced and we are happy to be a part of that ."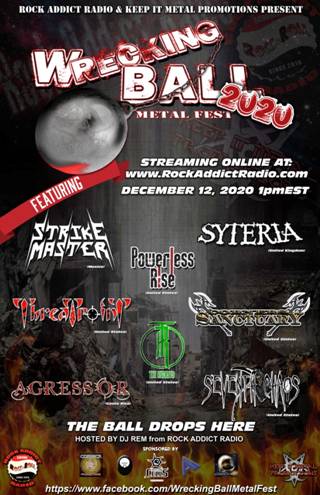 A host of bands from various parts of the United States and the globe will be participating, including
Agressor (Costa Rica)
Powerless Rise (US)
The Recasts (US)
Strike Master (Mexico)
Threatpoint (US)
Corners of Sanctuary (US)
Systeria featuring Jackie Chambers of Girlschool (UK)
Seventh Chaos (US)
For more information visit:
Wrecking Ball Metal Fest Facebook: www.facebook.com/ WreckingBallMetalFest
The Ball Drops Here
Keep it Metal Promotions:
www.keepitmetalpromotions.com
Rock Addict Radio
www.rockaddictradio.com
Welcoming reviews, interviews, and press! 
- March Baby Media
www.marchbabymedia.com