Fatal Sin - Episodes: The Complete Recordings - Featured At Bathory'Zine! Check it out at this link: https://www.bathoryzine.com/2020/11/fatal-sin-episodes-complete-recordings.html?spref=fb&fbclid=IwAR01S1QxXEvXkBVprdUjRmldGEUMW2MRNN76KEkFV0ubOV6NvfDVnTKtUQc
FOR FANS OF: Atheist, (early) Megadeth, (early) Cynic
FATAL SIN were formed in late 1985 in Boca Raton, Florida by guitarist Adam Riewold and drummer Greg Threlkel (who were in middle school at the time) out of a love for both the energized Thrash of bands such as Slayer and Megadeth as well as the more intricate arrangements of Rush. After going through a revolving door of musicians, the line-up solidified with the addition of guitarist Haven Eaton and bassist Kevin Bachaus.
Fast forward, FATAL SIN would take home the top prize at a local Battle of the Bands, winning 4 hours of free studio time. With their winnings the band would enter Hollywood Sync Studios in November of 1989 to record their first demo. Friend, and bassist for local heavyweight's Saigon Kick Tom DeFile, produced. Armed with a quality recording, FATAL SIN would begin to gig heavily, sharing the stage with bands such as Vio-Lence, Devastation, Deicide, Morbid Angel, Raped Ape, Cynic, and Pantera.
Not long after the recording of the 1989 Demo and that momentum began, Kevin would be diagnosed with spinal cancer and would have to exit the band. Adam would switch from guitar to bass, making FATAL SIN a three piece. It would be during this period that the band would begin to be influenced by not only bands such
as Watchtower and Voi-Vod , but also by the complex sounds and arrangements of classic Jazz/Fusion artists such as Return To Forever and Mahavishnu Orchestra . These influences are highly evident on their final studio recording, "Episode", which was recorded in 1991 for a local compilation album " Unsigned III: Killing Time ".
Shortly after the recording of "Episode", FATAL SIN would go on hiatus for close to a year before reemerging as UNIVERSAL LANGUAGE. The band would issue one final 3-song selftitled demo in 1993 and disband in 1997.
Greg Threlkel would go on to co-found the band BURNER in 1998 along with guitarists John Paul Soars ( Raped Ape/Paingod/Malevolent Creation/Divine Empire ) and Jason Morgan ( Monstrosity ), who would record one album for Arctic Music Group in 1992 titled "One For The Road". Adam Riewold moved to Tampa, Florida and has been involved in multiple projects, with his most recent being the band LEVEL THE PLANET.
This deluxe re-issue features all of the bands studio recordings, as well as 3 live songs, fully remastered from the original sources by Rob Colwell at Bombworks Sound and an 8-page booklet featuring archival photos and some personal insights from Adam Riewold. Also included is a bonus DVD featuring their entire performance at Florida Atlantic University in Boca Raton, Florida in 1990.
This deluxe edition is the 5th release in our "Florida Metal Archive Series" and is limited to 300 units world wide.
Grab your copy here: https://thrashbackrecords.bigcartel.com/
TRACK LISTING:
1. Episode (1991) *
2. Fatal Sin (1989) *
3. Intense Distress (1989) *
4. Civilized Suicide [1990 Live]
5. Dreams Of The Future [1990 Live]
6. Insanity Of Humanity [1990 Live] *
[BONUS DVD: Live at Florida Atlantic University 1990]
(Tracks with an * have been provided to you for airplay)
FATAL SIN:
Adam Riewold - Vocals & Bass
Haven Eaton - Guitars
Greg Threlkel - Drums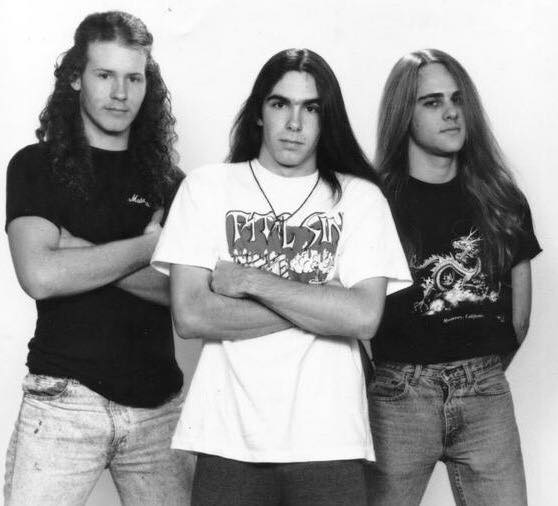 DISCOGRAPHY:
Fatal Sin (Demo) - 1989
Episode (Demo) - 1991
Unsigned III: Killing Time
(Compilation) - 1992
(Stryder Records)
Episodes: The Complete
Recordings - 2020
(ThrashBack Records)
https://www.facebook.com/ThrashBackRecords/