Reign Of Vengeance - The Final Aeon For All Humans - Featured At Bathory'Zine! Check it out here at this link: https://www.bathoryzine.com/2020/10/reign-of-vengeance-final-aeon-for-all.html?spref=fb&fbclid=IwAR1OU37Owk3uFX_uGaKJ4OAvemYmXftx2dczsJwGYvL0XwmIdghPYDKJiJ4
E.P. INSPIRED BY INJUSTICES WITHIN AMERICAN FAMILY COURT SYSTEM
This concept and story line EP is about class warfare, the occulted orders, media, the Virus, and civil unrest taking place in a parallel universe which is dominated by Darkness, Bloodshed, and Evil.
This EP was originally released in 2013.
REIGN OF VENGEANCE "The Final Aeon For All Humans." has been said by the Heavy Metal and Horror Media worldwide to be "An Absolute Masterpiece of Beauty paired with Brutality."
REIGN OF VENGEANCE "The Final Aeon For All Humans." is available on all digital streaming and downloading services.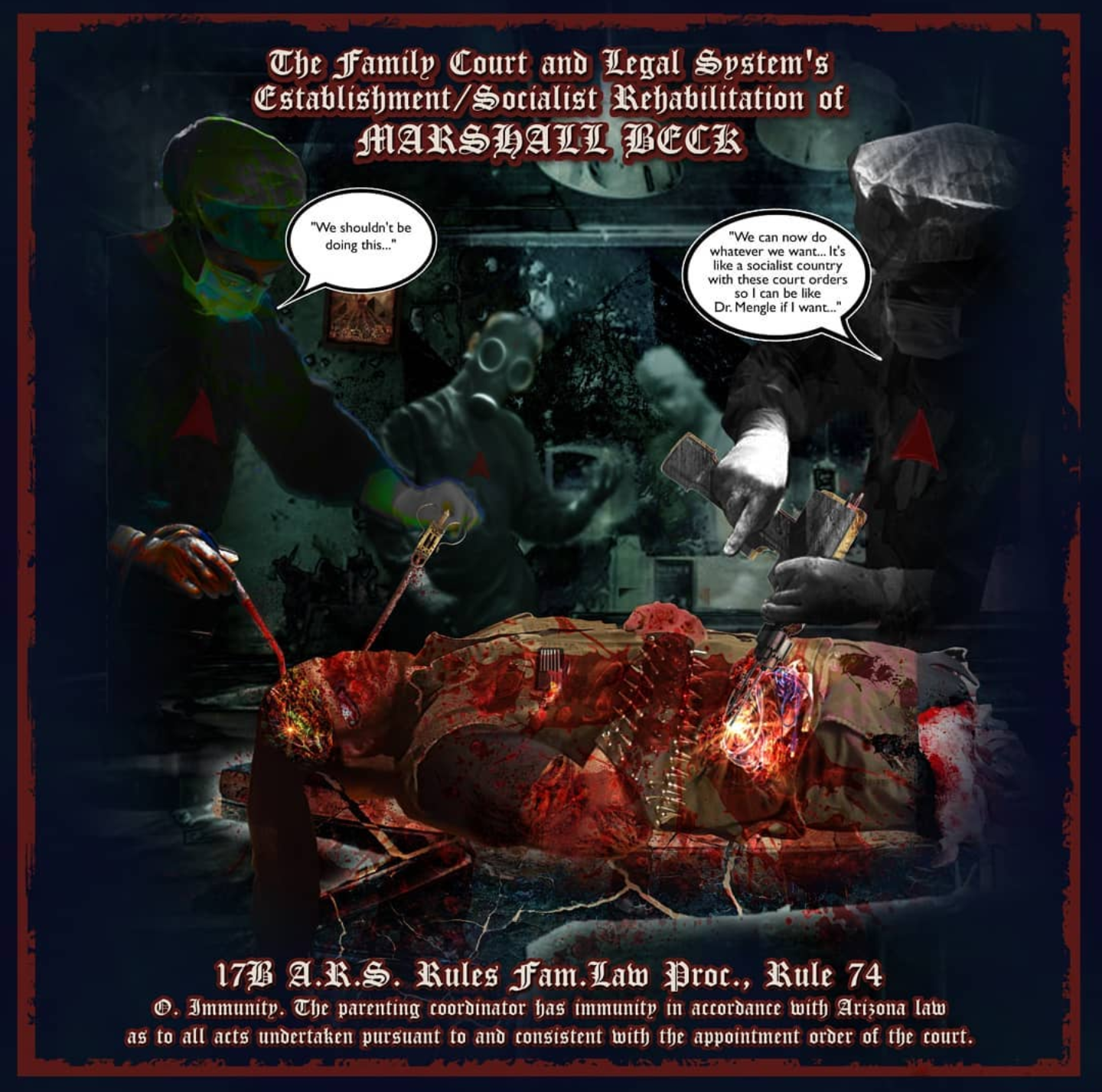 Reign Of Vengeance also just released a brand new lyric video for " American Family Court: Thy Seeds To Belial " with Brain Damage Films. This single is inspired by singer Marshall Beck's own horrible experiences as a father fighting within the American family court system, as well as the vast amounts of research he into did this somehow socially-accepted institution. The brutal ode likens the modern institution to the ancient child sacrificing temple of the Canaanites, "Where Men and Children Come To Die". The song encompasses the visceral story-telling, epic aural assault and occult-themed/chaos-fueled fury for which the band has come to be known. Click here to purchase "American Family Court: They Seeds To Belial".
Of the track and corresponding lyric video, Marshall Beck commented, "We live in a time where misandry runs wild within the establishment media and legal/family court system. This in turn directly and indirectly affects children, fathers, and the cohesive family unit...After personally fighting through the most litigated family court case in the history of Arizona for 7 years and winning, having my rights continually trampled on, weathering through an endless sea of false allegations, having my social media accounts forcefully removed by court orders for criticizing their employees/institution, all of my money and resources drained and/or destroyed by attorneys and court appointees, as well as having my parental abilities continually questioned because of my "death metal lifestyle" being perceived as "a call to violence," it seems absolutely necessary that Reign Of Vengeance release this song.
Not only does this song reveal what is currently taking place in the American family court system to 84% of children and fathers who end up within the chains of this system, but it does so in what I consider to be one of the best songs Reign Of Vengeance has released to date. Enjoy!" Brain Damage Films owner Darrin Ramage commented "We are the world's largest distributor of indie horror movies and are delighted to once again be working with the musical horror titans who are Reign Of Vengeance on this release".
The brainchild of noted metal vocalist, Marshall Beck, Reign Of Vengeance has released four albums/EPs to date, although the band has been around in numerous incarnations for upwards of fifteen years. Reign Of Vengeance has garnered significant attention from the metal community including a strong fanbase with Metal Sucks dubbing a recent release, "a short but incredible piece filled to the brim with violence, self-loathing, and social commentary…" Metal Storm has referred to their music as "one intense stab in the face". Reign Of Vengeance appears on this recording as Marshall Beck – "The Illuminated Man" (vocals), Stefano Franceschini (Bass), Tyler Hacker (Guitar), Sean Maier (Guitar), Samus Paulicelli (Drums) and Veli Matti Kananen (Keyboards & Synths).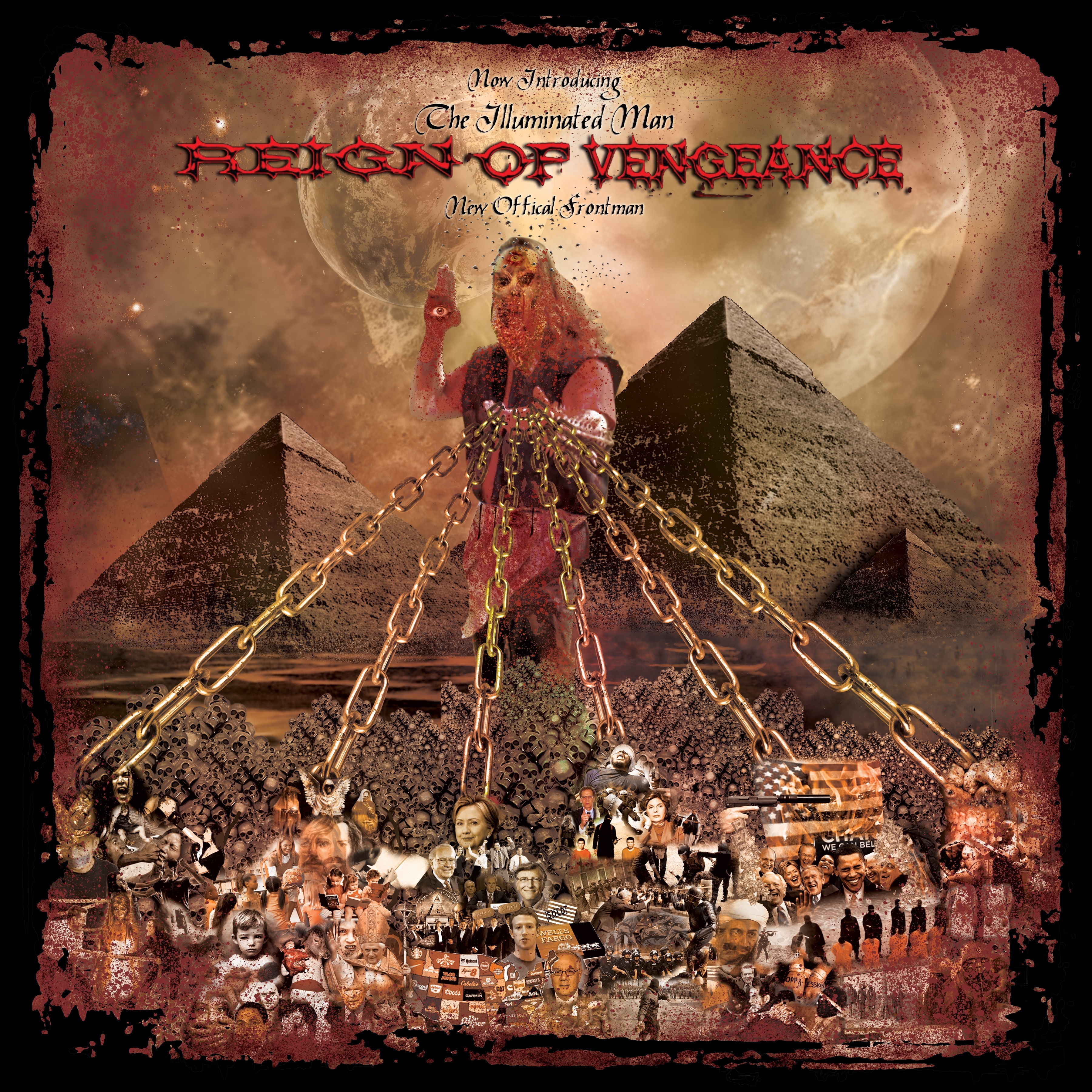 To experience Reign Of Vengeance, please visit:
www.facebook.com/ReignofVengeance
https://www.instagram.com/reignofvengeanceofficial/
https://reignofvengeance.hearnow.com/
https://www.MetalMarshallBeck.com/merch
Click here to access publicity assets for Reign Of Vengeance.
For more information, please contact:
Carise Yatter/Hired Gun Media
917-301-6664 or cyatter@gmail.com
www.facebook.com/hiredgunmedia