1945 – Live in Pandemia Reviewed By Metal Rules! Check it out here at this link: https://www.metal-rules.com/2020/11/01/1945-live-in-pandemia/
1945 is a band from Salamanca, Spain born in 2016. In mid-September the group presented Live In Pandemia, a concert recorded at the Center for Performing Arts and Music in their city, taking advantage of the fact that the local city government organized a series of online events to prevent people from leaving home, because we all know the enormous health crisis that has unleashed in recent days in that country.
1945 is presented as a speed metal band, however, their sound is far from the genre; you can see a lot of desire and enthusiasm, but there is something in their compositions that does not end up taking off. The voice of Sarah García (the namesake of the manipulative grandmother of Mexican cinema) is not very expressive; it lacks power and explosiveness. Sometimes she flirts with the gutturals as a resource that adds little to the songs. Although she shows a lot of attitude during the concert, it is not enough to be an outstanding frontwoman. Perhaps the absence of an audience influenced her.
The songs of this band have a lot of groove, which completely strips them of any hint of speed metal. Their riffs come to sound very slow without any melodic hook that can sow them in the mind and memory of those who listen to this band for the first time. In the concert you can see some very self-absorbed musicians, focused on their instrument, with little group cohesion on stage; very static and focused on playing their respective parts.
In no way does this mean that 1945 is a bad band. ACT I, their EP released in 2018, lets us see the enormous potential that this group has. Songs like "Black Rose" and "Lost Dream" show us the bright side of this group; those are pieces that sounded very good live; it is no coincidence that they closed the concert with "Lost Dream". We are facing a band that has a lot to improve, especially its stage presence. We will have to be attentive to his debut album, which will be released later this year.
For fans of Midnight, Solicitor, Motorhead
Press release: The Salamanca band 1945 has premiered this week its recent live recording LIVE IN PANDEMIA, made on September 13, 2020 in the outer courtyard of the CAEM, without an audience and within the online programming of the Salamanca City Council on the occasion of NO FESTIVITIES of the locality.
Taking advantage of the event, the complete video has been edited to present and make available to the public 6 songs, among them THE LAST BATTLE, a preview of the band's next album "HEAVY METAL IS NOT FOR SALE" (next December 2020).
Track List:
1. THE LAST BATTLE
2. HORSES OF APOCALIPSE
3. TALK
4. BLACK ROSE
5. PERFECT FINAL
6. LOST DREAM
Video Clip Link: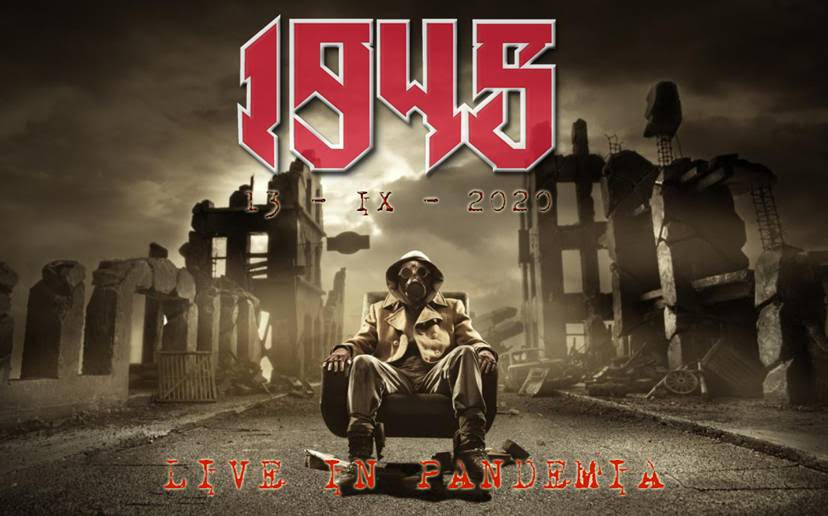 www.1945.com.es
https://www.facebook.com/1945oficial/
https://1945metal.bandcamp.com