BÁRBARA BLACK - 'Love, Death & Flies' Reviewed By Moshville Times! check it out here at this link: https://www.moshville.co.uk/reviews/album-review/2020/10/album-review-barbara-black-love-death-flies/
Bárbara cited quite a few acts as influences and the one that really sticks out for me is In This Moment, in particular frontwoman Maria Brink. We have a similar imposing presence fronting this act, taking control of each song but letting her bandmates absolutely flesh everything out. Black's vocals are front and centre, with a similar varied style to Brink's, and she does it well which is no mean feat.
There's a video for "Tiger Tamer" below and it's probably a good place to start as a sample. It's got a nice shouty chorus, great catchy beat and those vocals I mentioned. There's also a nice little guitar solo in there, making it a nice summation of the band's style. You can even pick out the quite bit after the solo where you just know they'll be miming for the audience to clap when they play it live!
The other band members do contribute some backing vocals as well as their instrumental input, and this works well while not being overdone. "No Bullets" has a notable sampling of male voices, for example. It does add a little something, and make the whole package seem more like a band rather than a singer with a bunch of session musicians.
"Desert's Last Drop" is one of the top tracks for my money, largely due to the cracking guitar solo and buildup after it, though "Kissed By Flames" is an interesting mix of very heavy and very country(!) tones which is interesting. In fact, it's this ability to fling different sounds around that keeps the album lively.
"Heroes Above the Stars" is all light and carefree, "Don't Play With Fire" starts gentle and gets a little filthy, "You Belong To Me" is a straightforward rocker… and so forth. Despite having a definite sound of their own, Bárbara Black stretch their legs in several directions to pull in influences from various locations. If you like "rock music" as a general concept, then you'll almost certainly like the majority of the songs on Love, Death & Flies.
BÁRBARA BLACK The Spanish rock singer releases her third new album 'Love, Death & Flies'
MUSIC MELTS INTO BLACK WITH THE EMERGENCE OF BÁRBARA BLACK,
A CYCLONE OF SOUTHERN BLUES, AMERICAN ROCK, GOSPEL AND METAL
When you mix an attitude that Lemmy would sign himself with a vocal capacity worthy of Myles Kennedy and to that you add a sound born from the roots of rock with the power of today's metal, the result can only be an album not to be missed. That album is Love, Death & Flies, the third album by Bárbara Black,a singer and a band born to rock.
She is an independent artist with a long career, that in 2016 began her singer solo career realising Spiritual Rock. Shiva was the song chosen to be in Eurovision by the AEV Festival. Barbara has won several awards as a metal vocalist in Spain such as Best National Female Rock Singer chosen by La Heavy Magazine readers in 2013, 2014, 2018, 2019 and 2020. In 2017 she released the album Ad Libitum, and the band went touring in the UK in 2018 and in Spain in 2019.
The new album Love, Death & Flies is her hardest sound that shows the lyrical influences of Poe, Bécquer and the horror cinema of the 80s. Victorian streets, dark passages and a decadent romanticism drive you to reach the zenith in "Damnified", a reflection of the band's approach to wilder southern sounds. You will find one of the most powerful and quality voices that flies through melodies, screaming and opera as well as sharp guitars and devastating drums.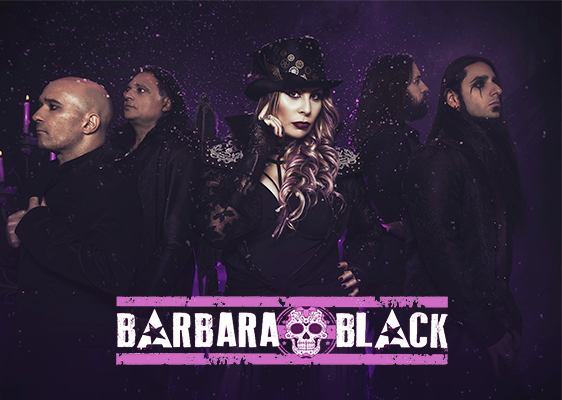 Bárbara Black Cantante y Compositora.