The new video "BLOOD OF THE PATRIOTS" - Featured At World Of Meta! Check it out here at this link: https://worldofmetalseptemberoctobernovember2020.metaltoinfinity.be/october-down-factor-us-thrash-metal-new-video-blood-of-the-patriots/
VIDEO
BLOOD OF THE PATRIOTS
from
DOWN FACTOR'S - MURDER THE WORLD
The Politics in America are Bitter & Toxic
Scourge Records re-releases BLOOD OF THE PATRIOTS as a video from DOWN FACTOR 's album MURDER THE WORLD . George Anderson, creator/writer of FROM HELL , re-releases this political song from his past band for the corruption of the politics in America has reached a fevered pitch. It beckons for this re-release. Originally written about the American politics of 2005, the message of the song is still a message for today.  This video has taken into context today's politics and merged them easily with the past for little has changed.
"I created FROM HELL to stay out of politics, because I hate it. But, right now, I simply cannot stand by and say nothing while the politics of this nation destroy this once great country. I wrote these lyrics with the corruption of the Iraq War and the Bush Administration's egregious lie about Weapons of Mass Destruction and the 9/11 attacks on The World Trade Towers in mind. While some of the players have changed, the lies and the power grab of conservatives, who have altered the face of the Republican party, has not." – George Anderson
The video for BLOOD OF THE PATRIOTS is mostly a lyric video with scant old live footage laid on top. It delivers a message about the insidious endeavors of the conservatives in office seeking power at the expense and lives of the American people. It is very much anti-Trump and urges people to vote him out of office while we still can. While too many people focus on the division within our people, they mollify or fail to see the criminal acts within our government that threatens the freedoms of millions of Americans to further their agenda. The lack of integrity of the Senate has failed to convict the president, who WAS impeached and the people who support him fail to see how this undermines our system of checks and balances within our government and undermines our democracy.
The rhetoric of this president caters to the sentiments of the religious right claiming God to be authority and the sanctity of the unborn while failing to admonish his past as a king of the nighttime world, a misogynist, sexist, racist and his extra-marital affairs and hush money payouts from beauty pageants to casinos to pedophile Jeffrey Epstein, let alone his absence in church. He fails to denounce Alt-Right Hate Groups and White Supremacy Groups and has thus given them credence to their agenda and messages of hate. A president who sews division has no interest in uniting the people cannot rightfully be the president of a united states.
This video contains a small amount of Public Domain footage from the film Swastika by Phillip Mora Sanford Lieberson and David Putnam.
"In no way shape or form do I wish to demean or disenfranchise my German friends and fans in anyway. However, the actions taking place within our government are such that, it is necessary to evoke the history of a terrible time in the world, to remind or enlighten those who do not remember or have not learned history, so that we do not tread down the path to repeat these terrible things under the banner of God or country." – George Anderson
"People have said to me, "It's ridiculous to compare Donald Trump to Adolf Hitler. Hitler was a monster." My reply to them is, "Donald Trump is not the monster that Hitler was and that we acknowledge. But he is very much the man Adolf Hitler was before he became a monster. Adolf was not a monster in the beginning. But given unlimited sweeping powers and his penchant for racist and divisive rhetoric and his failure to denounce the Alt Right, America could easily find itself going down this dark path. I must do everything I can to bring that possibility to light."  
MURDER THE WORLD was recorded at Trident Studios by Juan Urteaga in Pacheco, CA.
It is the follow up release to the band's previous album PURE . Juan Urteaga was the go to Metal Engineer in the bay area. And still maintains that status today. The tracking and mixes Juan lays down are praised by many in the metal world. Juan has recorded bands such as Testament, Vicious Rumors, Machine Head, Exodus, Vile and many more. Mastered by Ken Lee in Oakland, CA.
DOWN FACTOR disbanded in 2006. This re-release is solely the effort of George Anderson.
MURDER THE WORLD features George Anderson on vocals and guitar, Brooks Rocco on lead guitar, Ramon Ochoa on drums and Waylon Ford on bass, (live footage Damian Lewin on bass of Vengince, Toy Called God).
MURDER THE WORLD is available as a physical CD and full or single-track downloads.
EXCLUSIVELY at www.scourgerecords.com
Scourge Records does not wish to engage with Spotify, iTunes or any other 3 rd party service for this release.
BLOOD OF THE PATRIOTS may be streamed from Youtube.com only.
To watch the video: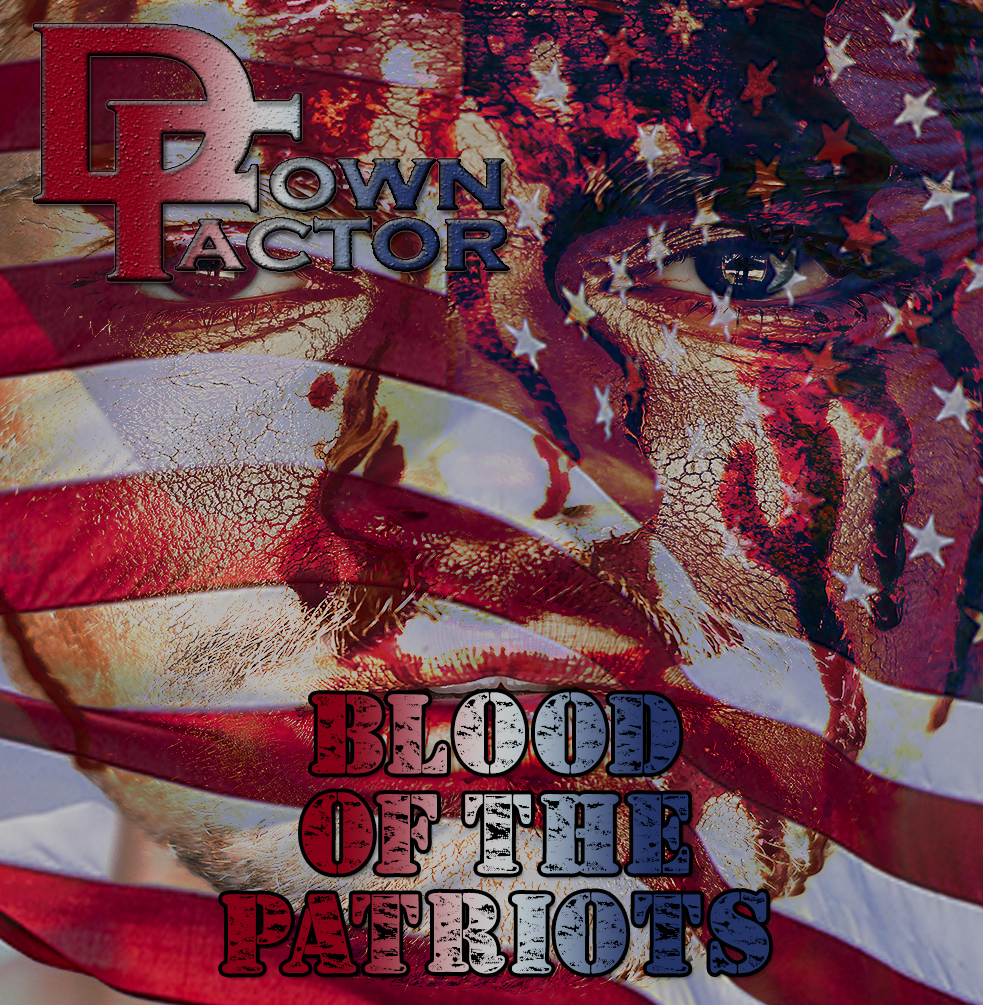 For more information, visit:


www.scourgerecords.com/down-factor/
 or