Veritas - Threads Of Fatality Featured At Insane Blog! check it out here at this link: http://www.insaneblog.net/2020/10/veritas-stream-new-album-threads-of.html
"Straight forward type of prog metal that is reminiscent of late 80's, early 90's acts such as Fates Warning (No Exit era), Queensryche and very early Dream Theater "- Forgotten Scrolls 
Veritas is a hard rock/metal band with a classic sound.
Country and City: United States, Kansas City
Artist: Veritas
Album Title: Threads of Fatality
Label: Veritas Rocks LLC
Release Date: 28th August , 2020
Genre: Hard Rock/Metal
Description: The highly anticipated, first full length CD from Veritas is now available worldwide. Following the success of the 2019 Ep, Veritas has been hard at work putting together this collection of 14 classic sounding hard rock/metal songs. It features Mark Zonder (Fates Warning, Warlord, Spirits of Fire) on drums, will be sure to appeal to fans of early Queensryche , Dream Theater , and Fates Warning .
Influences for the Album: Queensryche, Fates Warning, Crimson Glory
Track Suggestions: Love and Burn, Starlight, Far Away, Frail
Bio: 
   In 2012, Greg Wenk started looking for members and decided on Veritas, which means truth, when looking for ideas. Deciding it needed a logo to make it more recognizable, he found the awen symbol which means creativity. Already having about 20 song ideas, he found original drummer Adam Hartley after a few months of searching and auditions. They began working on songs and auditioning for the remaining members. After many months of auditions, they found Geno Alberico through an ad and realized they had a common vision and welcomed him into the band. The trio continued working on songs and searching for the perfect singer to compliment the music. After many months of searching, Geno mentioned he knew a great vocalist. The only catch was he lived several states away. After sending him a few tracks and hearing what he could do, they decided to move forward with Denny Anthony on vocals. Veritas began working on completing songs by sending tracks back and forth and began recording what would be an EP for the first release. Unfortunately, Adam decided to leave the band for personal reasons, and the search was on for another drummer. Denny suggested using Mark Zonder for the drums since he had worked with him on a previous project. Denny contacted him and he agreed to record the drums.
   As the EP neared completion in 2019, they began sending out samples to create interest in the band and get people familiar with the music. The songs were an instant hit and were played on several internet radio stations including Rock Rage Radio (USA) and Mercury radio (Greece). People started wanting more info about the band and where to get the Ep. The problem was it was still in the mixing/mastering phase and the band was struggling to catch up with demand. Forgotten Scroll set up a topic page to keep new fans of the band informed about the progress and availabillty of the EP. Once it was released it received many great reviews comparing it to the sound of early Queensryche, Fates Warning, and Dream Theater. 
   The band continued writing music and focused on completing their first full length cd. They also needed a better way to release their cd and make it more easily available worldwide. They began shopping the music around to various distribution companies with the ability to get their music in stores around the globe. After talks with several companies, they found a company with a common vision and the connections to make it happen. In March of 2020, Veritas signed a deal with Amplified for worldwide distribution of their first full length cd in physical and digital formats. The cd has 14 tracks and was mixed by Daryl Bolicek at Wild Horse Recording in Minnesota and mastered by Thomas Juth at Svenska Grammofonstudion in Sweden. The cd released on August 28th, 2020 worldwide and has already received great reviews from Germany, Sweden, USA, Poland. 
Band Line-Up:
Denny Anthony-vocals
Greg Wenk-guitar
Geno Alberico-bass
Mark Zonder-drums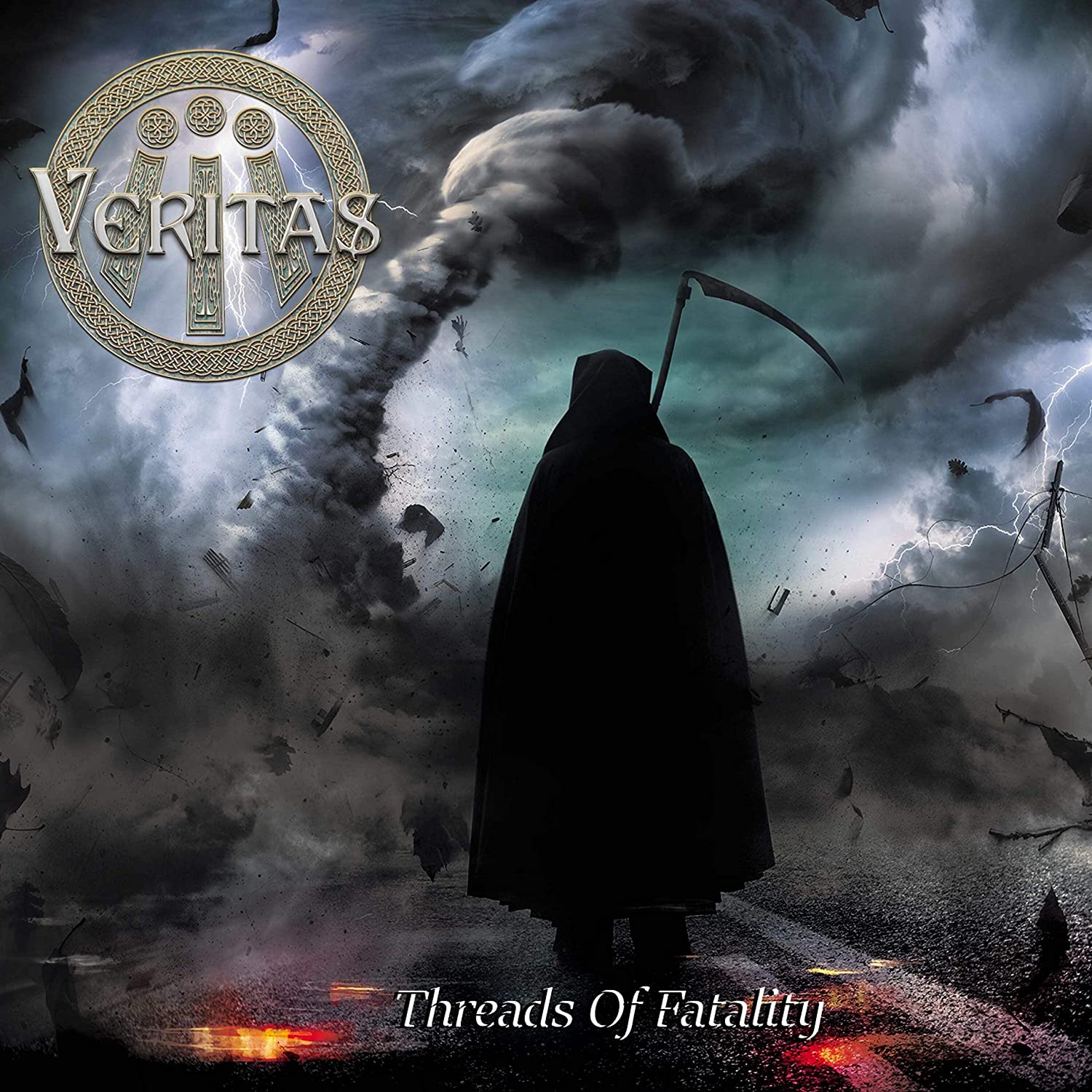 Track Listing:
1. Prelude to the Sacrament
2. Frail
3. Love and Burn
4. Far Away
5. Morbid Stale
6. Fate's Warning
7. Say Goodbye
8. Moments of the Day
9. Starlight
10. Eyes of the Blind
11. Dying to Live
12. Sludge
13. Masquerade
14. If It's Over
Threads of Fatality
 The new album promises the best hard rock sounds along with creative songwriting from the band. Veritas has been hard at work recording/mixing/mastering the full cd. In March of 2020, they signed a deal for worldwide physical/digital distribution through Amplified Distribution and began preparing for the launch of the bands first full length CD. Released on 8/28/2020, there are already many great reviews and media excitement. Get this awesome album now for an amazing experience!
Web and Social Media Links:
https://www.facebook.com/veritasmusickc
https://www.veritasrocks.bandcamp.com/releases
EPK www.veritas.rocks/epk
CD/merch links www.veritas.rocks/shop
FYE https://www.fye.com/veritas---threads-of-fatality-aec.vtir568.2.html
Streaming and Video links
Spotify, Deezer, Google Play, Tidal https://distrokid.com/hyperfollow/veritasrocks/veritas-ep
IHeartRadio https://www.iheart.com/artist/veritasrocks-32771901/
Napster https://us.napster.com/artist/veritasrocks/album/veritas
Amazon https://www.amazon.com/Threads-Fatality-Veritas/dp/B08C47SV8H/ref=sr_1_1?dchild=1&keywords=veritas+threads+of+fatality&qid=1594854949&s=music&sr=1-1
Reviews/Interviews
Metal Temple
http://www.metal-temple.com/site/catalogues/entry/reviews/cd_3/v_2/veritas-threads-of.htm
Rock the Best Music 
https://rockthebestmusic.com/2020/09/veritas-threads-of-fatality  
Jace Media UK
https://www.jacemedia.co.uk/veritas
The Median Man  
https://www.themedianman.com/veritas-threads-of-fatality 
Blessed Altarzine (4th band down) https://www.blessedaltarzine.com/2020/08/21/baz-friday-lvv-underground-reco-for-underground-maniacs/?fbclid=IwAR2HRyLnJIoXXJF5V3JWeMunSz8MAkYYfBt-QJF3jT6-vxyxS-O8sruLRi8 
Abaddon Magazine
http://www.abaddon-magazine.com/reviews/review-veritas-threads-of-fatality
EP-Great review on Forgotten Scroll https://www.forgotten-scroll.net/metal-reviews/veritas-veritas-ep/
EP-KVLT Magazine-Poland  https://kvlt.pl/recenzje/veritas-veritas-2019 
Metal Heads Forever Interview
http://mhf-mag.com/tag/veritas/