New Single "The Best Times Have Passed"
Photo Credit: Kenji Tsunami of Tsunami Films
Narcotic Wasteland (formed by Dallas Toler-Wade (ex-Nile) will be hitting the road for North American tour dates supporting German heavy metal legends during October (dates listed below). Those who attend will get to experience the full onslaught of Narcotic Wasteland. Always well-rehearsed, they deliver a tight performance including dual guitars. From harmonies to counterpart melodies, it gives the band some of that traditional metal style. They are also not afraid to challenge the audience with an array of styles from whiplash-inducing fast metal to infectious arena metal.
In additional news, Narcotic Wasteland is hosting a guitar giveaway during their tour dates. The band is offering up a signed Jackson JS32T Rhoads - Satin Black Guitar. Details on how to enter can be found HERE and in the following video -
Tour Promo Video:
NORTH AMERICA TOUR DATES - ACCEPT with special guest NARCOTIC WASTELAND
9/29/2022 Nashville, TN - The Brooklyn Bowl
9/30/2022 New Orleans, LA - Santos Live *NW Only
10/1/2022 Houston, TX - Concert Pub North
10/2/2022 FT. Worth, TX - The Rail Club
10/4/2022 San Antonio, TX - The Espee
10/5/2022 El Paso, TX - Rockhouse
10/7/2022 San Juan Capistrano, CA - The Coach House
10/8/2022 W. Hollywood, CA - Whisky A Go-Go
10/9/2022 Las Vegas, NV - Count's Vamp'd
10/11/2022 Denver, CO - The Venue
10/13/2022 Milwaukee, WI - The Rave Ballroom
10/14/2022 St. Charles, IL - The Arcada Theatre
10/15/2022 Westland, MI - The Token Lounge
10/16/2022 Toronto, ON - The Phoenix Theater
10/18/2022 Vineland, NJ - Landis Theater
10/20/2022 Jim Thorpe, PA - Penn's Peak
10/21/2022 Providence, RI - Fete Music Hall *NW Only
10/22/2022 Brooklyn, NY - Lucky 13 Saloon *NW ONLY
10/24/2022 Wallingford, CT - Cherry St. Station *NW ONLY
10/25/2022 NYC - The Gramercy Theatre
10/26/2022 Derry, NH - Tupelo Music Hall
10/27/2022 Harrisburg, PA - XL Live
10/29/2022 Columbus, OH - The King of Clubs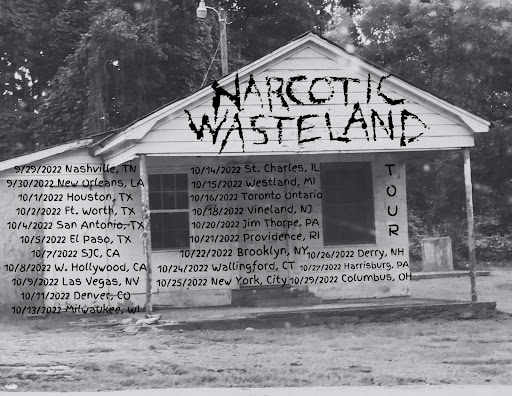 Tour Poster credit: Andrea Roberts of Ashley Talent International
Dallas Toler-Wade started Narcotic Wasteland while he was in between tours with Nile. He started writing music that was a little more similar to things he was doing in a previous band and since then has released two albums, 2014's self-titled and 2017's "Delirium Tremens" with their third record due out in 2023.
Dallas Toler-Wade was a long-standing 18-year member of the brilliantly Egyptian-themed metal band, Nile, where he composed the music for hit songs such as, "Execration Text", "Permitting the Noble Dead to Descend to the Underworld", and "Lashed to the Slave Stick". Toler-Wade was also featured in Guitar World magazine alongside founding member and guitarist/vox/songwriter Karl Sanders.
Inspired mostly by thrash metal and classic heavy metal, Narcotic Wasteland is becoming more thrash and speed and less death metal and getting better at writing material that is meaningful and powerful. They are recommended for fans of Vader, The Crown, and Nile.
Singles:
"The Best Times Have Passed" - https://orcd.co/nwtbthp
"Morality and the Wasp" -
About:
Narcotic Wasteland started as a side project Dallas Toler-Wade had been working on the past few years when he was not touring or in the writing/studio with metal heavyweights "Nile."
'So I just started writing some songs, kind of more in the style of things I was playing before my time in Nile. The more we started working on these demos, the more we wanted to complete an album and take it to the stage!!! Our observation of what was going on in parts of the town we grew up in and in other parts of the world fueled a new level of angst for me personally."
Write up courtesy of: ASHER MEDIA RELATIONS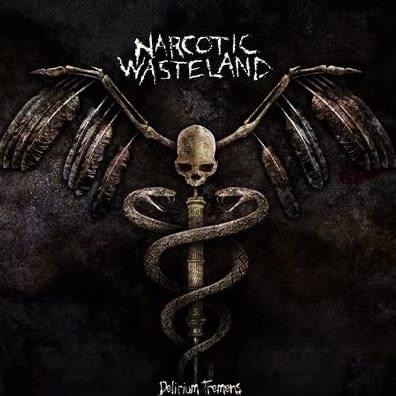 Additional Videos and Links
LINKTREE: https://linktr.ee/narcoticwasteland
Website: www.narcoticwasteland.com
Stream "The Best Times Have Passed" now! 
Booking: http://ashleytalentinternationalllc.com