Saturday October 16, 2021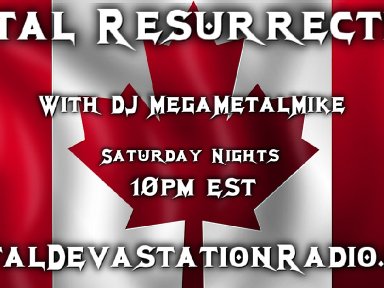 Metal Resurrection Radio Show
Saturday October 16 2021, 1:15 PM
Tonight Listen "Live" 10pm-1am (EST) to Metal Resurrection with DJ MegaMike! On the show you will hear from Suffocation, Crypta, new Exodus, Heathen and Death Angel! Also Canadian Metal from Burn To Black, Korrosive, Brazen and Brain Stem.... More
www.metaldevastationradio.com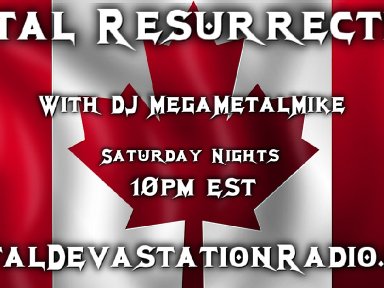 Metal Resurrection Radio Show
Saturday October 16 2021, 1:15 PM
Tonight Listen "Live" 10pm-1am (EST) to Metal Resurrection with DJ MegaMike! On the show you will hear from Suffocation, Crypta, new Exodus, Heathen and Death Angel! Also Canadian Metal from Burn To Black, Korrosive, Brazen and Brain Stem.... More
www.metaldevastationradio.com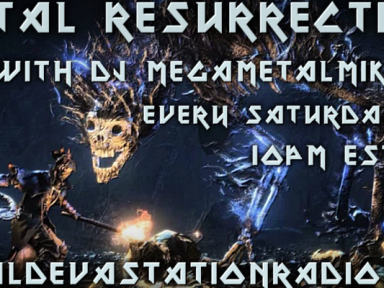 Metal Resurrection Radio Show
www.metaldevastationradio.com
Saturday October 16 2021, 10:00 PM
Tonight Listen "Live" 10pm-1am (EST) to Metal Resurrection with DJ MegaMike! On the show you will hear from Suffocation, Crypta, new Exodus, Heathen and Death Angel! Also Canadian Metal from Burn To Black, Korrosive, Brazen and Brain Stem. #norushsaturdays NOW PLAYING Click Here For Help Streaming On Chrome M3U Playlist Direct stream link Web port link More
Tonight Listen "Live" 10pm-1am (EST) to Metal Resurrection with DJ MegaMike! On the show you will hear from Suffocation, Crypta, new Exodus, Heathen and Death Angel! Also Canadian Metal from Burn To Black, Korrosive, Brazen and Brain Stem. #norushsaturdays NOW PLAYING Click Here For Help Streaming On Chrome M3U Playlist Direct stream link Web port link Less
Attendees : 0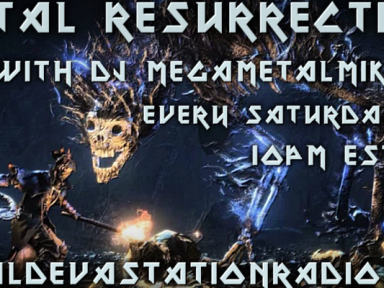 Metal Resurrection Radio Show
www.metaldevastationradio.com
Saturday October 16 2021, 10:00 PM
Tonight Listen "Live" 10pm-1am (EST) to Metal Resurrection with DJ MegaMike! On the show you will hear from Suffocation, Crypta, new Exodus, Heathen and Death Angel! Also Canadian Metal from Burn To Black, Korrosive, Brazen and Brain Stem. #norushsaturdays NOW PLAYING Click Here For Help Streaming On Chrome M3U Playlist Direct stream link Web port link More
Tonight Listen "Live" 10pm-1am (EST) to Metal Resurrection with DJ MegaMike! On the show you will hear from Suffocation, Crypta, new Exodus, Heathen and Death Angel! Also Canadian Metal from Burn To Black, Korrosive, Brazen and Brain Stem. #norushsaturdays NOW PLAYING Click Here For Help Streaming On Chrome M3U Playlist Direct stream link Web port link Less
Attendees : 0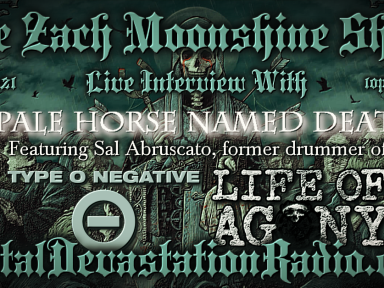 A Pale Horse Named Death - Featured Interview - The Zach...
Saturday October 16 2021, 9:43 AM
Sal Abruscato' from 'A Pale Horse Named Death', 'Type O Negative' and 'Life Of Agony' joins us on the show to talk about the new album 'Infernum In Terra' from 'A Pale Horse Named Death'! We also talk about his history as a musician, some of the... More
Interview

Glaucoma is a very famous disorder this pressure is generally intraocular pressure, which occurs in the people with open angle glaucoma. It is reported that careprost is the most effective drops for treating weather it would be glaucoma or hypotrichosis. Careprost are the original copy of branded medicine that is available at a very reasonable price.