New Promo: Cystic Embalmment - Folklore de fonds d'égouts - (Sewergrind) - CDN RECORDS
Release Date: March 24th, 2023
FFO: Biological Monstrosity, Last Days Of Humanity, Pulmonary Fibrosis, Regurgitate
Location: Montreal Qc, Canada
 Started in December 2018 Cystic Embalmment is a goregrind band featuring Alain Jackson on guitars(Carbonized 16 year old victim/Vaginal Addiction) Tommy Gilbert on drums (Vaginal Addiction) Brian Lanteigne on vocals (Holy Cost/Exsanguinate) and Arnaud Cloutier on bass and back vocals (Barbaric Penetration/Exsanguinate). Since it's beginning, the band as released 6 tapes trough Sulfuric Diarrhea Records; 2 demos, 2 EPs and 3 split tapes. Their sound has progressed and solidified throughout the years to what they now call "Sewergrind", which is mostly high bpm blast beats, crushing d-beats, lots of crust elements with disgusting gurgles, vomits and toilet noises on top of it. They now bring you their first full length album featuring 25 tracks of non-stop pummeling sewer-infused goregrind punishment.
Artwork and logo by Vincent Bouchard
Support the band on bandcamp!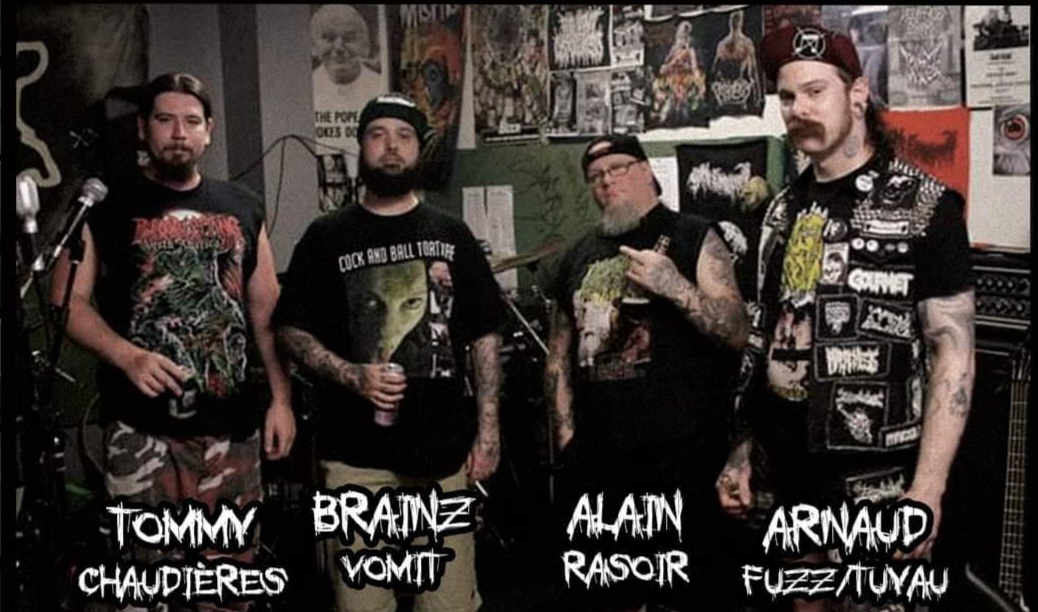 Follow the band at these links:
https://www.facebook.com/pochedepus
https://cysticembalmment.bandcamp.com
https://instagram.com/cysticembalmment
https://cdnrecords.com/shop/cystic-embalmment-folklore-de-fond-degout/
https://www.youtube.com/@CDNRecords/featured