YOB Returns To The Stage This Weekend Following Mike Scheidt's Diverticulitis Surgery!
Cosmic doom trio YOB will make their return to the stage this week at the Northwest Terror Fest in Seattle, Washington alongside Coven, Cephalic Carnage, Wolves In The Throne Room, and so many others. The performance serves as guitarist/vocalist Mike Scheidt's first show since undergoing emergency diverticulitis surgery earlier this year. Diverticulitis is an inflammation of the digestive tract and is often life-threatening.

Said Scheidt in a recent Facebook post to fans, "...Everything is different on my insides, and I'm learning to adjust to both healing pains and new normals. Time will tell which is which. All the same, slow and steady is my mantra. I have a feeling of gratitude that is consistent, and we're writing so much new music with YOB that I don't know how we're going to distill it all... I wish nothing but love and health, laughs and inspiration for our shared, diverse, unique tribe. For those who have sent me messages, shared love, their time and help with my survival during these trials of mine, I remain ever thankful and count myself as beyond lucky. My ability to weather all of this and continue working is framed by these blessings. We are so looking forward to these shows...seeing friends, watching bands, and getting to share the stage. It's surreal to be able to do it again. Can't wait."

The band will also lay their purifying riff rituals upon Saint Vitus Bar in Brooklyn, New York for three sold out nights -- June 23rd, 24th, and 25th. The shows were initially scheduled for February but postponed. The following evening, the band will head south for a performance in Austin, Texas at Come And Take It Live (Grizzly Hall). In August, YOB will play San Diego, California's Brick By Brick with SubRosa followed by a Psycho Las Vegas preparty set, also with SubRosa, directly after the fest's warm up pool party (this will be a separately ticketed event). Future YOB shows to be announced in the coming weeks. Watch the tour trailer
YOB
6/17/2017

Northwest Terror Fest - Seattle, WA [ tickets ]
6/23/2017

Saint Vitus Bar - Brooklyn, NY w/ Yellow Eyes, Hosianna Mantra SOLD OUT


6/24/2017

Saint Vitus Bar - Brooklyn, NY w/ Kings Destroy, Pyrolatrous SOLD OUT


6/25/2017

Saint Vitus Bar - Brooklyn, NY w/ Godmaker, Statiqbloom SOLD OUT
6/26/2017

Come And Take It Live - Austin, TX [ tickets ]
8/16/2017

Brick By Brick - San Diego, CA w/ SubRosa [ tickets ]
8/17/2017

Hard Rock Hotel & Casino - Las Vegas, NV w/ SubRosa [ tickets ]
YOB released their Clearing The Path To Ascend full-length via Neurot Records in 2014. On Clearing The Path To Ascend, YOB is as formidable as they've ever been, demanding the tandem attention of mind, body, and soul. Drummer Travis Foster wields his signature rhythmic furor here with bombastic precision while bassist Aaron Rieseberg coils around the sonic tide with an unforgiving churn all the while in a deadly synchronicity with Scheidt's uncanny vocal range and its pendulous movement between the triumphant howls of a medieval madman and the earth-splitting growls of a war-battered titan. Take this opportunity to revisit this remarkable album!
YOB's Clearing The Path To Ascend is available now via Neurot Recordings HERE .
"Psychedelic rock, stoner rock, stoner metal, blues metal, ambient: all reside comfortably in YOB's wheelhouse, coalescing and collapsing on a path that stretches as far as the listener's imagination." - Pitchfork

"The seventh album from Oregon doom metal sky-gazers, YOB ... makes perfect bedfellows of volume and beauty, pain and transcendence." - Rolling Stone

"Mike Scheidt's songwriting has never been stronger or more dynamic... a masterful return to form by an American doom powerhouse." - Decibel

"There's loud, and there's transcendently loud, and this performance of 'The Great Cessation' is towering, the tone so thick it's tactile." - Terrorizer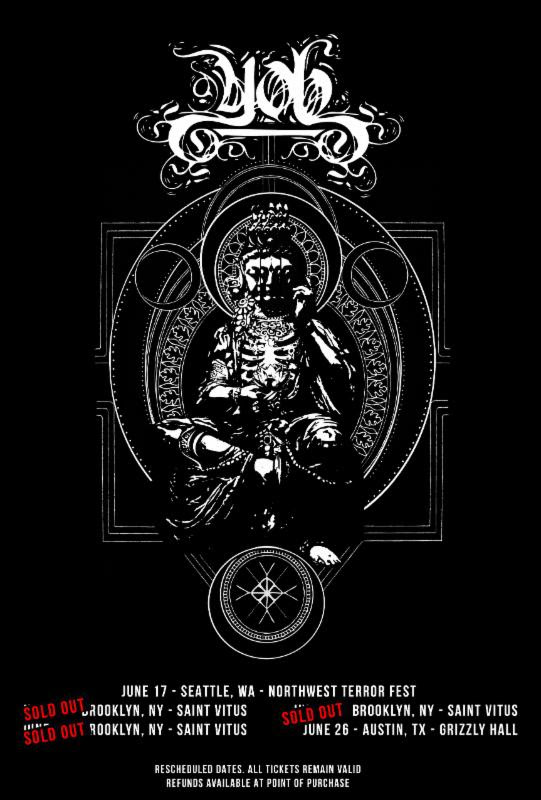 http://www.facebook.com/Yob
http://www.neurotrecordings.com
http://www.facebook.com/neurotrecordings