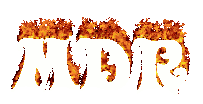 JOIN ME TONIGHT FOR BATH TIME!! I'LL BE FILLING IN FOR QUOTH THE RAVEN!!
I HAVE SOME MORE CANADIAN BADASSES FOR YOU TO HEAR, AS WELL AS SOME NEW SUBMISSIONS!! STERCORE, INVERTED SERENITY, UNTIMELY DEMISE, MOTORLORD, LOCKJAW
JUST TO NAME A FEW!! TUNE IN!! SIGN UP!! CREATE A PROFILE!! AND JOIN OUR WICKED CHAT!! IT'S FAST,SIMPLE,EASY AND FREE!! SEE YOU THERE!! CAN'T WAIT TO SPIN YOU ALL SOME GOOD STUFF!!
COME HANG OUT WHILE I WRECK YOUR NECKS!!
Attendees : 0