Rich Fourmy Is Going Back To Prison, Pelvic Meatloaf Releases New Song And Last Live Show!
Posted on his Facebook page:
"I have something I need to tell all of my friends and family, so please take a minute to read this.
As many of you may know, there was a time in the distant past where I was doing drugs and stealing and being a scumbag (14 years ago) and I ended up going to prison for a few years back then. Since then, I have moved forward in a positive direction, and stayed away from all that shit.
I got out of Prison in 2007 and swore I would never go back. I managed to get the band back together, and fix relationships with old friends and family, I met my wife and raised a family, I started a motorcycle club with some of my favorite friends and fellow musicians, and made a lot of excellent new friends as well over the past decade.
A year and a half ago, I fucked up again, by making a poor judgement call. I was charged with Felony Flight from Law Enforcement for not pulling over immediately after being lit up for speeding. While this is a victimless crime, and may not seem like a big deal, it is. Especially when added to my laundry list of prior offenses from way back when I was a complete fuck head. I have been dealing with a long court battle ever since, and it is coming to a close.
I will be going back to prison for 1 year in a few weeks. I am embarrassed for myself and my family, and disappointed that I got into this situation again, and am letting so many people down. As much as it sucks for me, my main concern is my family, and what they will do without me being able to provide for them. My wife is in no position to cover the rent & bills while I am gone, so I am stressing out badly about what will become of them. I hate that I am putting her & the kids & our house FULL of animals in this situation, and breaking my mom & dad's hearts again. I am so sorry.
I appreciate all the continued love and support from all my friends and fam... I am truly a lucky fella, despite this awful bullshit.
Pelvic Meatloaf will obviously be on an extended hiatus, although I hope & pray that we will get together again and play together once this is passed, but we will see how it goes.
I put together this last show for Friday, December 29th to try and raise some money for my brother "Flounder" who was hit on his motorcycle by a drunk driver recently and suffered some sever injuries and will not be able to work to support himself for some time. Its got Punk bands, Goth, Rock & metal... and it will be a $10 REQUESTED donation at the door (But you can still get in and enjoy the show if you're short a few bucks) and all proceeds will go directly to help the dude pay his bills while he is recovering.
Please come out and support this cause, and see Pelvic Meatloaf say farewell until further notice." - Rich Fourmy - Pelvic Meatloaf
If you are in Arizona or surrounding ares your last chance to see Pelvic Meatloaf is below!
Friday, December 29 at 5:30 PM - 2 AM MST
Dec 29 at 5:30 PM to Dec 30 at 2 AM MST
Club Red Mesa
1306 W University Dr, Mesa, Arizona 85201
Click below for details!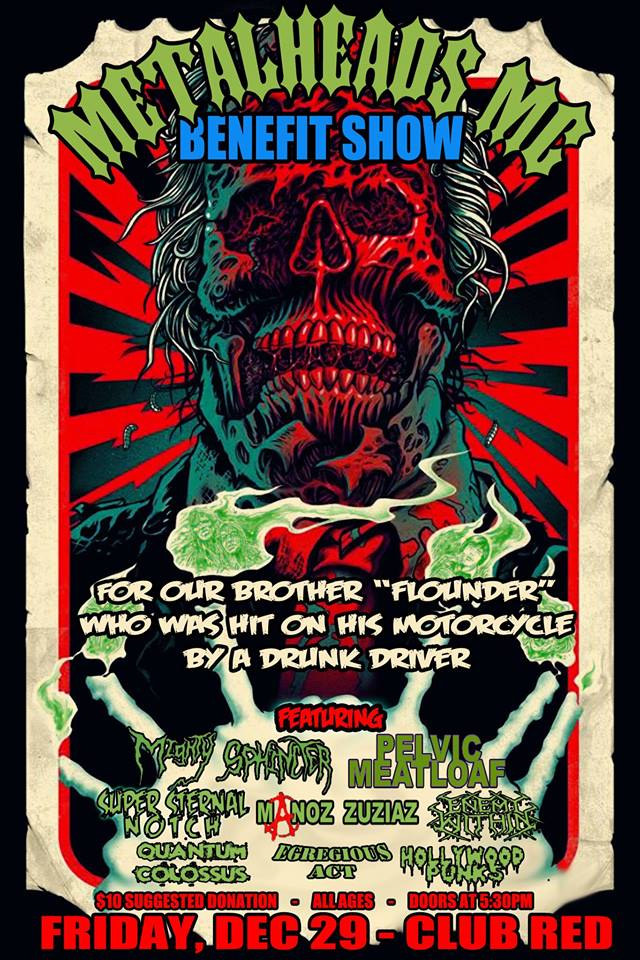 Check out this brand new song old song released today!
And blast this too while you are here fucker!